The mobile app market is extremely competitive. App design is one of the keys to success for the profitability of the project. Design is not only about tons of sketches and a 'Pay' button. It is essential to include psychology, aesthetics, behavioral sciences, and testing. What are the best app designs today? How to design an app to make it successful in 2021? Let's dive into this topic to find out the most modern UI/UX trends and grab some inspiration.
KYA or know your audience
If you do not know who your target audience is, you will not make apps for people. The client is a priority in the business, and your project must meet the user's needs. The concept of 'design' implies an artistic approach and the development of something that will be pleasant to look at visually.
However, mobile app designs always take into account not only the aesthetic component. It is still vital how convenient it will be to work with. When creating an app, the developer faces a big problem: finding a balance between performance, appearance, and usability.
The rapid growth of technology affects design trends every year. Designers should be in on this, improve and expand their skills to keep up with the latest developments in the market. Now, let's explore the app design trends 2021 to be kept in the loop.
App design trends 2021
Today we can observe a progressive development of web design and mobile app design in particular. The trends are very dynamic. Here are the most significant ones that we will meet in 2021.
Dark mode - app design trend 2021
The first and probably the hottest trend is the dark mode. You may have noticed that some of the largest companies add light and dark modes to their products. The dark mode is a low-light user interface that displays mostly dark surfaces. The two-color design trend has two significant benefits for the user. Dark themes help reduce eye strain by adjusting the screen brightness to match current lighting conditions. Also, they save mobile device battery power by reducing the use of light pixels.
New fonts - app design trend 2021
Typographic trends change almost every year because the text is always in front of the user's eyes. For some time, you could notice several fonts at once in the best-designed apps. After that, designers chose only one style. Over the past few years, minimalism has ruled the design, so the fonts have been as simple as possible. Due to the simplest possible style, the font became monotonous, regardless of the website or application. Therefore, designers start to decorate the text. The developer must choose a style that matches the overall design of the app.
Animation and micro-effects
What do you think of changing a button's color after the user hovers over it or changes in blog titles while scrolling? Small animated elements help to attract users' attention and improve the perception of a digital product. Sometimes we do not even realize that micro-interactions exist as they are natural and mixed with user interfaces.
Voice design in app design trend
Voice interfaces are likely to dominate in the competition for the best app designs in 2021. This trend includes the development of speech recognition technology and applications and plugins that can read written texts aloud. Voice-based user interfaces are expected to be widely developed for popular eCommerce, media, sports, and news applications.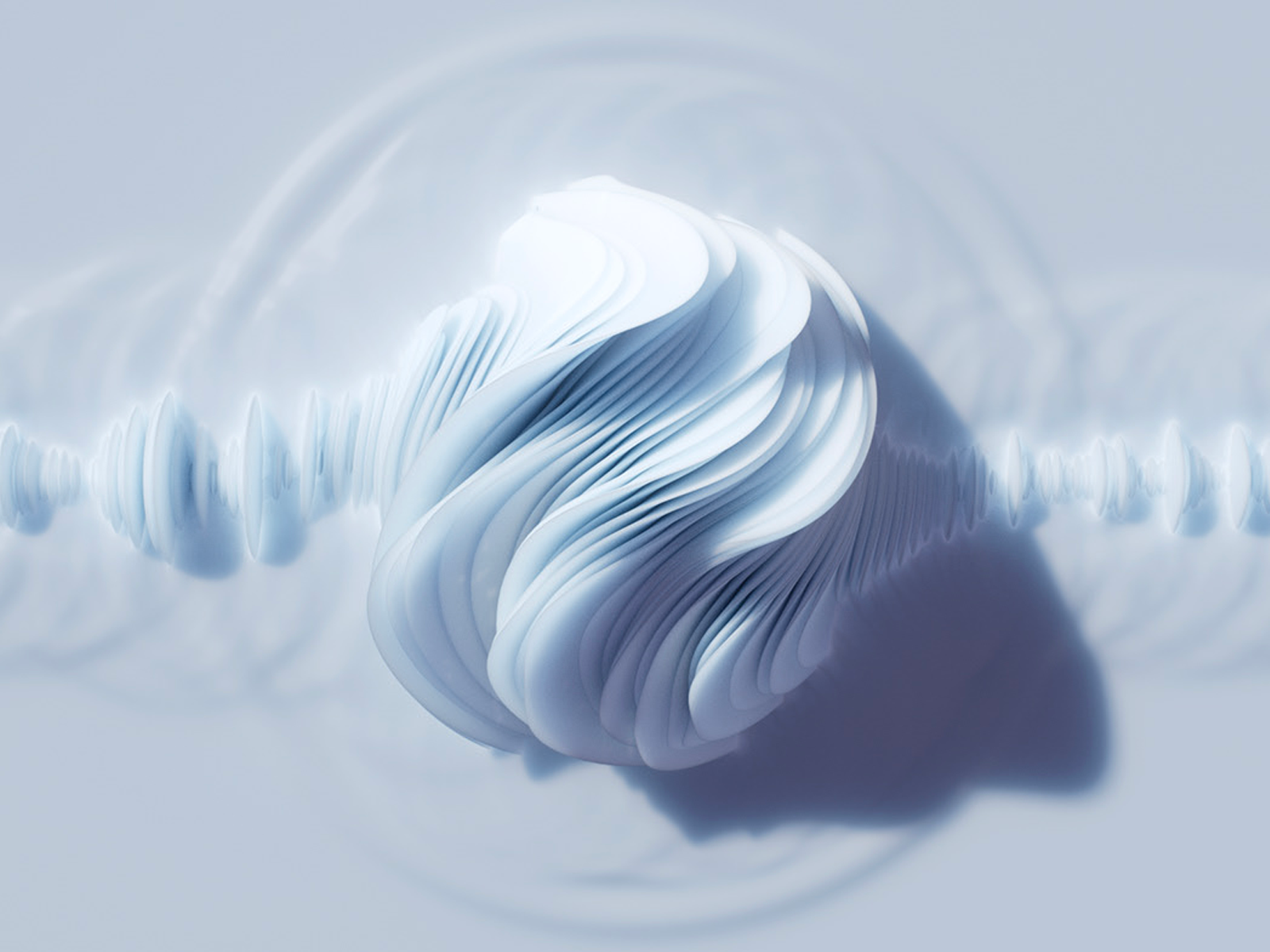 Gradients - app design trend 2021
In 2020, many designers tried to abandon gradients to bring flat design back into fashion. However, today the user is not ready for this. Gradients open up too many possibilities when creating an interface, so their use is still one of the main trends. You should use different contrasting colors rather than creating monotonous gradients. This way, the page elements will stand out much more, and the page itself will look more attractive.
Chatbots
Chatbots are the fastest growing trend in digital communication. Chatbots have come a very long way since the early 2000s and now offer numerous features and advanced features. In recent years, the most successful apps have started using chatbots to improve their business and support customers. Of course, they are still progressing, and we can expect some interesting features to appear in chatbot technologies in 2021.
Simplicity, style, and usability
Many brands already focus on simplicity, style, and usability and will continue to do so to stand out from the competition. As for simplicity, the ultra-minimalistic design will be most trendy. That is when a minimal color palette, simple shapes, and much negative space are used.
Development of UI design for AR
In 2021, user interface design will be even more connected to UX. So, developers need to take care of a high-quality display of augmented reality elements. Working on the interface of applications that implement AR is critical for most developers in 2021.
Today's mobile app design trends focus on the customer and finding the best user solution. Try not to chase trends blindly, but find out what works best for your business and target audience. When you put the customer at the center of your design strategy, you earn trust, appreciation, and confidence in your product.
Which is a Good App Design Practice?
Every year, more and more products are launched. Yet, only a few of them manage to stand the test of time, while others fade into obscurity. Do you know why? Well, blame it on Mercury retrograde or bad luck, but the reason lies beneath the surface in most cases.
The main reason why some apps have great success is because of proper app design. So, what are the best mobile app design practices to follow to be successful in the market? Here you go.
Mobile app design is all about personalized communication and intuitive navigation. It focuses on users' emotions and motivations and doesn't require them to think much.
Before we get to the core, let's say a word about statistics. What do the numbers say? Recent studies show that 88% of mobile time is spent on apps. The same research shows that 57% of all digital media usage is on mobile apps. What can be more convincing about the importance of a satisfying user experience? So here are the 5 examples of good app design practice.
Taking inspiration from someone else's work.
Let's face it: the best work is often inspired. However, plagiarism and inspiration are different things. There's nothing wrong with looking at the work of other creators. Scan and learn. This is how an artist understands what they are missing and what their strong points are.
Go old school
Sketch on paper. Yes, I'm serious about this. And I know how far technologies have come. You may be a logo painting guru with Adobe or some other tool, but old school has a lot more advantages. Good old pencil and paper takes less time and lets you unleash the artistic potential.
Easy undoing of actions.
Having a right to make mistakes definitely takes away the fear of doing something wrong. Knowing that mistakes can be easily undone encourages exploring unfamiliar options.
Make onboarding easy.
Onboarding is the first page a user faces when they visit an app. Your app can be extremely valuable to users, but who cares if onboarding takes forever? It's a modern, competitive world. We all choose speed and convenience over everything else. Remember, you don't have another chance to make a first impression.
Design readable, attractive, and friendly content.
The UX design should display readable text with a suitable font. An appropriate color scheme should match the theme and message you want to convey.
Take care of usability and user goals.
Do not force your user to perform actions that are not related to his main problem in the first place. A simple design is easy to miss, but it is really effective if implemented correctly.
Make navigation simple and intuitive.
Helping users navigate is a priority for the best mobile app design. All the interesting features and attractive content do not matter if people cannot find them. If it takes too much time or effort to figure out how to navigate your product, you will most likely lose users. Users should be able to explore the app intuitively and perform all the necessary tasks without any explanation.
Full-screen background images.
You can use any engaging visual content: photos, illustrations, abstract compositions, or specially created visualizations.
Use aesthetics to get users in the right mood.
The design should evoke the user's right mood, whether it is excitement, impression, or trust.
Adapt app designs to emerging markets.
A billion new online users are expected in the next couple of years. And the vast majority of them will be from emerging markets (or so-called mobile-focused countries like India, Indonesia, Brazil, and Nigeria). They will get access to the Internet via their mobile phones. These users will have different experiences and expectations from those in the US and Europe. If you want to go global, it is essential to consider their experience.
What's next?
So here you are, holding a gadget with a masterpiece in your hand - your beloved app. You have let the whole world see that you are good with technologies. It's a piece of cake for you to understand all its features. But how do you know that users will use your app with the same ease? Well, you'll never know unless you conduct a proper usability audit. Test your app over and over again and don't be ashamed to ask for help.
Best App Designs of Today
Below we have collected a few examples of the best mobile UI design for your inspiration. Let's run through the real examples of the most successful apps and analyze what their secrets are
Airbnb
Mobile UI design embodies the brand, and there is consistency between the design of the mobile app interface and web design. Consistency means that the Airbnb experience is the same no matter what device you use. The mobile app demonstrates Airbnb's commitment to its visual design language. It is very welcoming and accessible to the global community that uses their services. The attractive use of photography for their local experience is tempting, as it is mixed with brand typography and cool text.
H&M
App designH&M is a Swedish company that produces clothing, shoes, accessories, swimwear, cosmetics, home goods in the mass market segment. The main principles of the brand are high quality products, affordable prices, compliance with the latest fashion trends in fast fashion mode. H&M mobile app is one of the most successful apps thanks to their UI design, attractive visual hierarchy, and intuitive navigation. Navigation in the app is very intuitive and predictable.
Glovo
Glovo is a marketplace that allows customers to order and send products. The service deals with the delivery of food, groceries, pharmaceuticals, and other products. With the help of a courier, the user can send parcels within the city. Delivery takes no more than an hour. Glovo app has one of the best mobile UI designs, and it is quite clear why. Take a look at how simple and flexible the design is. With onboarding tips and tutorials, the app tries to engage the user and explain how to use the service. It is also essential that welcome training is what creates the first impression of the service.
Asos
Asos is a popular multi-brand British store, widely known in Europe and around the world. Asos started its business in 2000, and by now, it has become the largest chain hypermarket with tens of thousands of items. The store is one of the pioneers of selling products through apps. The company now has 10 million active users. As a brand aimed at millennials, it benefits most from mass mobilization. A great marketing and effective UI design has helped add the application to the best-designed apps list. Besides, pictures of influencers and finding things more visually can attract users.
Sephora
If you imagine that the beauty industry is an aquarium, Sephora is one of its largest sharks. They are not only selling cosmetics. They try to create a large community that unites professionals and amateurs. The company continually monitors feedback, listens to customers' opinions, and provides opportunities to have an interesting time.
Designers have developed convenient sorting and filtering of products. If the buyer is only interested in niche perfumes with citrus aroma, he will find all the offers in 10 seconds. Receipts, gifts for accumulated bonuses, order history, personal data, help — the account page plays an organizer's role. To add more, a physical store's customers can scan QR codes for products and get an immediate specs page or reviews on the mobile devices.
Dropbox
Dropbox is a popular online service for storing, restoring, and sharing data using cloud technologies. The company's rebranding in 2017 brought a new muted color palette and whimsical hand-drawn illustrations. They are featured on their website and mobile app. This makes the interface of the dropbox mobile app stand out from the crowd.
Fulcrum is Your Trusted Partner
When it comes to building a mobile application, any brand strives to succeed and launch one of the best-designed apps. In Fulcrum, we stay dedicated and laser-focused on your product no matter the distance. We know and understand your challenges in creating a competitive mobile app for your product.
The development of a quality UX/UI design is one of our primary directions.
We do not create for the sake of creating. We carefully consider all user journeys before jumping into the project. Fulcrum design services include the following services:
Interactive Prototypes. The prototype gives you an early look at how your app should look. You will think through the correct user flow, test your app's initial look and feel, and gather insights from potential users.
2D Animations. Our team is skilled at two vector-based animations. This kind of animation is used on the web, mobile, and desktop platforms.
llustrations. Illustrations freshen up any design and give life to your app or a website.
Design Audit. Design Audit is a thorough checkup of the app/website. We analyze all design elements you have used from different standpoints and develop detailed recommendations for your best app designs
Final UI Design. No matter if you need a website or an app - our designers create a winning UI for your project.
Do you need a compelling design? Do not hesitate to contact the Fulcrum team to create the best app design and let your project get alive.
Conclusion: Best App Design 2021
Nowadays, everyone is overloaded with a constant flow of information, so creating attention-grabbing products has become much more difficult. Your product may be valuable, but no one will spend time figuring out how to do it if it is difficult to use.
Simple, attractive, human-oriented design is the key to long-term relationships with customers. Not so long ago, having a visually appealing design was enough. But now everything has changed. The human-oriented approach in app designs has become the primary trend in 2020, and it will be trendy in 2021. Follow the trends and good app design practices listed in this article to boost the market with the most successful apps.
---
Please, share this post on Pinterest:
Best App Design 2021 FAQ
Which is a good app design practice?
Good app design practices are all about simplicity, intuitive navigation, personalized approach, and attractive images. In other words, you should strive to create a design that does not make users think much. Make sure it focuses on emotions, motivations, and needs.
What is the best app design software?
There are many tools for prototyping and designing mobile apps that help you create beautiful products and bring them to life. Your best app design tool depends on the needs and preferences of your project. Among the most popular ones are Sketch, BuildFire, Axure RP, Origami Studio, etc. Stop your choice on the software that gets your design development to the next level.
How to design an app?
Building a successful app design is a complex process that includes several steps. After your app idea is created and the market research is done, think over the features you want to see in your future app. Make the design mockups of your app and create its graphic design. Build a marketing plan and start creating an app. Once the product is finished and tested correctly, you are ready to submit it to the App Store.
Subscribe!
Join Fulcrum's non-spammy newsletter jam-packed with valuable tips and whatnot.