In the new digital world, animations rule. They open new ways to talk about and present products. They serve as a powerful weapon to promote and advertise any services. Animations push us to act, think, and experience the world differently. 
They're shaping the mobile industry as well. With hundreds of mobile apps appearing every day, it's quite hard to stand out. That's when top-notch mobile UI design comes in handy. And different types of animations are what help you to make it top-notch.
As any other digital methods, animations change according to the global trends. So, to implement animations into your app successfully, it's crucial to know these trends and adapt to them. Let's take a look at the main animation trends 2020. 
Animation Trends 2020
Linear art effect 
Get ready to see lots of thin and distinctive lines this year. Linear art is gaining momentum in 2020. The trend is to integrate thin lines not only in static elements but videos as well. Thin lines create an impression of a hand-drawn effect and make videos more original and unique. So, here's our super simple recipe of any trending animated video: to make it 'delicious' just add thin and natural lines. 
Hello Monday by Radio
Color laconism
Minimalism and simplicity are 'a new black' this year. These animation trends apply to colors, too. So, rather than to use a rich palette of colors, consider focusing on two or three general ones. Color laconism will make your design more sophisticated and expressive at the same time. If you still doubt whether to minimize your color specter, take inspiration from such design laconism followers like Apple, Acne Studios, Airbnb, Evian etc. 
Minimalistic Player Widget by The Glyph
Brave typography
2020 says 'yes' to crazy font experiments. We all got used to believe that fonts are something untouchable and unchangeable. Not this year. Traditional typography is no more in demand. This new animation trend opens a way to express your brand's ideology, reflect its values and impress the users. 
All nonstandard solutions are welcome! Enchant your users by shortening, twisting or partially ruining your letters. Experiment, break typography rules, surprise your audience with innovative mobile UI design. 
UP® - 001. Monochrome Layout Exploration by Matt Thompson
Morphing
Morphing is an animation technique when one image or shape seamlessly transitions into another. Such metamorphosis usually intrigues users and encourages them to stay longer on the page to see what the object turns into. This technique is not only one of the animation trends 2020 but also a nice instrument to optimize your SEO and make your clients spend more time on your app or website. 
Morphing Geometry by Nathan Riley
2D + 3D
Combining 2D with 3D isn't in the past. This year, the trend continues. Motion designers still go on integrating 2D and 3D into their videos. The size of the video doesn't really matter: from some super short and simple digital ads to massive and expensive TV commercials.
Social Media Addiction by Gareso  
Logo animation
What's the first thing that creates an impression of your brand? Right, your logo. So, there is nothing surprising that logo animation is going to a new level in 2020. This year, brand identity design plays quite an important role. Forget about static icons, images or typography. Dive into animation. 
Say hello, new logo by Casey Labatt-Simon
Grain
The next among animation trends is graining. Grain is a widespread technique of retouching photos to make them more realistic and natural. It enables to depict surfaces and textures more vividly. In 2020, this type of mobile UI animations is conquering video format as well. Designers no more neglect this instrument and masterfully use it to reflect uniqueness and individualism. 
Defiant animated video by Mantas Gr
Buttonless transitions
Right now, natural and seamless videos are in trend. Thus, designers aim to cut away any rough and sharp transitions from the shot. Instead, they make videos super smooth and simple. Again and again, simplicity and minimalism are the key animation trends of this year. 
Olympic Sports Website by Daniel Tan
Futuristic animations
Imagine yourself Salvador Dali of the animation world. This year, surrealism conquers hearts of motion designers. It's more about combining uncombined paradoxical objects together and make them interact into the craziest ways possible. Shock your app's users. As a reward, they will definitely remember your app. 
Electric Slide by Jay Sprogell
Roughness
Along with simplicity and minimalism, brutality is a top feature of numerous design works this year. Motion designers tend to combine rough sketches and unretouched videos to give animations connection to the reality. Just look at some recent designs from Adidas and Mailchimp — wild 90's came back.  
SQUARE by Julia Dmitrievna
We can go on and on describing other animation trends of this year. 2020 offers plenty of approaches and insights for animation developers. The general one is to make the user experience much more aesthetic, smooth and innovative. You need to surprise. Just make sure to do it not with a bright palette of colors or tasteless fonts, but with masterfully animated videos, figures and transitions. 
10 Examples of Mobile UI Animations for Your Mobile App
Ok, we have explored some of the key animation trends in 2020. Now let's go practical and think about how we can implement them into a mobile app. We have prepared a brief overview of animations for your mobile UI design. 
№1. Custom animations
Uniqueness is above all. So far, we've understood this from the already mentioned animation trends. Customers value personalized approach, they want to be at the center of brand's concerns, they need to be cherished. Custom animation is the right solution here. It helps to show your customers that you care. They help you to stand out among other brands. 
Tesla Cybertruck by Pontus Wellgraf
№2. Animations for fun
Not all animations should be functional. Some of them may just be added to make your app look sleek and more dynamic. Time for some fun. It is fun animations that can help your app stand out among others and make it memorable.
Onboarding Motivation by Cuberto
№3. Visual feedback
We all want to receive feedback from our actions. Your clients want it, too. Animating clients' reactions shouldn't be something extra complex and time-consuming. It can be expressed in some details but still provide a feeling of style and demonstrating attention to your users. For example, consider changing color of a button after it's pressed. Or changing image shape when hovering a cursor over it. One of the most popular instances of visually responsive UI animation tools is Tinder's swiping feature. 
Mobile app 'Rent a boat' by Outcrowd
№4. Animated notifications
Another good thing to add to your app is animated notifications. The era of super simple and boring messages has come to an end. By animating your in-app notifications, you will solve two problems at once: your app will become more entertaining and engaging while your notifications will be much more noticeable. Besides, animated updates is also a good way to illustrate your care and attention to your clients and don't want them to miss important updates. 
Notification Badge III by Oleg Frolov
№5. Animating functions
Function change animation presupposes a visual change of some in-app elements when your users press or interact with them in any way. It's something similar to visual feedback, although it's not totally the same. 
Such mobile UI animation is typically used with icons, buttons, and other tiny visual elements in your app.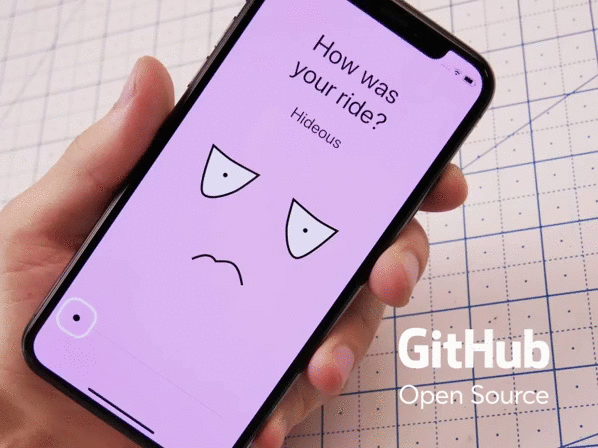 Rate your ride animated / SWIFT by Cuberto
№6. Space navigation
These are animations that help your users navigate easily through your app, notice hidden elements or icons, and remember better what to press next time. Animating your app's navigation, you show users how to go through the menu and use app's full potential. Thus, if you want to demonstrate the full list of functions, use animations. To move from one feature to another, use animations again. Animation is always a win-win solution. 
Motion Design Interaction for a Mobile App by Taras Migulko
№7. Visual hints
Animation can't be overused. It's what 2020 is about. So, try to add it wherever it's possible. Add, for example, animated hints inside your app. They will ease in-app navigation, too. Visualize the processes and interactions through the animations. For instance, when a user presses a certain icon or button, add some animations which will illustrate the next possible actions. 
Storefront iOS UI Kit I by Anton Tkachev
№8. Animating progress & loading 
Animations can be implemented on all layers of the app. For background actions such as uploading files, recording audio or etc they can be used as well. Animating progress and loading processes solve two big challenges for any app owner. Firstly, no one likes to wait. Your users, too. Yet, if they have no choice but to wait, let's do it creatively. Besides, you can use these animations to remind users one time about your brand. For example, check out how Fulcrum software development agency has done it:
Buff Games by Fedor Makatera
№9. Splash screens 
Get ready to tons of creative splash screens animations. This is the first what customer will see using your app. So, the first impression should be a catchy and engaging one. With stylish and creative animation, it will be. The approaches here may differ: from animated logos to some funny loading icons or just animated characters.
 Sign in animation by Jacub Kosla
№10. Onboarding 
It's also quite useful to apply animations to onboard new users. Think about how you can make this crucial and serious stage funnier and less stressful.  Add some simple and creative copy with self-explainable images. Make them interact in an unexpected way to attract user's attention. Play with your imagination. Let it be something really cool!
Slice new on-boarding screens by Taher M
Huh! We've done it — looked through some main and most used trends and types of animations. There are, of course, much more of them. Yet, you always can choose those that pass your app the most and implement them into your cool app. All in all, animations rule!