In 2022, people have googled the term 'EdTech' 173% more often as compared to 2018. Meanwhile, the total market value of public edtech companies has shrunk dramatically – by almost 50% since 2021. How's that? It's quite simple – while most big edtech providers rely on legacy platforms, their apps suffer from outdated UX and poor quality which such platforms bring.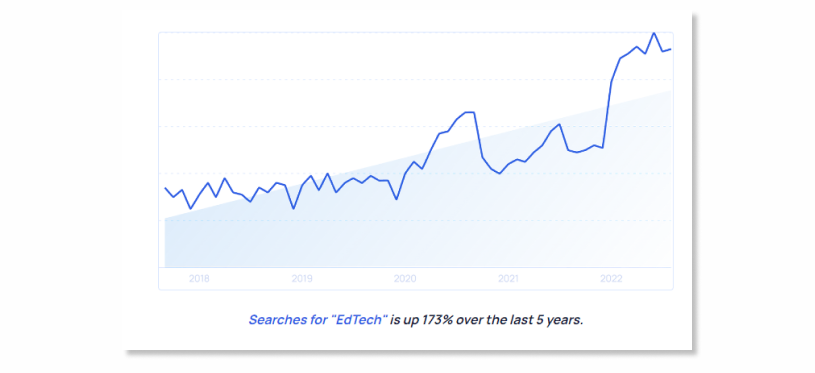 Although a huge chunk of the market is owned by public giants like Coursera, Khan Academy, and others, when it comes to selection and innovation, it's where startup projects take the lead and find huge opportunities by bringing change to the niche.
Some are well on their way, including few of the best education startups that surely will dominate the market in 2022.
Top 5 Up-and-Coming EdTech Startups
TechCrunch experts claim that in the nearest future the education technology branch will grow on the shoulders of private enterprises. And edtech startups will play a major role here. Up-and-coming projects are bringing a new level of innovation, accessibility, and performance to the field of edtech.
Which is why we decided to look at some of the best education startups in the world which demonstrated vigorous, assertive and go-ahead business attitude in 2022. We did not want to be mainstream, so we deliberately chose and analyzed not such big edtech giants as EdX or Duolingo, but less known startups. They, indeed, have brought multi-million ideas to the market, managing to raise huge investment funds and make excellent acquisitions even during the global business hardships of 2021.
So, let's get to them.
GoStudent
Years in the market: 6 years
Startup funds raised: $600+ million (2020-2022)
Total valuation: $3.5 billion (January 2022)
Acquisitions: Fox Education (2021), Seneca Learning (2022), Tus Media Group (2022)
Deemed "Europe's edtech giant" and "Europe's first billion-dollar education startup", it certainly holds a place among the top edtech companies in Europe.
GoStudent is a platform for one-on-one tutoring that connects students and tutors for convenient remote lessons that can be picked based on the child's needs. Inside the platform, users can easily find best-tailored tutors, schedule lessons, and study online using screen sharing, digital whiteboards, recording features, and more.
GoStudent's main selling point is that it can serve as a full-on homeschooling solution with standard school subjects for all age groups. Using a membership monetization model, GoStudent provides paid, one-to-one, video-based tuition to primary, secondary and college-aged students in 30+ subjects.
Launched in 2016 as an ambitious startup, the company has since grown to employ over 23,000 tutors and offer universal educational services.
What makes it interesting as a startup project is an amazing funding streak and no less impressive line of acquisitions purchasing Fox Education in 2021 and Seneca Learning and Tus Media Group in February 2022. Having grown into a profitable solution by 2020, GoStudent started getting a lot of attention from major investor groups, eventually raising over $600 million throughout 2020-2022.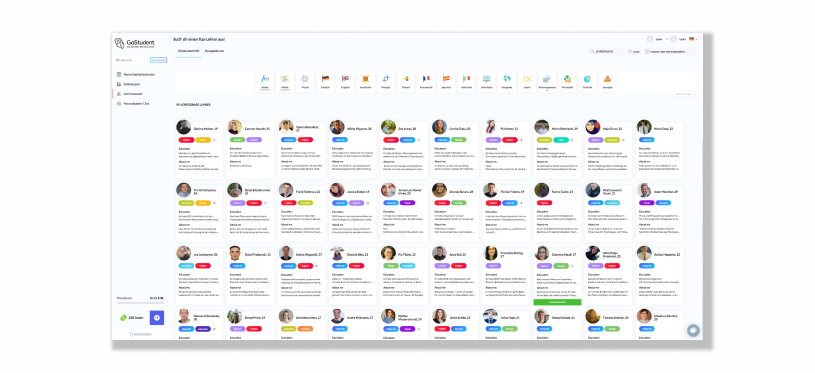 GoStudent teacher selection
Multiverse
Years in the market: 6 years
Startup funds raised: $400+ million (2018-2022)
Total valuation: $1.7 billion (June 2022)
Multiverse is one of the most exciting startups and best edtech platforms in the UK. For one thing, it was founded by none other than Euan Blair – Tony Blair's son. The initial concept of bridging the gap between employers and apprentices has turned into a "unicorn" – a startup that has been valued at least $1 billion. To date, Multiverse has surpassed that mark by hitting a valuation of $1.7 billion.
The platform offers remote education opportunities through apprenticeships. The main twist – an apprenticeship guarantees post-education employment (as opposed to a university or corporate training). So, this is a great way to secure a job while gaining skills specific to it.
From the business standpoint, Multiverse was a booming affair from the get-go. With some of the platform's heftiest investors including Citi, Laing O'Rourke, and KMPG, the startup founded in 2018 eventually raised over $400 million throughout 2018-2022.
Multiverse currently rests on the shoulders of 19 major investors and is rightfully put among the top edtech startups worldwide.
Course Hero
Years in the market: 16 years
Startup funds raised: $477+ million (2010-2021)
Total valuation: $3.6 billion (December 2021)
Acquisitions: Symbolab (2020), LitCharts (2021), Houghton Mifflin Harcourt (2021), Quillbot (2021), Scribbr (2022)
A US-based project that was initially founded back in 2006, Course Hero has been emerging on the radar in a major way over the past few years. First, raising $380 million during the Series C funding round in 2021. Second, acquiring a successful Amsterdam-based edtech startup Scribbr in 2022.
Course Hero provides access to around 100 million course-specific study materials for both students and educators. Its second primary feature and one of selling points is 24/7 homework help online, with the promise to deliver answers to homework inquiries in as fast as 15-30 minutes. The company decided not to reinvent the wheel and use flexible Netflix-like subscriptions as a monetization strategy.
Both functions put Course Hero in pretty high demand among all the edtech opportunities available today. Maybe that's why it managed to raise $477 in total funding, expand the staff up to 5,000 employees, and achieve a valuation of $3.6 billion by 2021, rightfully getting the pedestal among the best edtech California startups.
BYJU'S
Years in the market: 11 years
Startup funds raised: $4.6 billion
Total valuation: $22 billion
Acquisitions: Osmo (2019), Gradeup (2021), Epic! (2021), HashLearn (2021), Tynker (2021), Whodat (2021), Toppr (2021)
As a startup project, BYJU's is among the fastest-growing edtech companies out there, with an exciting history of market investments standing behind its success. It was launched in 2011 as a platform that offers math, coding, music, reading, English, and arts & media lessons for children in pre-K to 3-12th grades.
The platform enables 1-on-1 classes with private tutors, comprehensive self-study courses, and personalized education opportunities. It is a one-stop remote education hub that offers themed classes with lots of interactive features and gamification elements. The multimodal nature of the education process, that bets on involving the students through contextualizing course material instead of just loading them with bare theory, might be the secret sauce of its success.
In September 2022, BYJU'S became the most expensive platform among the top edtech companies worldwide. This happened after BYJU'S 2020-21 revenue was reported to decline, leading to a surge in its revenue multiple. In simpler words, while valued at a whopping 22$ billion, the company managed to generate revenue at a 40x rate – an unusually high revenue in either edtech or other big investment markets.
It didn't take long for BYJU'S to reap the benefits of its potential. The project has attracted Lionel Messi as a brand ambassador and became an official sponsor of the FIFA World Cup in Qatar. Today, the company is looking to continue raising funds and hiring more tutors (as many as 10,000 specialists are planned to be employed on the platform by 2023).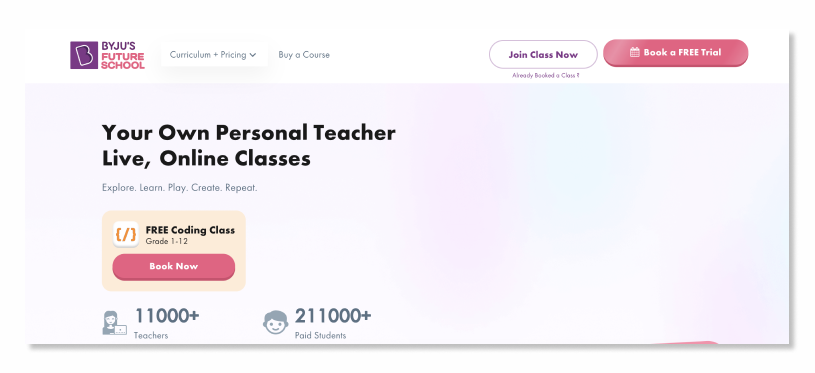 BYJU'S website
Kahoot!
Years in the market: 11 years
Startup funds raised: $517+ million
Total valuation: $1.4 billion
Acquisitions: WeWantToKnow (2019), Actimo (2020), Whiteboard.fi (2021), Motimate (2021), Clever (2021).
Last August, Kahoot! was included in the Learn Platform's list of 40 best edtech companies at #3. This is the most unique startup on our list as it is essentially an educational videogame platform.
Its main goal is, of course, to make studying fun and really interest children in all the stuff they need to learn and master. Kahoot! does that with the help of quizzes, tests, and educational games of all sorts. Teachers can create custom remote trivia games to share with their class.
With gamification as its main selling point, the company proves that education can be fun and popular. With this in mind, initially launched in 2011, the Kahoot! startup managed to raise a total funding amount of more than $517 million over the last five years, with Stefan Blom and General Atlantic among the heftiest investors.
And it keeps on gaining momentum, topping initial investments up with the project's shares growing in price by 28% in September 2022. Certainly an exciting progress to keep track of.
Bottom Line
The education technology branch is on the rise. Forward-minded entrepreneurs with creative ideas are there along with huge investment opportunities looking out for promising concepts. Last but not least, the global all-time relevant demand for convenient educational services is there. And the success of the above top ed-tech companies of 2022 should certainly inspire you to either start investing in the niche or introduce to it an ambitious edtech solution of your own.

Danil Danilenko
Next Article