A CMO is looking for certified physicians to improve their products in MedTech. Or a startup owner is 'hunting' a UX designer to complete the gig job. Now, let's get away from business needs. A young woman is inquiring about a consultation with a nutritionist. What do all of them have in common? They are people that need expertise from other people. That's a peer economy, and it's on the rise.
And of course, the online P2P service marketplace is the best shape for this concept. What can be more convenient than reaching out to any expert you need anywhere in the world? The best part is that you don't need to leave your home or office to do that.
So when you have the fresh idea of connecting people with valuable skills with people who need them, odds can skyrocket. In case you know your audience, the market needs, and how to monetize your business.
In this post, we'll focus on the best practices for choosing monetization models for p2p service marketplaces. Do they differ from other types? Can you mix a few business models into one product? Or change your business model on the go? Let's see.
Perfect Timing: When to think about monetization models for your service marketplace
It would help if you chose the monetization model (or few) during the discovery stage for your future marketplace. It helps you prove you're right about your product's target audience, the market need, your competitors, and your go-to-market strategy.
The choice of business model is vital at the early stages of your business and technical development planning because:
You need to include it in your financial model to project your revenue.
You need to formulate technical specifications for your product development.
The business model of your product influences the details and complexity of user profile, listing, administration features, and check-out / payment details. So basically, it affects half of core P2P marketplace features: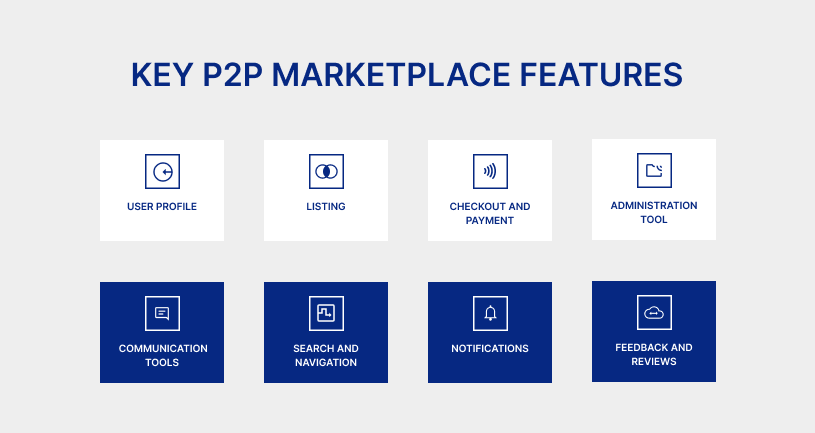 What are the Options? How Do Marketplaces Make Money
1. Commission
That's the most popular business model for marketplaces, whichever their type is. It means your marketplace gets a piece from every value transitioned via the platform. It is a primary monetization model for Airbnb, Uber, eBay, and other marketplace giants.
It is simple yet gives you some options to adjust. Here's what you can do:
charge commission from the customer or provider, or both
set the same commission rate for all to implement few different schemas based on their performance (providers) or amount of purchased services (customers)
set the lower rate at the beginning to attract the providers or customers
charge a flat fee or a % from the cost of service
The exclusiveness of the services paves the way for experiments and getting additional value.
2. Subscription
It is a revenue model with charges of a recurring membership fee to access the marketplace. It's an option for marketplaces that bring high value for providers and customers, but for some reason, it's hard to impossible to facilitate payments. It is a standard business model for C2C marketplaces (Home Exchange or all sorts of dating apps). In B2C, it's popular among platforms with recruiting options, like LinkedIn and StackOverflow.
The problem with this type of monetization may reveal at the initial stage: it's hard to find providers without customers and attract customers without providers of goods.
3. Pay-as-you-go
For both B2C and B2C marketplaces, this model enables customers to make a one-time purchase of a product or service without additional subscription fees. It is a standard for many service providers, which has become immensely popular for marketplaces. For instance, when you pay for posting a job offer on a marketplace, where professionals in any field provide their services.
4. Freemium
This business model is a mix of free and premium services and features. Users can access basic features at no cost, whereas the additional functionality is available only for subscribers. It works well for online services like Grammarly, Dropbox, etc.
However, startup marketplaces can also benefit from it. For example, if your marketplace sells mentorship or consulting services, you can think of adding free expertise content that is relevant to your customers. Or open the discussion board, where your experts would answer questions for free or share helpful information. It can help you attract customers after launch, nurture them and encourage them to pay for services.
5. Listing Fee
Easy as it is: the users (providers) must pay for their listing on your marketplace. It's a promising monetization type for marketplaces with lots of traffic and offering a wide range of goods and services. The providers can control costs and aren't forced to pay for anything except listing certain items. On the other hand, paying for listings doesn't guarantee that providers will sell their items or services. To do that, they need to be sure they list their offering on the marketplace with many customers ready to pay for whatever they have.
Using listing fees might be tricky if you want to focus on services for a specific target audience.
6. Lead Fee
It's a combo of the listing fee and the commission models. Providers pay for making a bid for real customers with specific requests. It's a better offer for providers because they need to pay only when they want to contact the potential client with an inquiry. If the value of such leads is high (e.g., at Thumbstack), this monetization works well.
7. Advertising
This model suits marketplaces with a significant number of providers well and helps them maximize their sales (Zillow, Uber Eats). The options are sponsored banners, third-party product listings, text advertising, and combo. If you also charge commission from sellers, customers, or both, you're highly interested in boosting the number of deals.
8. Sign-up Fees
Finally, this business model requires vendors to pay a flat fee for joining the platform. It's not that popular, but there are examples like e-commerce and affiliate marketplace ClickBank, that deliver digital and physical goods.
It helps you set the revenue forecasts without knowing the sales volume. However, it's challenging to persuade sellers to pay you before registration.
3 Best Business Models for Service Marketplaces
Fun fact: service marketplaces have even shares of different business model usage. Platforms for selling physical goods go all in the commission model. Almost half of the digital goods are distributed via subscription.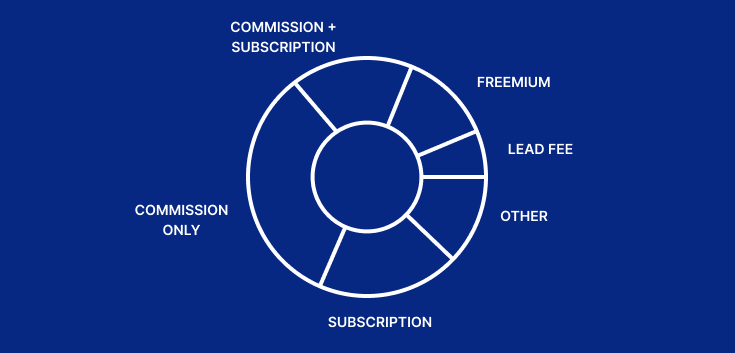 Meanwhile, service marketplaces rely on three business models:
commission
subscription
commission + subscription
Let's not forget that the talent economy side allows them to use other models, like pay-as-you-go (relevant for selling digital goods, too) and lead fee (rare human resources are everything in the modern world).
Commission
The most prolific model for service marketplace because you can use it at its full potential.
What is a service marketplace? It's a "vertical" market product. It has specific customers and focuses on specific needs. It creates additional value, which is critical to the success of the relationships between 'sellers' and 'buyers.' And, of course, it hits the green lights for:
setting the commissions for providers and clients
AND customizing them individually to attract specific professionals
The amount to charge varies from 1% to 50% and above, depending on each part of the deal's value. The chances are high that you'll need to reconsider the commission rates at a certain point. But if you're ready to be dynamic and flexible, stick to this business model.
Commission is the primary business model for Fiverr, Upwork, TaskRabbit.
Subscription
A subscription fee model means users must pay for a membership that provides access to the service or premium products. It can be monthly or annually. If you'd like to implement this model in your P2P service marketplace, think beforehand about whom you'd like to charge, vendors or customers. Think about who needs your platform more and who has a higher demand. That's the key.
And of course, when you deal with subscriptions, you also need to define the pricing strategy and potential marketing activities (e.g., discounts on subscription fees).
Commission + Subscription
Finally, this is a high-performing mix for P2P marketplaces offering services. It allows you to stay flexible and get the maximum revenue. As a best practice, vendors are likely to pay the commission, and customers pay the subscription, but it's up to you. Analyze your target audience, competitors, value proposition, and choose the best option.
Bonus: Rising Stars in Service Marketplace Monetization
Lead fee: if your marketplace helps customers reach talents or rare specialists, this is your safe bet.
Pay-as-you-go model: a great addition to the primary business model, to pay for a particular option.
Freemium: a handy tool for gathering leads and attracting more customers. It's a good fit for an educational service marketplace, where you have valuable content to share for free.
Best Practice: Lure Into Insights on Monetization From Fulcrum Client
We've also had our share of designing and developing P2P products. Look at the active P2P marketplace to finalize your thoughts on the best monetization models for this type of business.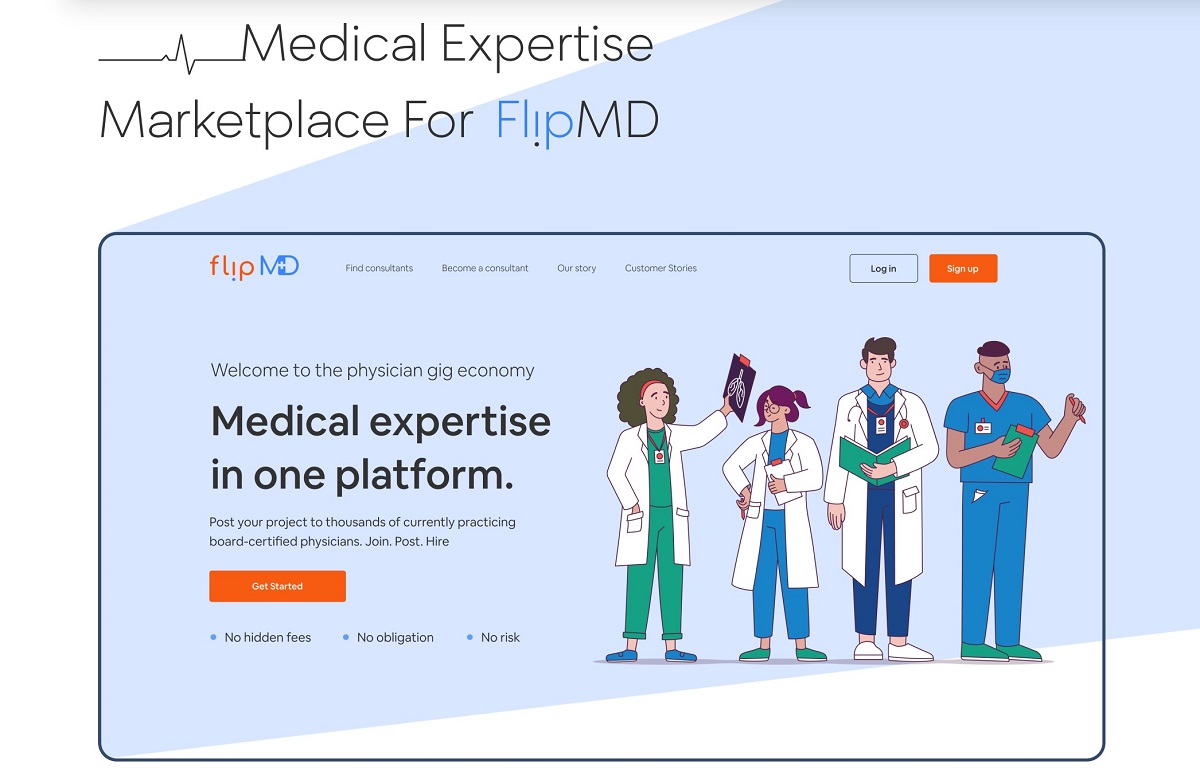 FlipMD: get the medical expertise for specific business needs
FlipMD is an open, competitive marketplace of physicians offering their consulting services to clients seeking medical expertise.
Business model: Commission + Pay-as-You-Go
FlipMD charges the client for job posting and for hiring a consultant. Also, there is a separate direction of services, where the client hires a consultant (or a team of consultants), does not pay the platform for "hiring," but pays the consultant on the platform for the work done or hours pledged. The platform, for its part, charges 10% from the client and 20% from the consultant for each transaction. Upcoming plans: add subscriptions to the mix of monetization models. Read the entire case study and gain more insights on Behance.
Wrap up
The commission is still the best monetization model for P2P marketplaces, as well as Commission + Subscription model. However, if your platform offers niche services, you can mix trusted models with others. Consider the actual value of services your marketplace will provide, and analyze who would benefit more: providers or customers.
If you need strong expertise in the discovery of your product, which will help you avoid the pitfalls and get a realistic action plan and cost, ask Fulcrum. Let's talk about your future project and bring it to life.
Need an expertize in product development?
Find your off-shore, in-house team. Fulcrum helps entrepreneurs succeed
Let's talk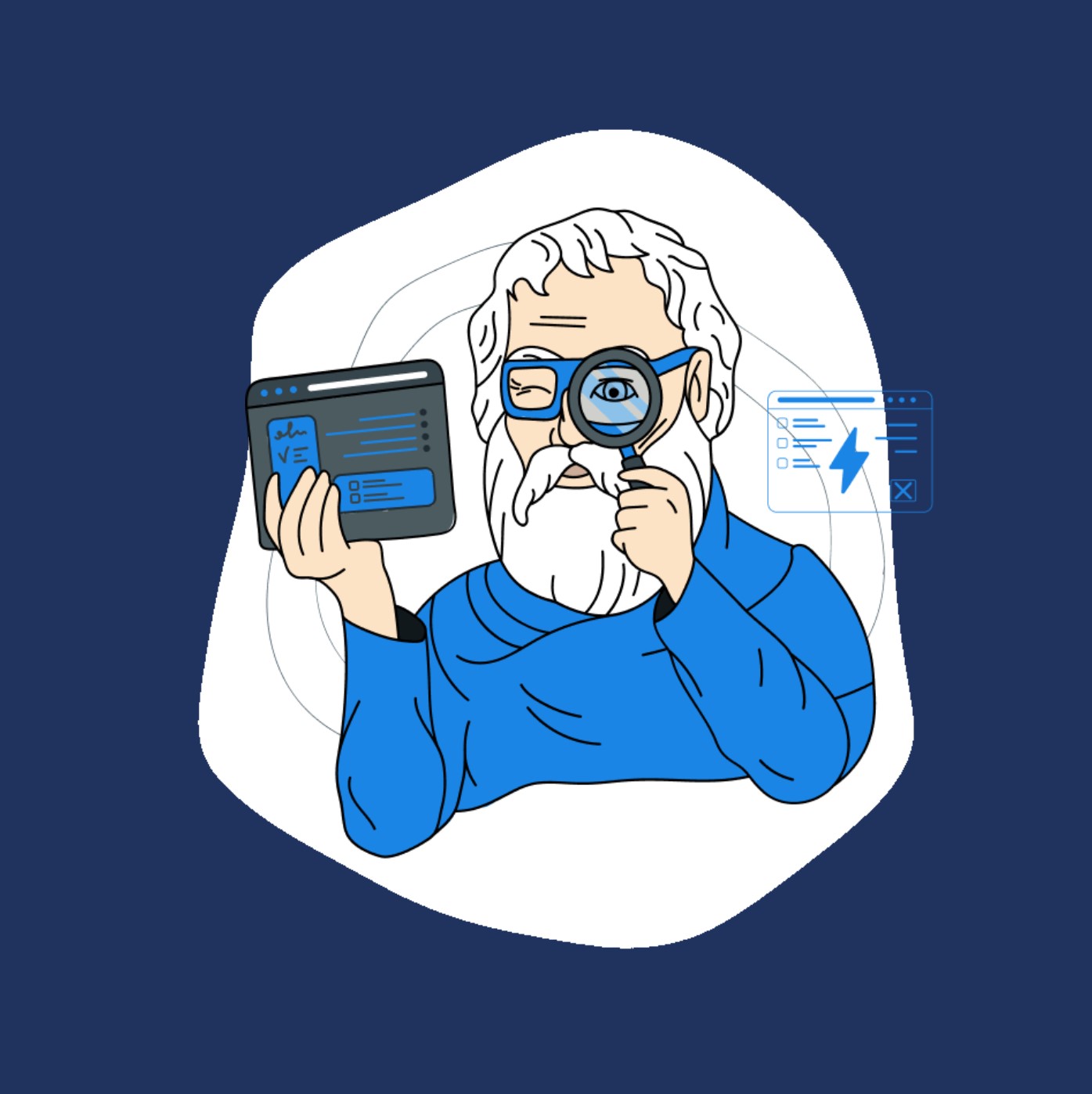 F.A.Q About Monetizing Service Markerplaces
Should you go to market with multiple monetization models at once or start with just one?

Some of them can be perfectly combined when entering the market. For example, the combination of the Subscription and Freemium business models. The flipMD project currently has a Pay-as-You-Go + Commission-based business model, but they plan to implement it to introduce additional subscriptions.

If the product will use multiple monetization models, how do you track the performance of these models?

Then business metrics will be suitable, and which ones will depend on the specific product and its goals.

Can I add or change the business model after the launch?

If it suits your business best and if you see the opportunity for growth, yes. It may require time and an additional budget, but it's possible.
Ganna Kashnikova
Curating content for enterpreneurs and startup founders