Fulcrum Current State of Affairs
We are committed to our clients, so in these hard times, we adapted and evolved. In the first half of 2022, we have delivered every single project we had. Since the beginning of the full-scale war, we have managed to release new products, sign 12 new deals with an average duration of development of 5 months, onboard 27 new team members, and grow our revenue 2X.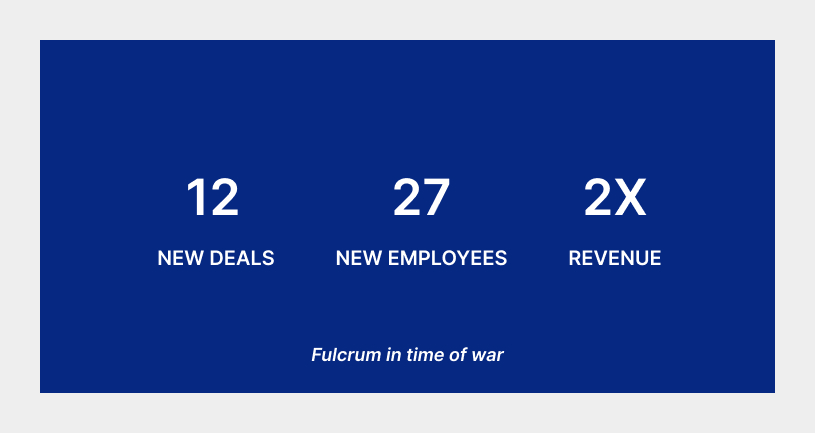 Our current plan is to double our current figures so that we could donate $1M to help our country.
Safety of Fulcrum Employees
We have always put the safety of our people as the #1 priority. All of our Fulcrum friends are in relatively safe spots ~1000km away from the areas with active military actions. Also, many of our team members are based in Western Europe since the full scale invasion has begun.


At Fulcrum we have emergency plans, relocation spots, should the situation escalate. When the war has broken out, we have managed to relocate most of our employees to the safe zones within days. In Kyiv we also have our own office, which is located in the shelter, and is equipped with power generators in case of blackouts.

Currently, in October 2022, the frontline has not just been stabilized – Ukrainian forces advance quickly. Some of our clients have been worried about their developers being called into military service in the midst of the project. As for now, only 3 of our Fulcrum folk (out of 100) are serving. Let's imagine that indeed, someone on your team decided to join the army. In this case, we will engage other talents on your project, while we continue endless and limitless support to those who have joined UAF.
What's more, we'll be glad to arrange a call with one of the clients so you can hear about their experience working with us during the ongoing war.
The Actual War Map 
Speaking of military actions, recently, the Ukrainian army has retaken more territory, advancing near the southern city of Kherson and gaining momentum in the east. Although the struggle continues, it gets safer now in many regions. The actual war map shows how less of a threat most of russian forces are now. We are proud of our defenders and we support them – we'll talk about it a bit later. Here, the key point is the invaders are pushed away and normal life returns in many regions.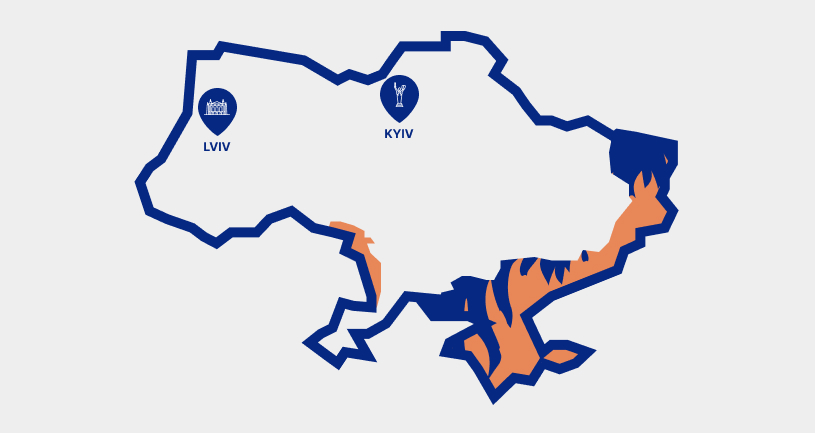 Fulcrum Volunteering 
We don't miss opportunities to take part in impactful initiatives for the sake of our country. In the first weeks of the war, we held a fundraiser to help Ukraine –  we doubled any amount our employees donated. As a result, USD 12k was gathered and the company added another 25. Later, we volunteered USD 10k to the American Foundation (cooperation with Come Back Alive and delivery of equipment from the US). We also donated a total of  9 515 540 UAH to the regional volunteering centers, territorial defense forces, and those who were affected by war.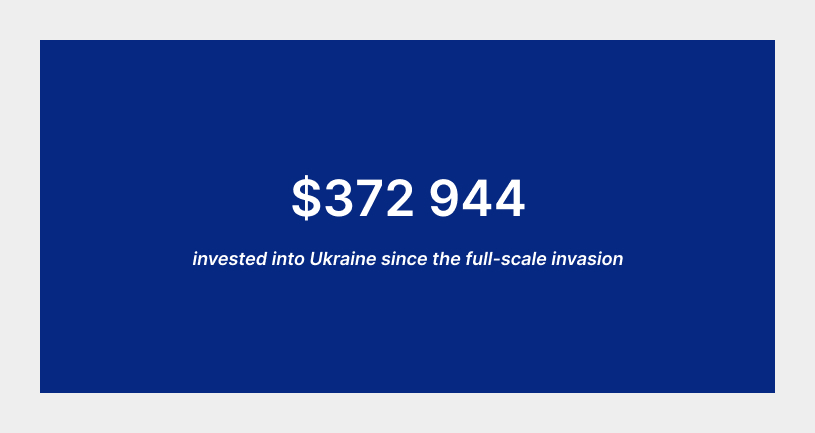 $372 944 donated by Fulcrum since Feb 24
Wrap-up
To conclude, the war came and made us stronger. Just like our country, we had to find our strength to adapt. For now, our employees are safe and motivated, and our results are great. We support Ukraine and grow stronger together. Slava Ukraini! 

Danil Danilenko
Next Article