Hi! I'm Mark, Fulcrum UX designer. I am also the author of the free DIY UX Audit checklist. I am here today to tell you all about usability testing. Which is often done as the final step of UX research to check the hypotheses and finalize the research findings.
In this article, you will learn what usability testing is. I'll explain why we do it. And how we do it. I will describe the main elements of testing. You will get a real-life example from my practice. Finally, I will tell you all you need to know about our usability audit service. Let's get involved.
What is Usability Testing and Why We Do It
Usability testing definition is worded differently in various sources. Yet, the essence of it is always the same. It is a technique of evaluating a product by testing it with actual users.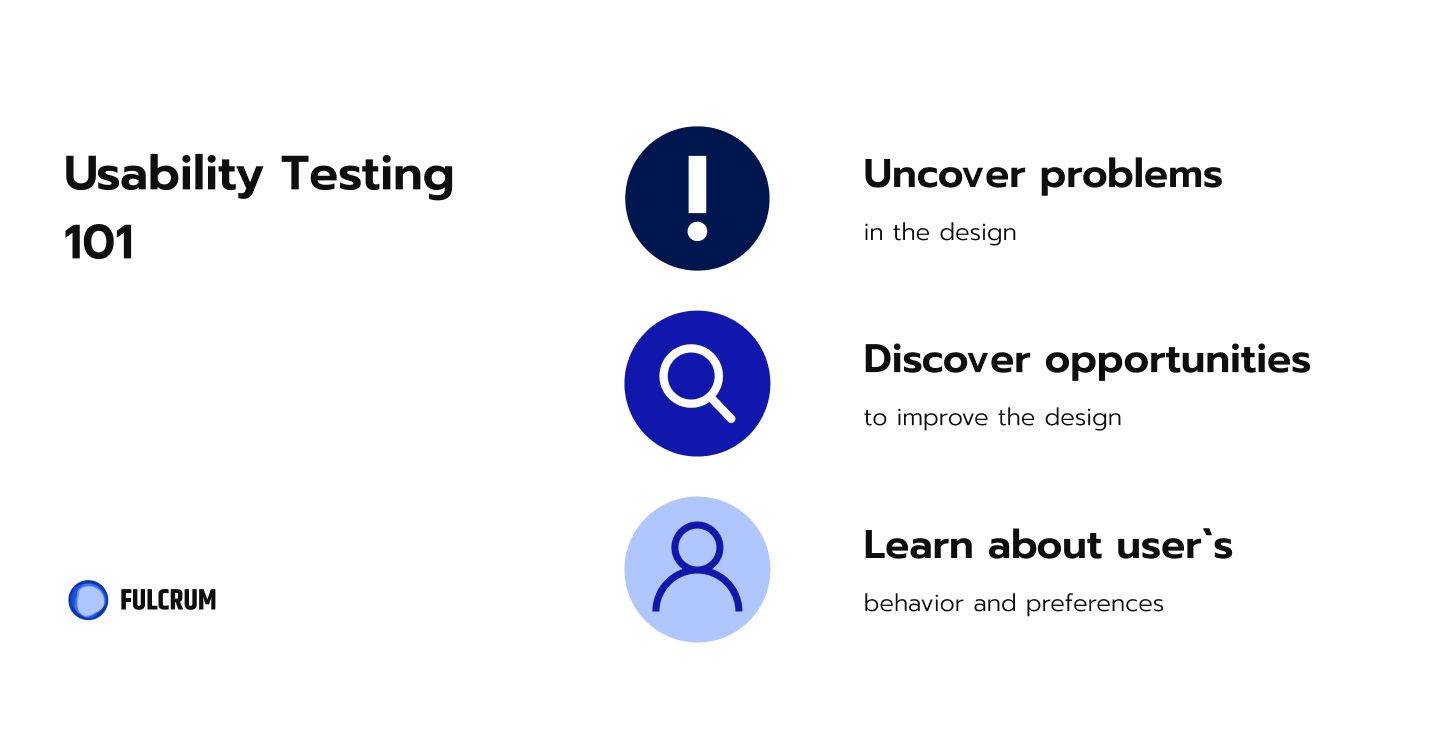 This technique or method is sometimes referred to as user testing. Don't make the mistake of thinking user testing is something meant to test the users. It's just a shorter name for the same empirical study method of user experience research. We don't need to test the users. They are perfect as they are. We need to see the product with the users' eyes.
A testing session here implies there is a person from the product team called a facilitator or moderator. And a user called a participant. The facilitator requests the participant to use an interface or perform certain tasks with the product under test. The moderator does not have direct involvement in the tests. Their role is solely to observe, listen and write down the user's feedback.
So why do we test usability? Shouldn't an experienced UX designer be able to generate a perfect user interface without any of this additional effort? As a UX designer with years of experience, I give you the categorical answer – no.
With some minor exceptions, we create products for users who know little to nothing about technology. Why should they? It's not their job. We, on the other hand, know too much about technology in general. And we know our products up and down. We can not wipe our brains clean and pretend we don't know how the interface is supposed to work. We can't pretend we see the product for the first time and know nothing about it. Yet the user is meant to discover it all from square one.
Getting a hold of real users, seeing what they do, allows us to get a true assessment of whether the design is easy to use. Whether it really solves the problems it is supposed to solve.
Another reason for doing this type of analysis – it is convincing. When the whole team sees the user struggle with the design the question of applying the necessary changes does not arise. Everyone is convinced the changes have to be made.
User testing helps us bring issues to light, find opportunities, and see real users' behavior. This in turn helps us deliver better, more viable products to the end-user.
EXPERT UX AUDIT
Check your product against 100+ UX criteria.
Get in Touch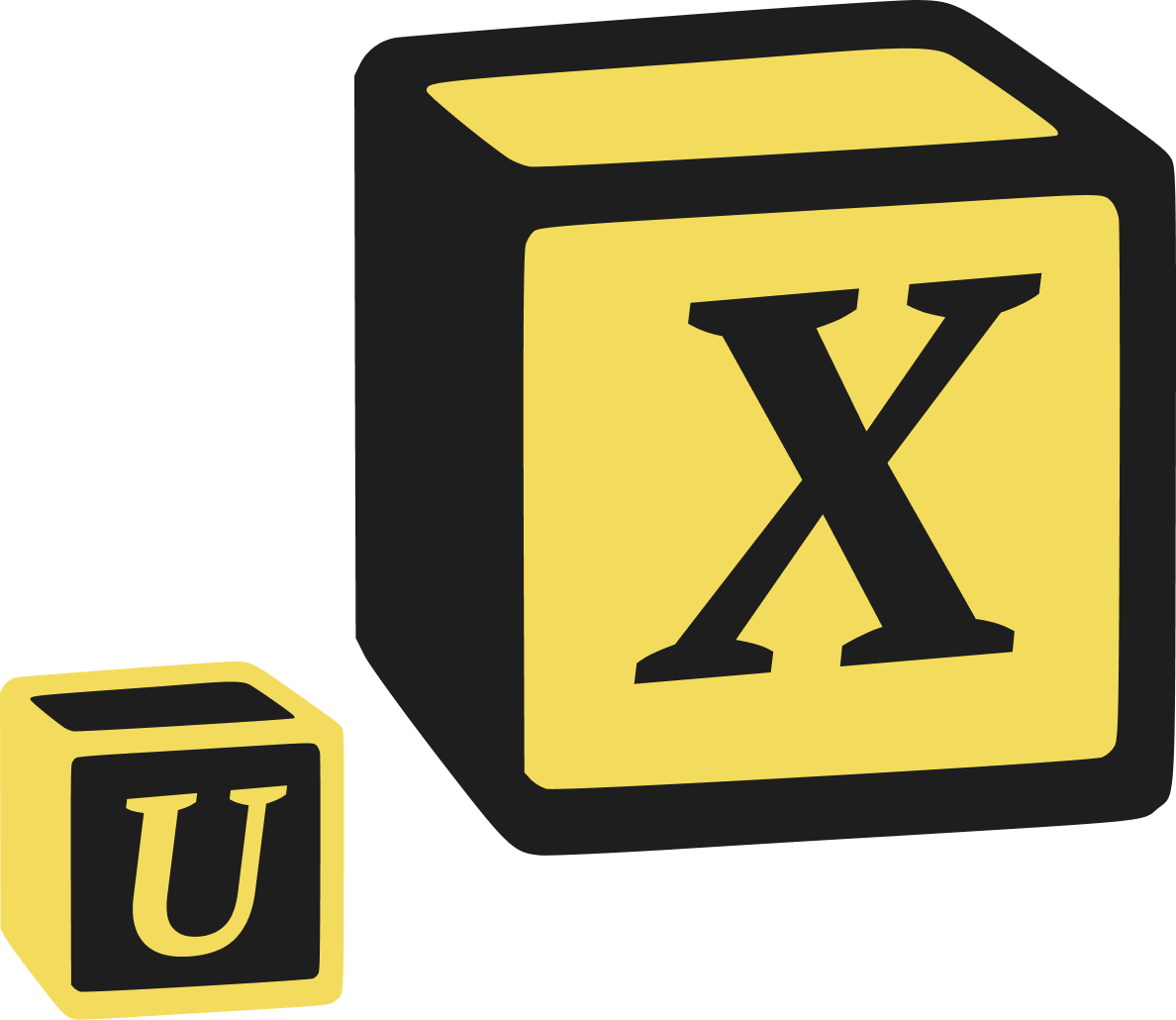 Elements of a User Test
There are many various types of usability testing. Obviously, they all have different elements. NNGroup, the pioneers in user experience, distinguish three core elements. These elements can be seen in almost any test:
the facilitator;
the tasks;
the participant.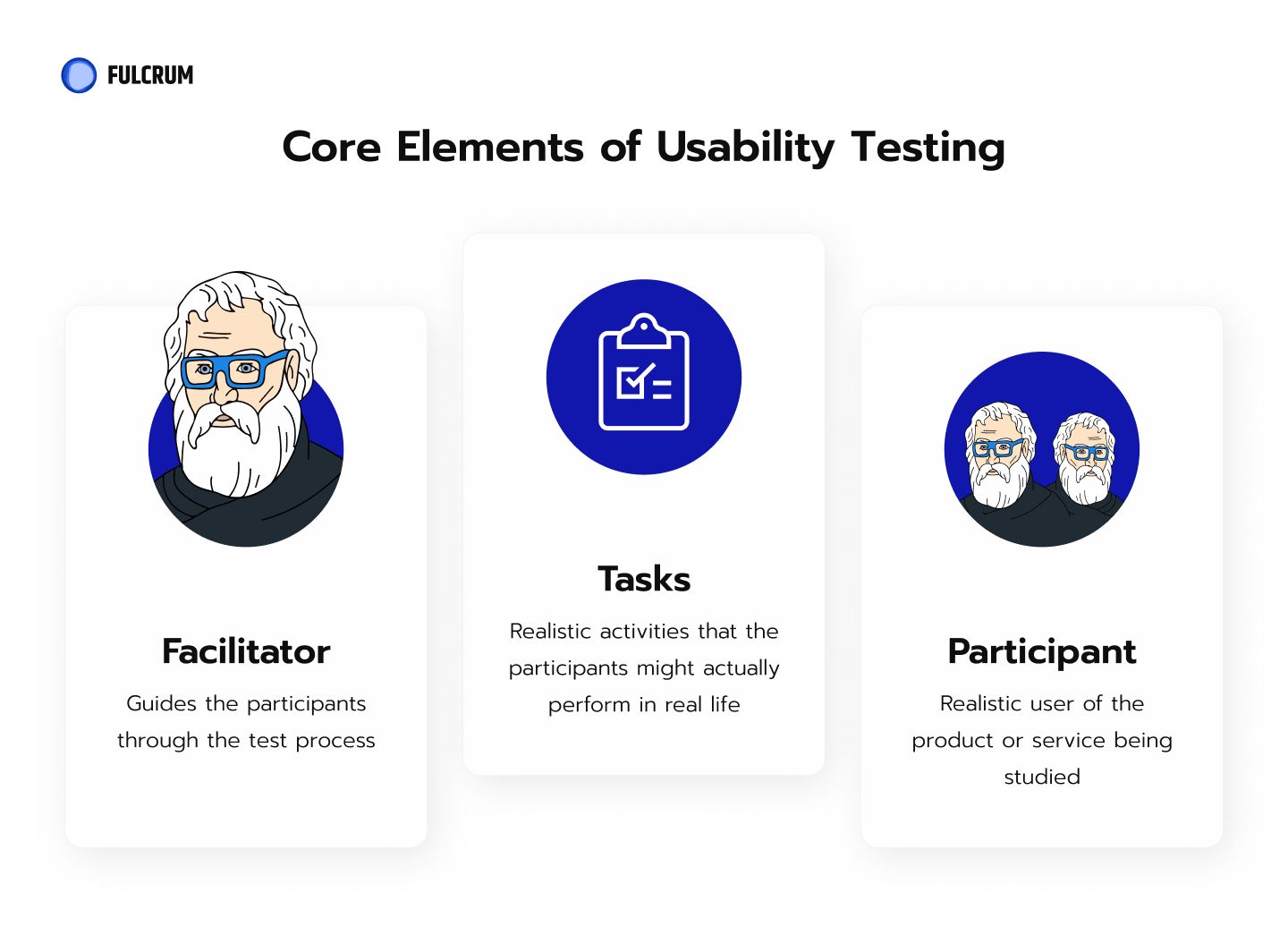 Facilitator
In the user tests we do at Fulcrum I usually hold the role of the facilitator. My main task is to shut up and listen, observe, and gather insights. But before I shut up I guide the participants, instruct them in the testing process, answer their questions. I also ask follow-up questions.
The hardest and most important thing here is to ensure the participant's behaviour is unbiased. Not influenced by me, my words, my own behaviour. Even accidentally. This comes with practice.
Tasks
Whatever is tested it is very important that the tasks are realistic. We need the users to act just as they would actually act in real life. The tasks can be exact or open-ended. This largely depends on the research goals and questions, and the chosen type of testing.
The wording of the tasks or usability testing questions you ask is very important too. Even the smallest error might cause misunderstanding or influence the participant's behaviour.
Participant
The user tests have to be run with representative users as participants. What does a representative user mean? Usually, this is a person who already uses the product in real life. There are cases when the participant is not an existing user. But they have similar backgrounds and experiences to the target group of users.
How many participants do we need for a user test? This depends on the type of test we do. There are some types of tests that need more participants to be statistically correct.
At Fulcrum, we usually have 2 to 5 participants per round. And this is the amount of participants the experts recommend as well. Why so few? Well, usually the first person to do the test finds most of the issues with the design. The next participant will repeat most of the actions of the first one. By the 5th we have a pretty clear picture. It does not make sense to test any longer.
So we ask 5 users to test the product. We write down and analyze the results of the test. Then we apply the necessary changes to the design. And test it again with another 5 participants. Usually, it takes us 3-4 rounds to perfect a project. There are usability testing examples in our practice when just one round was enough.
User Tests for the BUFF Project
BUFF is a loyalty platform for gamers we created for Buff Games. The platform rewards the gamers for playing. The more a player plays the more coins they earn. These coins can then be used to buy real goods. The platform has its own coin economy and reward program. There is also a marketplace.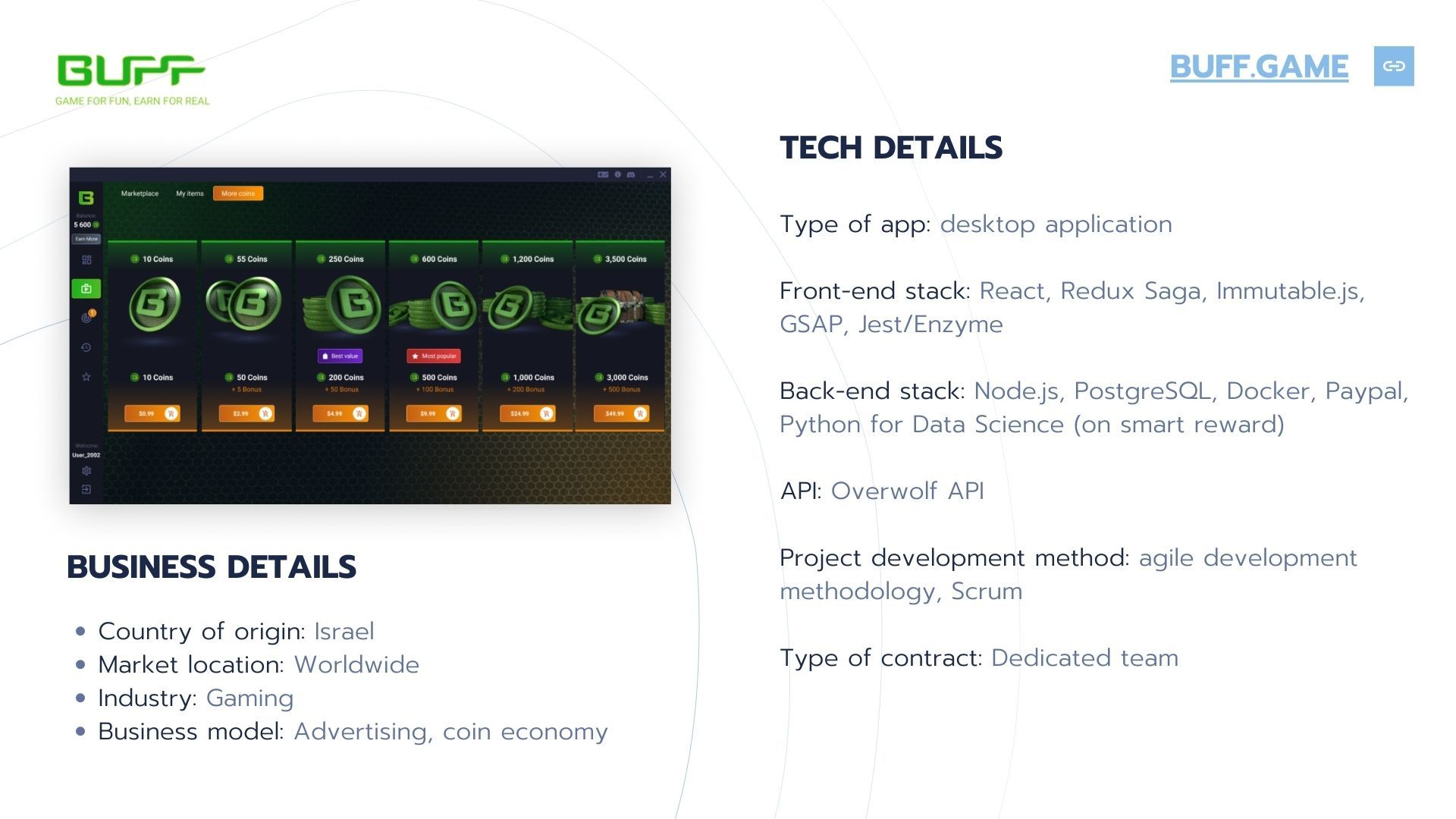 Buff project
For the BUFF project, we had a hypothesis that ads hinder the playing process. We had 3 American teenagers test the platform. I decided to experiment here a bit and played League of legends in a team with each of them. So while we played I observed their behaviour, listened, and asked a lot of questions. These were 3 amazing usability tests! Some of the most enlightening in my career.
As a result of these user tests, we learned where to place the ads to avoid frustrating the players. And make the ads more effective. We stopped showing the ads in the wrong places. We stopped showing the ads to the new users altogether to avoid overwhelming them. Finally, we fixed some minor usability issues.
Fulcrum Usability Audit Service
When a client comes to Fulcrum for a full development cycle we run their project through every stage. From discovery to usability check. By the end of the cycle, we provide the client with a viable product. Which has competitiveness, potential, and product-market fit.
So what do you do if your app or website already exists but you are not certain if it's easy to use? I created Fulcrum UX Audit specifically for such projects. The service is mentored by me personally.
The audit includes:
Behavioural patterns analysis.
Quality analytics audit.
Extended audit of all the metrics from our usability checklist. With real-life examples of how things should work.
Support inquiries and hotline analysis.
Extended audit of all adaptive versions of your website.
Hypotheses to be checked with usability tests.
Wireframes describing how usability issues can be fixed.
With Fulcrum usability testing services you receive a very detailed report. What methodology we used to expose the issues. A detailed description of each issue with screenshots and explanations. Prioritized list of problems. Recommendations and examples of how the problems can be fixed. All of these are the deliverables we provide.
And we offer a free usability checklist. With this checklist, you can discover 90% of the usability issues in your website or app yourself. The checklist covers every element of an interface. From the fields and forms to the visual design overall. This is one of those tools you won't be able to live without. I guarantee.
In the modern world of unrelenting competition, usability tests are simply indispensable. You will never increase your conversions and user satisfaction by guessing. You need to know the facts. And usability tests give you the facts.
If you need help with finding the usability problems in your app or website just give us a call!
OUTSOURCING
We stay dedicated & laser-focused on your product no matter the distance
Get in Touch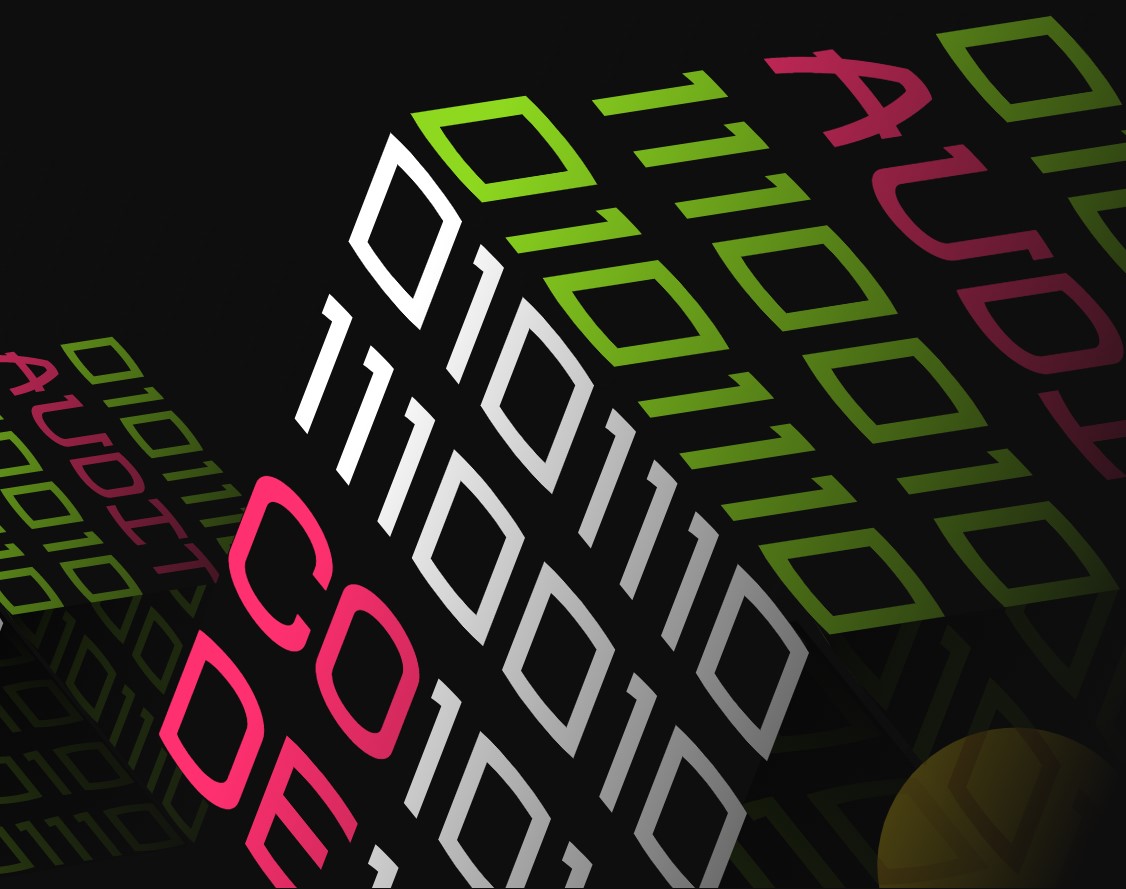 FAQ: Usability Testing
What is usability testing?

It is a method of UX research that implies assessing a product or interface by observing and interviewing the real users

How to conduct usability testing?

Just come to Fulcrum for a usability audit. And have the professionals do it efficiently.

Why do usability testing?

To stay on top of your game and outrun the competition you need to know your weaknesses. User testing helps to uncover and fix them.

Mark Lankmilier
UX & UI designer at Fulcrum Rocks
Next Article