The number of mobile app downloads is snowballing. And it is no surprise since more and more people prefer to use apps on a smartphone. 'How much does it cost to make an app?' – you will ask. And it is a good question. But it is impossible to answer this question unequivocally – in each case, the cost will be different.
App development cost varies from $1,000-$250,000. Don't you think it is quite a huge gap? What exactly affects the price? We will dive into the mobile app development process, but first, let's see if you need an app or more tribute to fashion.
Why You Need a Mobile App
Any entrepreneur wonders if an online business must have its mobile app. Will the investment pay off? Let's point out the main benefits.
Mobile apps are more convenient and faster than mobile websites.The high pace of life makes users very demanding of the speed of loading websites and online stores. Good loading speed and convenience are all about the apps.
Mobile apps increase customer loyalty.The phone is always handy, and an app icon, like a catchy banner, continually reminds the user of the opportunity to launch the app.
Apps better convert users into customers and increase the sales volume. Applications encourage users to make purchases since their functionality allows them to pay for an order in one click.
Applications provide a higher level of interaction with the client. Smart push notifications can convert users into buyers and return unengaged customers.
Mobile apps are an excellent source of clients' feedback.You can get much valuable information from the customers to point it in a constructive direction.
Are there any doubts left if your online business requires an app?!
LOOKING FOR TRUSTED DEVELOPERS?
Hire handpicked team of developers right now!
Book a Call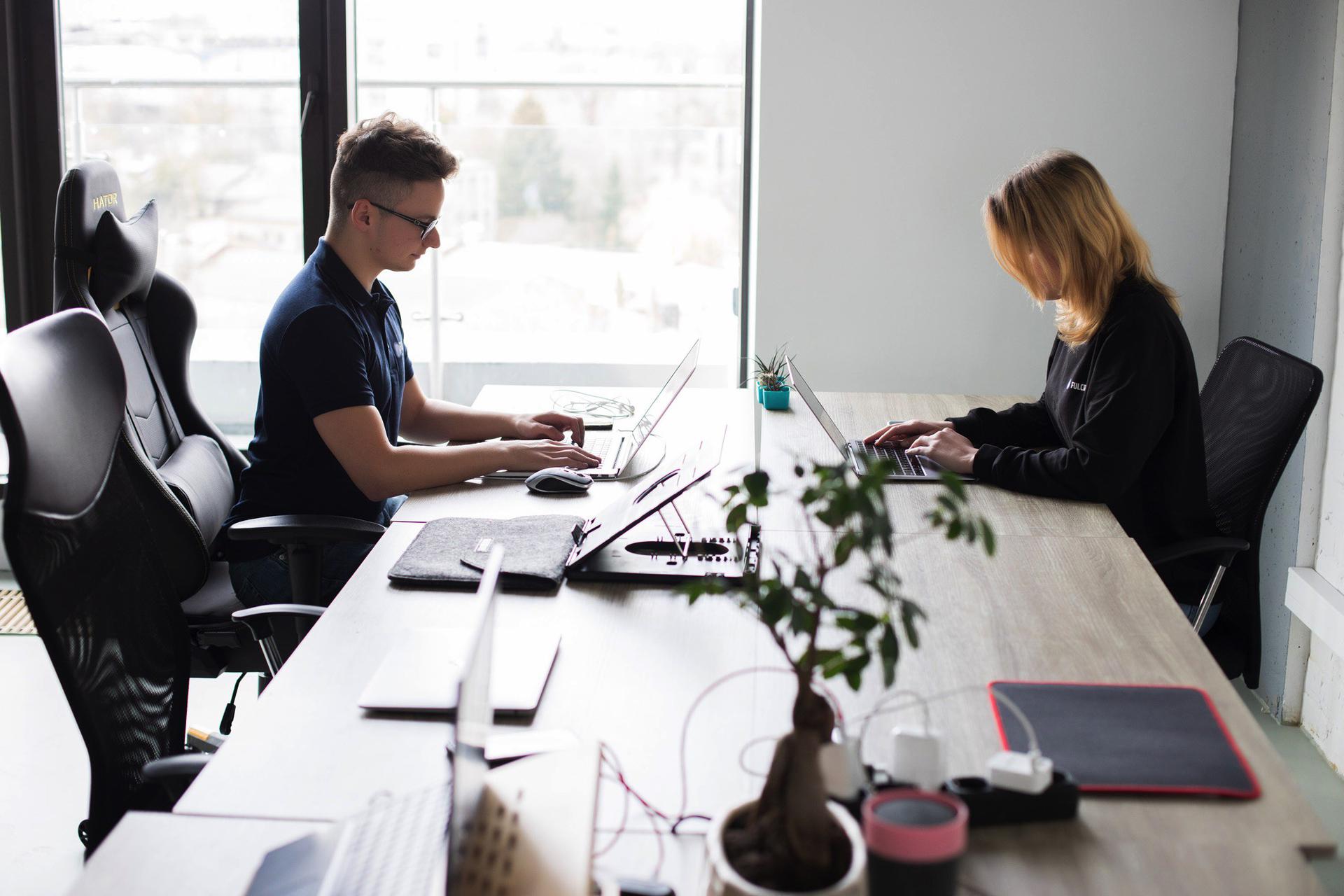 How Much Does It Cost to Make an App
When it comes to the cost of building an app, complexity does matter. Below you can see a few types of apps along with the approximate prices and delivery times.
How Much Does It Cost to Make an App in a Table
| Simple app | API/ Database app | Multi-featured/ Enterprise app | Game app |
| --- | --- | --- | --- |
| $10000 | $10000 -$50000 | $50000-150000 | $5000-$2500000 |
| 2-4 weeks | 2-3 month | 3-6 month | Varies |
Usually, developers make a quick rough estimate of the cost beforehand. If you want to get an answer to the question "How much does it cost to build an app for my business", we have a solution for you. The Fulcrum calculator will provide you with an estimate of all app development budgets. Keep in mind that this estimate's result is approximate, but it still gives you some idea of the cost required to create the app.
How does it work?
Choose a platform (Apple iOS/Android/Multi-Platform/Web).
Add your app's features (Admin features, APIs & Integrations, eCommerce, security, etc.).
Click 'Calculate' to enter your e-mail address.
Wait for a commercial offer by e-mail.
HOW MUCH DOES IT COST TO MAKE AN APP?
The project cost calculation estimates the total amount of time required to develop or integrate each feature. This tool's main task is to show how much the functions requested for the app will cost. It helps customers to decide on the budget and better understand their needs. Developers will estimate the amount of further work without plunging into the wilds of the technical task.
Key Factors That Affect the Cost
We wish we could give an accurate answer to the question, 'How much does it cost to develop an app?', but the cost does depend on many factors. Among the most critical ones are the following:
Type of the project (education, eCommerce, social, etc.)
Vendor and his location
Platforms
Set of features
Design complexity
Now let's review some details on each point.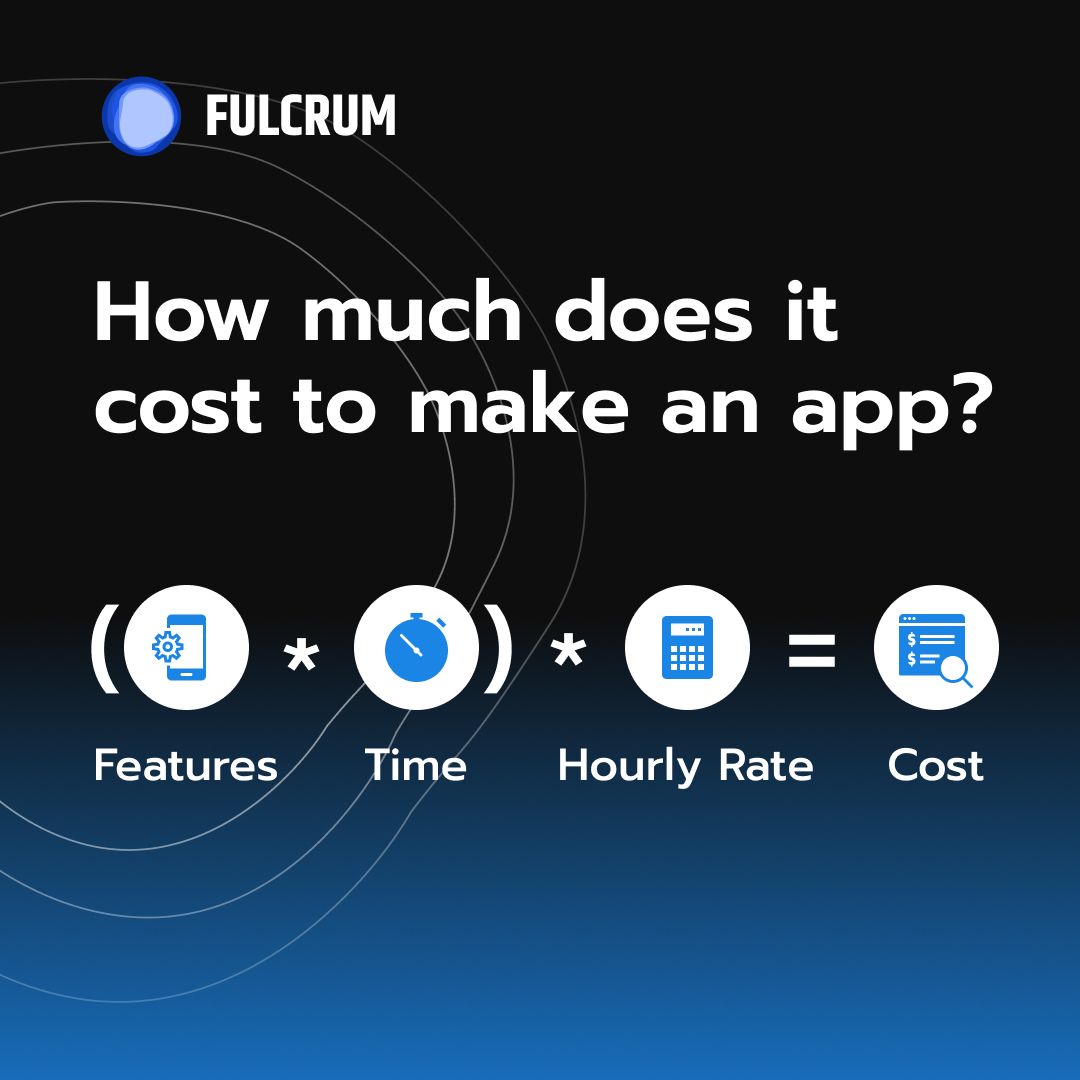 Identify what type of app you are building
To have a clear understanding of what type of app you want to develop is your initial step. At this stage, it is necessary to formulate:
the purpose of your app
problems that the application should solve
If you have an online store, the goal of your mobile app to showcase your products.
Vendor
Depending on the project's complexity, a group of designers, programmers, project managers, UX designers, and QA specialists is involved. You will need to decide if you are going to hire freelancers or a local web development company. In both cases, there are advantages and disadvantages.
When choosing a freelancer, you save a budget significantly. But you still have certain risks and limitations. Moreover, location matters a lot. Freelance app developers from NYC will charge $20-$250 per hour, while Eastern Europe specialists will request $20-$110 per hour.
Local specialists can solve complex problems, develop ideas and concepts, and discuss the project. It gives a more meaningful result for which you pay more. Ensure you will make the right choice, and you do not have to pay twice.
Platforms
We often hear 'How much does it cost to make an iPhone app?' or 'How much does it cost to make an Android app?'. The platform matters also.Before you decide which platform to choose for your app, please, consider:
how much time you have
what quality you expect
what your target market will be.
When talking about native mobile apps, your options are Android or Apple. If you need a quick solution, you should opt for a cross-platform solution.
As you can see, the cost of development depends on the number of supported platforms. Adapting an app for tablets can add up to 75% of the price. Support for older versions of iOS and Android can increase development costs one-and-a-half times.
Remember, you should try to reach as large a part of the audience as possible. Yet, if you plan to test your idea, it is better to focus on the client application for a single mobile OS in the first stage.
Set of features
Complexity and a set of features for your app are the most significant cost drivers. Various buttons, fields, screens, and other elements make the app unique, engaging, and convenient. But each extra item affects the budget of the project. Thus, you need to think through the functionality to the smallest detail.
The key features that you observe in many apps are as follows:
User login/ registration – 20-25 hours
Search – 12-25 hours
Push notifications  – 12-25 hours
Chat module – 50-65 hours
Payment – 50-65 hours
Analytics – 2-5 hours
More advanced features are as follows:
Geolocation – 23-48 hours
Integrations (Google Maps) – 30-40 hours
Video/audio streaming – 50-70+ hours
Ads – 8-16 hours
Connectivity with a device – 16-24 hours
Based on your developer's hourly rate, you can calculate each feature's cost.
FIND IN THE GUIDE:
Offshore development rates by country
Time zone difference
Development rates by role
DOWNLOAD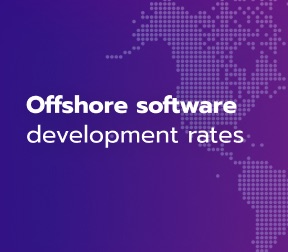 Design complexity: app design cost
The design of your app is a significant part of it. An intuitive user interface and a nice layout are not cheap, but they will pay for themselves with positive customer impressions and loyalty to your app.
When talking about design for a mobile app, consider its key components.
| Visual design | It is the esthetic quality of a product. | $5000+ |
| --- | --- | --- |
| UX design | Creating the logic of interaction with the product and helping to achieve the user's goals. | $10000-$25000 |
| Icon, logo, and branding | It is a visual image of your app, its message, and its reputation. | $2500-$10000 |
| Copywriting | Style of voice and tone to match your app's brand. | $1000-$5000 |
How to Optimize the Cost of a Mobile App Development
The choice of a particular specialist/company that will put in place your idea has a notable impact on the cost of the application. You have a few options to go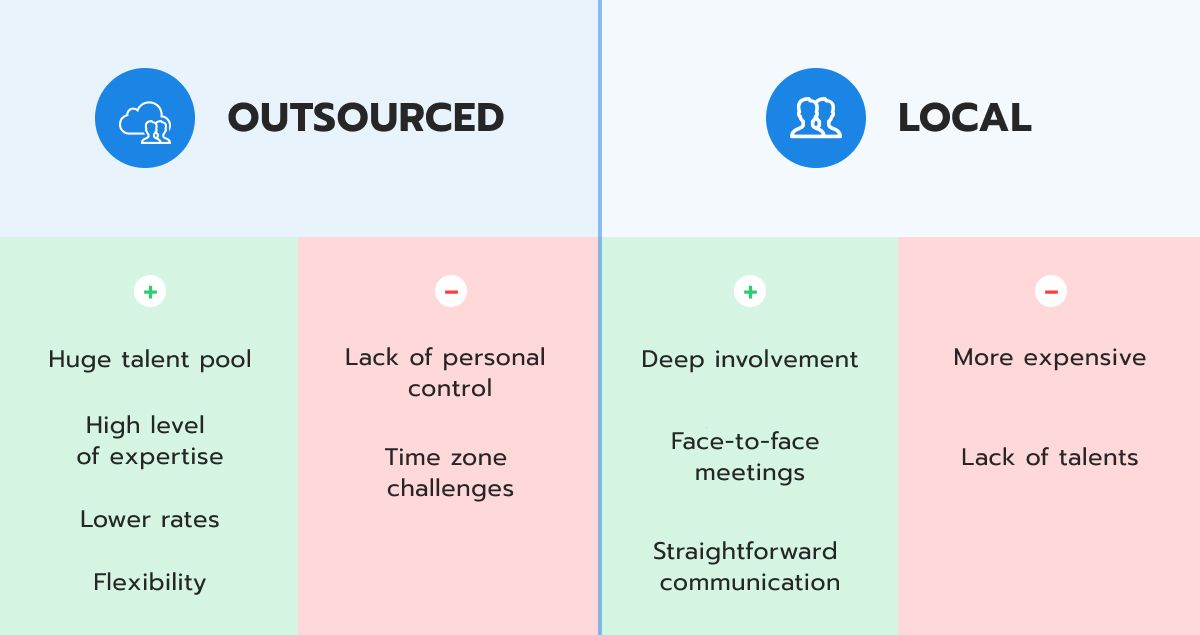 How to Optimize the Cost of a Mobile App Development
Freelancers
To reduce your development costs, you can hire a team of freelancers who are happy to do the same work for less. Unfortunately, working with freelancers leads to certain risks. There are many difficulties with control and communication.
Outsource team
There are several possible ways to involve a third party in the development process of your app. The first option is to hire a developer (developers) and pay for their work. This option is perfect if you understand how you can manage your team remotely. The second option is to contact a company that organizes all processes, including:
development
design
UX
testing
business analysis
You will only be responsible for final and key decisions.
Dedicated team
If you plan to launch a long-term project, you should hire a remote team that will only work on your product. These specialists will be part of your project and will devote 100% of their time to it. They will be organized and controlled by local project managers of the company you applied to. Managers will send you reports and manage your specialists. In this case, you can save a lot since you do not have to pay for office maintenance, taxes, insurance, etc.
Location is the next major factor that can affect the cost of app development. Take a look at the numbers below.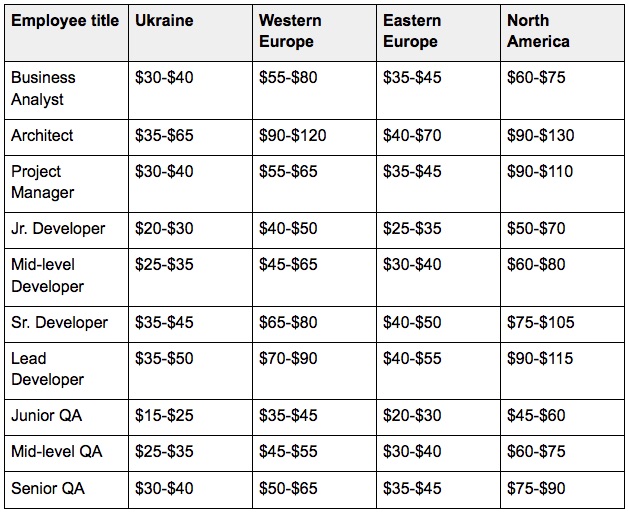 Software development rates
Ukraine shows low-cost app development numbers compared to other countries, but you still need to verify the vendor. Hired outsourcing team is the best choice in case:
you need the result as quickly as possible
you have a limited budget
Pros:
Significantly lower operating expenses.
No problems with recruitment.
There is no need to retrain employees.
All communication is through a manager who sets tasks for specialists.
The work will start from the first day – all the specialists are ready, and the processes are set up.
Cons:
There is no way to change the established processes.
The response time to issues may be delayed.
It is more difficult to control the protection of commercial information.
To prevent a bad quality of the product, avoid suspiciously cheap services, and focus on average app development costs.
In order not to surf the web in search of the best outsource team, pay attention to Fulcrum. We are a product-oriented team that creates apps to achieve your business goals and hit the mark. Trusted by many clients around the globe, we help entrepreneurs to succeed.
Conclusion: App Design Cost
No one doubts that all brands and companies try to reach their customers through mobile devices. A mobile app today is a necessary tool in our day-to-day life. 'How much does it cost to make an app for your business?' is a very reasonable question. Now you understand that a lot of factors affect this cost.
Application development is a long and complicated multi-level process. It involves analysts, marketers, designers, programmers, testers, and other specialists. The app's final price includes analytics, design and development, testing, and management.
OUTSOURCING
We stay dedicated & laser-focused on your product no matter the distance
Book a Call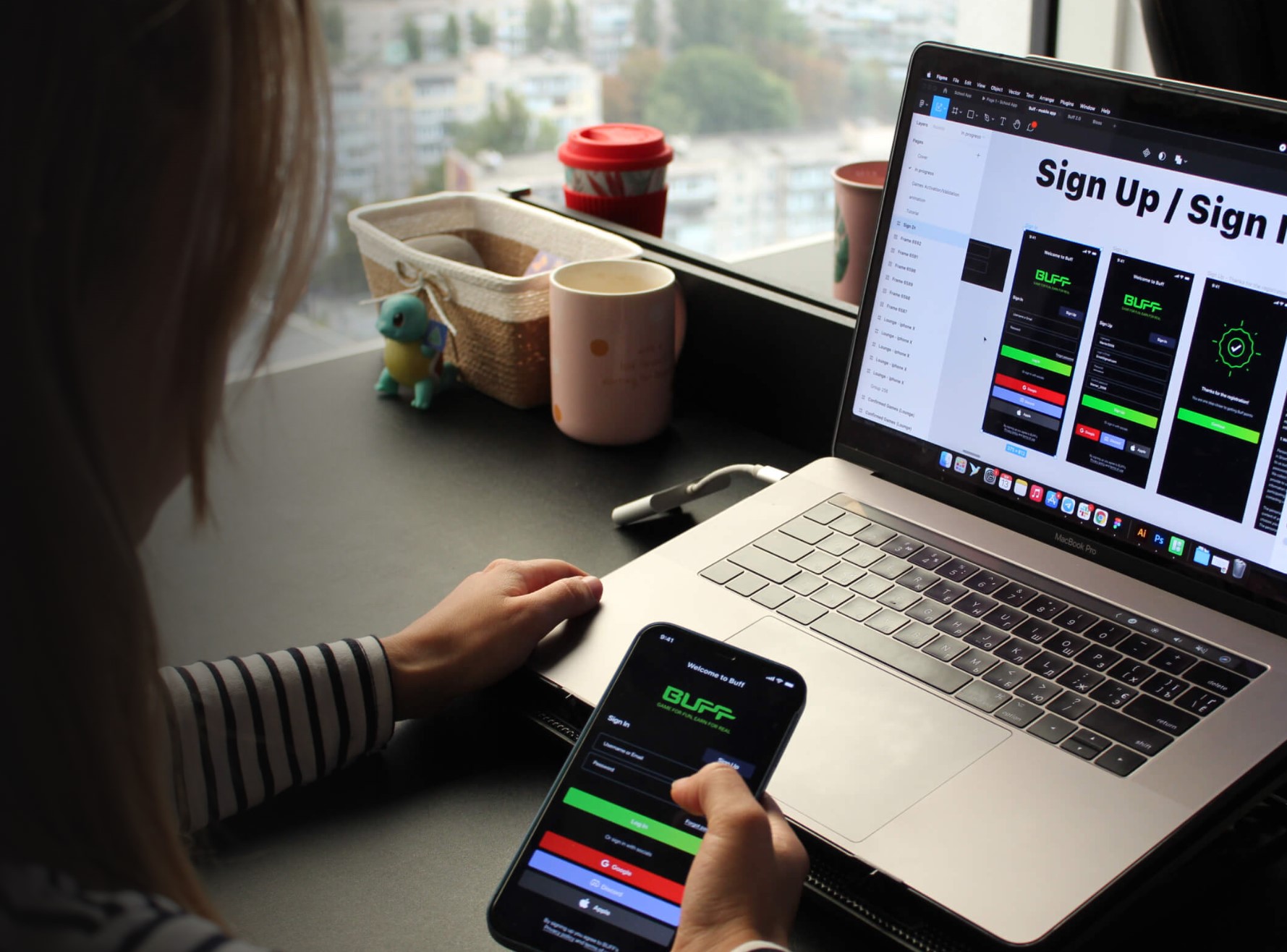 Frequently Asked Questions: Data Science vs Machine Learning
How much does it cost to make an app?

The total price of launching an app includes app development, design, and startup costs. While a basic app may cost $20000, a more complex one will go beyond $70000.

How much does it cost to make an app by yourself?

The total cost depends on your experience as a developer and the equipment you have. Moreover, consider such categories as education costs, development time, asset costs, server costs, hiring costs if you decide to hire some specialists.

How much does it cost to make an app in Ukraine?

Hiring a software development company in Ukraine is a perfect solution since the developers' rate per hour is affordable enough. Depending on qualification, a software developer will charge from $20 to $45 per hour. This is an average cost to develop an app. The app's total cost depends on some factors - type of the app, platform, design requirements, and complexity.

What do you need to develop an app?

To develop your app, you need to complete a few steps:

Come up with an idea.
Do not skip market research.
Create a rough sketch of your app.
Think over graphic design and functionality.
It is time to build your app and submit it to the app store.

Kateryna Khalimonchuk
Marketing Specialist at Fulcrum Rocks
Next Article