Time doesn't stand still, and now everyone can create a game app and earn with Overwolf app development. In this article, I will tell you about this platform, its benefits, and describe you a step-by-step app creation process with Overwolf. So, if you are interested and open to trying something new out, stay tuned!
Game development tools and resources are becoming more readily available to everyone, even if you don't have programming experience. Often, these tools are also available for free. Overwolf is a platform that helps in a game app creation. It will make it easier for those looking to start making games.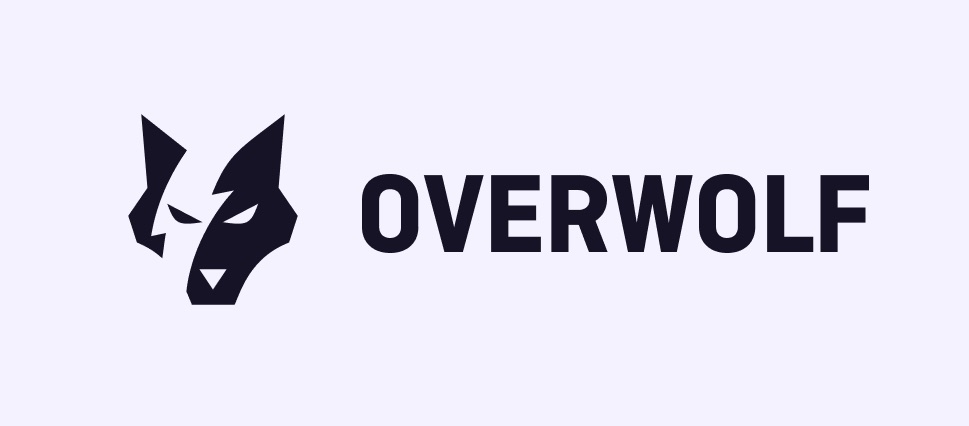 Overwolf App Development
Too many people, trying to make their first game, plunged headlong into the engine and abandoned the idea because it was "too difficult," "I'm tired," "I don't see any progress." This is just a set of excuses that appear because of man's desire to make great games like The Witcher or Final Fantasy immediately. These are projects that whole teams of specialists, groups of hundreds of people have worked on for several years, so even if you really want to and spend your entire life, you won't be able to make the same large-scale product.
Your first game should be something simple, like a draft, not a masterpiece. Even creating one level of the simplest pixel game can be an overwhelming task at first, and choosing something huge. You simply will not know ​​where the beginning is, so spend a lot of time on details that absolutely do not matter.
The main task is to create a game app that you can play with or use yourself. Don't give a damn how complicated it is. You made it. You did not lose heart and decided to give up everything, which already makes you better. You are not one of those who despaired and gave up!
So, let's find out first what is Overwolf and what opportunities it gives us.
Looking for trusted developers?
Hire handpicked mobile developers right now!
Book a Call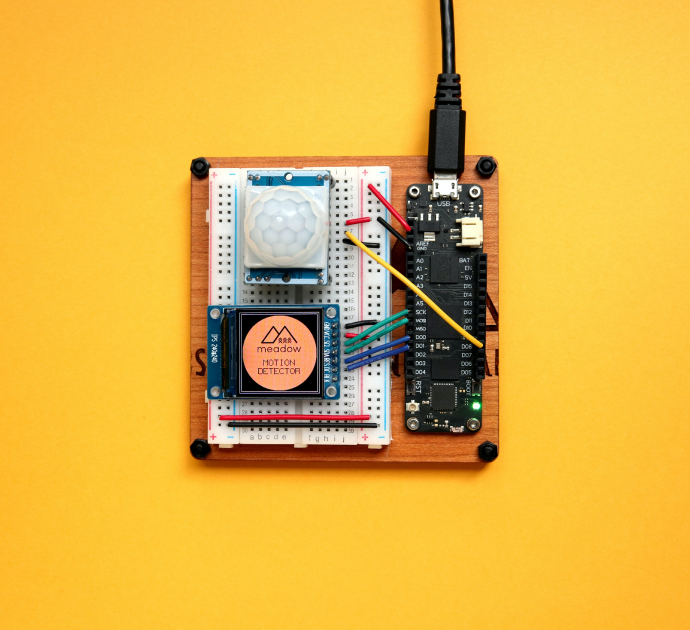 What is Overwolf?
Overwolf is a platform by Overwolf Ltd that allows anyone to easily create in-game applications using JavaScript and HTML and receive some information about the user's actions in live mode. The creators position it as an all-in-one platform.

You can use the Overwolf app development framework for:
creating game applications and mods;
disseminate them;
and monetize.
This software platform tries to support developers and provide them with everything they need to develop applications and mods for games.
With Overwolf, you can also create extensions for various video games and publish them then on their Appstore. There are already many mods for such famous games like Dota 2, Fortnite, PUBG, League of Legends, and others.
At the moment, there are different kinds of game extensions on Overwolf. Often, they provide an instant messaging function or alert users about some game events.
The main purpose of Overwolf apps is to make games more fun. Among the popular overlay apps are:
TeamSpeak;
Twitch streaming;
Online chats from Skype, Facebook, or other messengers in a very intuitive interface;
As well as other useful widgets.
Nowadays, we know approximately 20 games that are fully supported and also 8 that are only partially. The numbers are not very accurate, because we don't know about all the games, and the Fulcrum team only works with 8 at the moment.
When should you use Overwolf?
If you have an idea to improve the gameplay of your favorite game with an in-game app, Overwolf can help you bring your idea to life.
If you want to start developing any game, you don't have any big idea of the game's type and scenario.
If you need some passive income.
The platform and its API are available only when the application is running on the platform itself. It will not be possible to use API separately from Overwolf.
As, in principle, it is possible to understand that Overwolf is a very narrowly specialized thing from the above. That's why to say when Overwolf is better to use, somehow it is impossible fully. This is a platform exclusively for developing applications that will work with video games supported by Overwolf. And they recently received new resources from CurseForge to provide a marketplace for changes that complement the application development business.
At the moment, Overwolf has released the CurseForge Beta app for managing WoW add-ons.
Advantages of Overwolf
Over 5 million active users every month.
The platform has becomeespecially popular in esports and MMORPGs. Since their extensions are often banned there for fear of being accused of swapping and cheating. Overwolf extensions work around this problem as they don't work directly with the game engine. Because these applications were created using the Overwolf program, they work exclusively with the overlay, second-screen functionality, and desktops.
Co-Work with popular brands. Such companies as Twitch, PUBG, Intel, Logitech, OP.GG, etc., trust Overwolf.
Flexible APIs. The Overwolf Game Events API helps to track everything that is happening in video games. So, your Overwolf app can give information in real-timefor your users. It can be information about: launching a game, start of matches, scores of matches, detailed actions of players in the match. And of course, ratings, etc.
Simple coding. Even if you've never created an in-game app before or if you're new to programming, it is possible. Using simple HTML and JavaScript, you can create custom in-game hotkeys, icons for desktop, installers, allow updates automatically, add a second monitor, and more.
Possibility of financing. For the most creative and ambitious projects, Overwolf with Intel offers a fund for applications for up to $ 500,000.
Unique service. Nowadays, we don't know alternatives to the Overwolf platform. Of course, some programs duplicate the functionality of some of the applications in Overwolf, but another platform that opens the possibility of using API games in this way we do not know.
Monetization. Overwolf provides an opportunity to monetize the app through unique ads designed for gamers. You will be able to integrate them using the Overwolf SDK, which is a JavaScript library. The Overwolf support team can help with integration. You can also add the ability to subscribe without ads. Payouts start at $ 200.
Overwolf apps can make you serious money. According to Codemotion, approximately 25% of the top app developers on Overwolf earn over $ 25,000 per month, with top creators making over $ 1 million per year.
Also, the Overwolf team makes you feel a part of a team. Whenever your app approaches some number of downloads 5 k, 100 k, 500 k, or 1M, they send you some t-shirt, statue, or something like that. Every prize is like an award and small motivation for every third party Overwolf developer.
What Applications Are Better to Create With Overwolf App Development
There is no accurate answer to that. But I would like to help you to decide on what you can pay attention to. At least, I'm sure you'll get some inspiration.
First, I would look at the most popular video games on Overwolf.
At the moment, the most popular on the Overwolf Appstore games are:
League of Legends;
Valorant;
Warzone;
Among Us;
Fall guys;
Legends of Runeterra;
Path of Exile;
Apex legends;
Fortnite;
CS:GO;
Teamfight Tactics;
Hearthstone;
PUBG;
DOTA 2;
Minecraft;
Red Dead Redemption;
World of Warcraft;
Heroes of The Storm;
World of Tanks;
Rocket League;
GTA 5, and others.
Most of these games are legends and have their fans for years. I'm talking about WOW, LoL, GTA, CS:GO, DOTA 2, Minecraft and World of Tanks. Other games have become beloved recently like PUBG, Warzone, Fortnite and Among Us.
Take a look at the Overwolf Application showcase! It's the perfect place to learn about cool apps and get a clear idea of what you want to build.
According to that, most applications on Overwolf have such games:
LoL –  28apps
Fortnite – 19 apps
Hearthstone – 6 apps
CS:GO – 19 apps
DOTA 2 – 14 apps
Minecraft – 5 apps
Path of Exile – 2 apps
Pocket League – 8 apps
StarCraft II – 3 apps
World of Tanks  – 3 apps
All these in-game apps are divided mostly into 6 categories: fun stuff, ranking, guides and trainers, stream and capture, enemy stats and others.
Knowing what app stores already, we should consider what Overwolf App Development can give us.
Well, you can create a game app based on:
Statistics (of tournaments, players, their tactic, etc.);
Show only highlights of any player or team(skills, deaths, kills, etc.);
Add challenges and tournaments;
Recommendations. It can be helpful tips of  equipment, builds or other stuff depending on the game;
Integration with other popular platforms or services (most popular is Twitch, of course);
Working on a desktop, in-game or on a second monitor.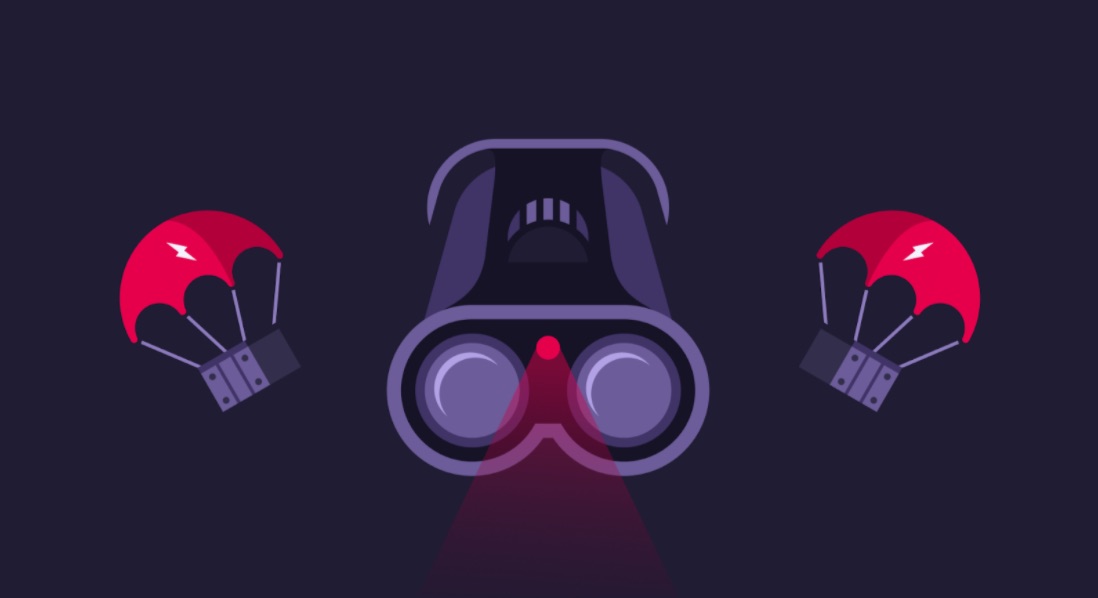 What is Overwolf?
In the Overwolf blog post Curating Our Appstore: What Makes an App Great, they give their recommendations. According to them, they have their criteria for prioritizing apps so that they can optimize their Appstore in the best way.
Here are some highlights:
The description of the application must correspond to the declared functions. Your application will be tested to make sure it does what is needed, and there is nothing superfluous.
Unique and new offerings for gamers. Naturally, few people will be interested in such an application. Your application must differ from the existing ones in the app store.
Compliance with requirements. It is important for any gamers that the application is safe, including their data.
No glitches and adequate software performance. Here I see that the application should not reduce the frame rate of the game. Also, it should not affect the network response time and so on. Besides, there should be no technical problems that could interfere with the game, for example.
Good UX and regular updates. The Overwolf team takes into account user feedback and tries to remove low-quality apps.
Your app should be valuable and useful. Accordingly, the players will use it. The Overwolf team also checks the retention percentage. This means that it is important that the player will use your application more than once. The article has detailed statistics.
A willingness to improve your product and listen to users.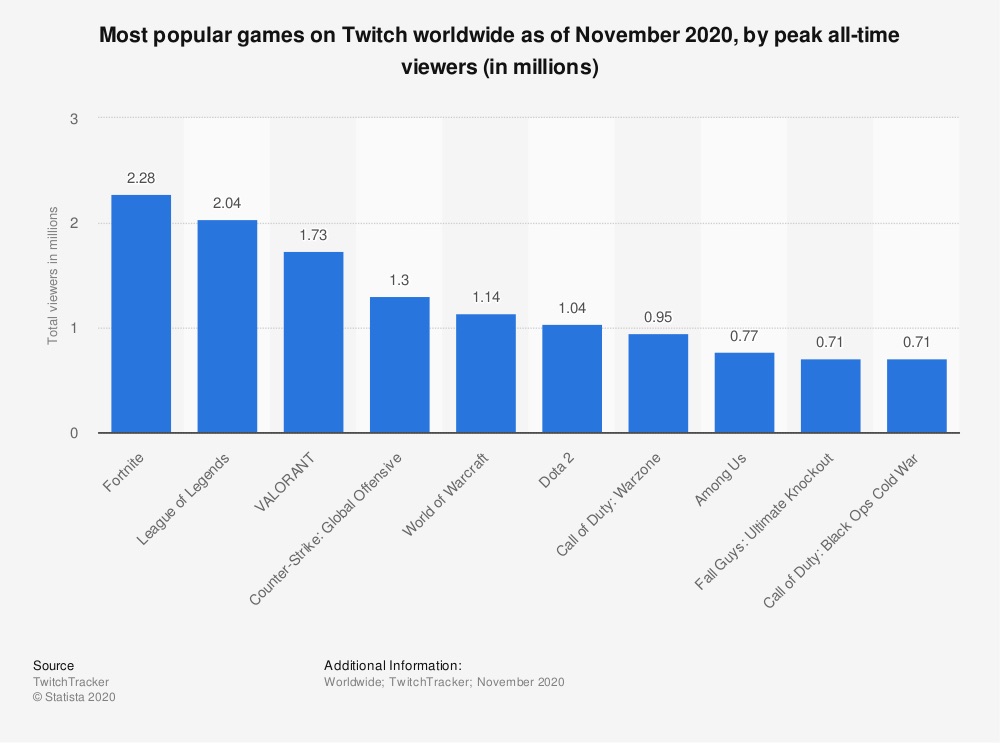 What is Overwolf?
Source: Statista
More Tips on What Applications Are Better to Create With Overwolf App Development
My recommendation is to pay attention to all the information above. Also, be aware of trends. According to the statistics above, Fortnite, LoL, and Valorant are the most popular games now.
What else?
Read Overwolf's blog. From time to time, they may tell you what in-game apps they would love to have. For instance, a year ago, they posted an article about Minecraft apps that they would love to see in their Appstore.
Of course, don't neglect to read some forums and so on. Gamers would love to tell you what they need.
If you are already sure what Overwolf app you would love to create and how then submit an app proposal now.
What if I Need Funding to Create a Game App?
Let's first understand what the scale of your idea for an application is.

What if I Need Funding to Create a Game App?
If your application is small, you can easily start building it in your spare time. When your application becomes popular, and you start thinking about scaling it, you can already think about creating a team that will improve your application. With small projects, you should not get excited and rush.
But if you have an idea for a large-scale project but do not have the money to hire developers immediately?
In this case, Overwolf, in partnership with Intel, thought of you and created a multi-million-dollar fund to help developers implement their brilliant idea without slowing down and launching on the Overwolf platform.
To receive funding for your mod or app, simply go to Overwolf.com/fund and apply today.
Depending on your application's complexity and potential cost, the foundation can provide you with up to $ 150,000.
Overwolf App Creation Process: Step-by-Step
So, how can you create an app using Overwolf app development?
Actually, there is nothing difficult. There are two ways for you. If you know how to build a gaming app with Overwolf, you can already start to do it yourself. If you are still a newbie or just have some questions, look up a sample app.
In a nutshell, the Overwolf sample app is a microscopic repository on GitHub. There are available sample apps for every game in the Overwolf. The Overwolf added them by themself as an example of how to:
connect to their API and start pulling information from there;
launch an app with the game automatically;
improve work between application windows;
manage data transfers in a background;
define hotkeys.
How to load a sample app from a repository?
Go to Overwolf's settings, find the Support tab, and choose Development options. Click on the button to load and select the relevant zip file of the repository.
For more detailed instruction, here is an example of using an Overwolf sample app for Fortnite.
We would still recommend using it in the context of one of the points in developing the app on Overwolf or creating a basic demo app, nothing more.
So, let's go back to the Overwolf app creation process.
I'll divide this process into some steps with useful tips that help you accomplish this task easier.
Step 1. Come up with an idea for your application and write down the approximate course of its work.
Trust your intuition, and start simple. Of course, first of all, it is better to familiarize yourself with the terms of developer and app to make sure that you do not violate any rights and rules. Think over the main feature of your application. Don't bother with the design at this stage. It doesn't matter here.
Step 2. Suggest your idea
Fill out the form and submit your Overwolf app proposal.
Before you start developing, the Overwolf team should review your proposal and provide their answer. There are, of course, two ways out. If they like everything, they will provide everything necessary for further cooperation with you. In the case of rejection of your idea of the application, not everything can be so bad. At least they can give you feedback, provide advice, and suggest trying another concept. Or just start over from step 1. There is nothing wrong with that. Overwolf will only welcome it.
Step 3. Developing
When you have received approval to develop your application, start with a development plan. Plan out step by step for each step. Of course, it's in your interest to finish it as early as possible, until someone had the same idea. Just a reminder 🙂
In which case, you can consult the Overwolf development team. This can concern both functions, resources, or even tools. It all depends on you and your concept.
The main thing is that all functions work exactly as you intended. Everything should be as convenient and intuitive as possible. Otherwise, the player will go to look for the exit button in frustration.
At this stage, you can use a sample app, add sample components, and icons, buttons, etc.
Step 4. Editing and testing phase.
Use what you've created as often as possible. This way, you can spot any inaccuracies. Learn one rule – either modify the element to perfect condition or delete it.
Go to the search for bugs and errors. It will be better to find them and not potential gamers on the first day after the release. Understand that testing often takes longer than development itself. If there are an incredible number of bugs, fix the biggest ones first. Invite friends and acquaintances to use your application. A look from the outside will reveal many nuances.
Here are some basics about app testing. There are main recommendations according to every feature that you'll use in your app. Throughout the development and testing, the Overwolf team will help you and give you their suggestions.
Step 5. Submitting and Release on Overwolf Appstore.
Overwolf also recommends creating a customer support page before running the app. Here you can read instructions on how to build a support page for your application.
After final approval, your app will be published. Overwolf promises to promote it among the players and on the Internet in general. Also, you'll get some AWS benefits.
Here are also a few recommendations. Before submitting your approval, check your manifest. Compress your file, add all necessary icons, screenshots, description of your app, etc. All of it should be in the OPK package, what it is and what files it should include, read more in detail in this instruction.
Step 6. Promotion
At this stage, you can promote your application yourself using social networks like Twitch or YouTube. Monetize your app with subscription or banner and video ads.
You can also request additional promotions from the Overwolf platform itself here.
Step 7. Future updates
Once your app is up and running, you will want to attract more users to rate it and give their feedback. Don't forget to fix bugs and add new features. As they say, keep it up to date.Moreover, Overwolf himself is evolving, and video games are constantly releasing some new patches.
How Can I Make Money From My Overwolf App?
Overwolf App
Great question! After all, this is a normal desire to receive money for a worthy product or idea. And many players don't mind paying for a good gaming application. Moreover, many could pay you themselves to allow them to make their favorite games even more fun.
It is also worth mentioning that there are mostly free applications in the Overwolf app store, which means you can share your project with the players for free too. Players will be very pleased. You can be sure of that 🙂
And so, how can you monetize your Overwolf app. The two most popular ways are to display ads or charge a subscription fee. According to the statistic above, it makes 85% of revenue.
Many people may be intimidated by the very idea of ​​advertising, but Overwolf claims that the ads in their applications are small. It is mainly displayed during loading screens. During this time, players usually have nothing to do, and therefore it is unlikely to affect players' attitude towards your application.
How much can you earn from showing ads?
The Overwolf creators claim that the average early-stage average for the average application developer can be around a few hundred dollars. Concerning successful projects, earnings there may be unlimited.
How else can you earn money?
Well, it can be some advertising for brands. We are used to that in every esports competition or game, we can meet some logo of a famous sponsor brand. So, if you will use it too, it's no big deal.
Fulcrum Experience With Overwolf App Development
We understand that creating games and even creating applications can be energy-consuming and complex for many. Fulcrum rocks team also has experience with Overwolf and we can help build an app for you based on that platform. Here's our most successful product —  BUFF. If you want, we can create something like that or even better for you too! Here are a few words about Buff.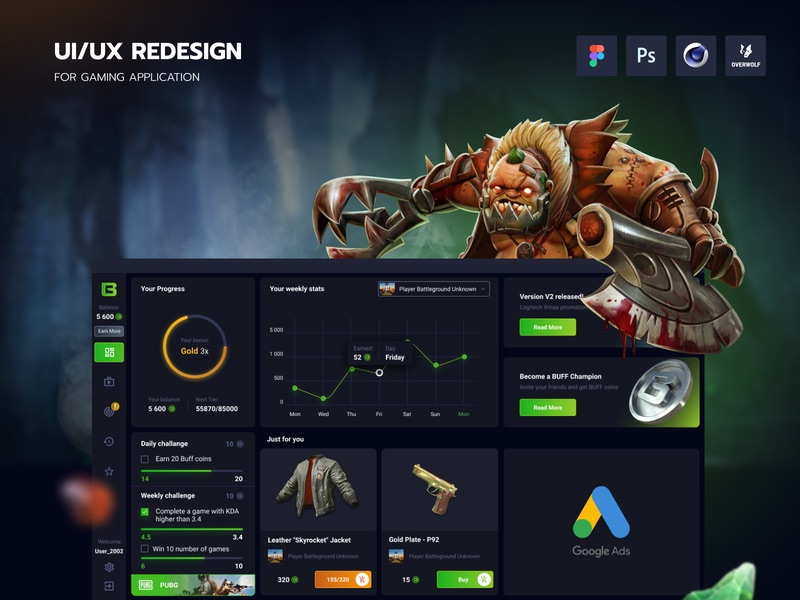 Buff games - redesign of the app
BUFF is a loyalty platform for gamers. The more you play, the more you earn because the Buff only rewards players for playing. This is such a safe bet, where even if you lose the game, you still earn coins. In turn, you can buy real items with them.
Today BUFF is a universal support system for all types of games with over 70 thousand users worldwide and over 5 thousand transactions every day.
Of course, Buff has a powerful anti-fraud system that avoids cheating and ensures user verification.
One of the advantages of the platform is the integration of Steam items and real-time game challenges.
Today Buff is completely based on Overwolf and 95% of the functionality that performs the application related to game tracking via the Overwolf API.
So, if you are interested in our help, contact us!
To Sum Up
Remember, everyone can give up, but not everyone can reach the end. Just try something new.
Building in-game apps with Overwolf is a great new opportunity for game developers or game creators passionate about games – an opportunity that could offer a new career path. With simple APIs, sample apps, all the support you need, and additional services like design advice and funding, getting started is easier than ever.
Anyway, it will be easier for a beginner to take a ready-made engine than to develop his own. Each engine has its characteristics. Some will force you to learn to program, and in some – you don't even need to distinguish a procedure from a function.
OUTSOURCING
We stay dedicated & laser-focused on your product no matter the distance
Book a Call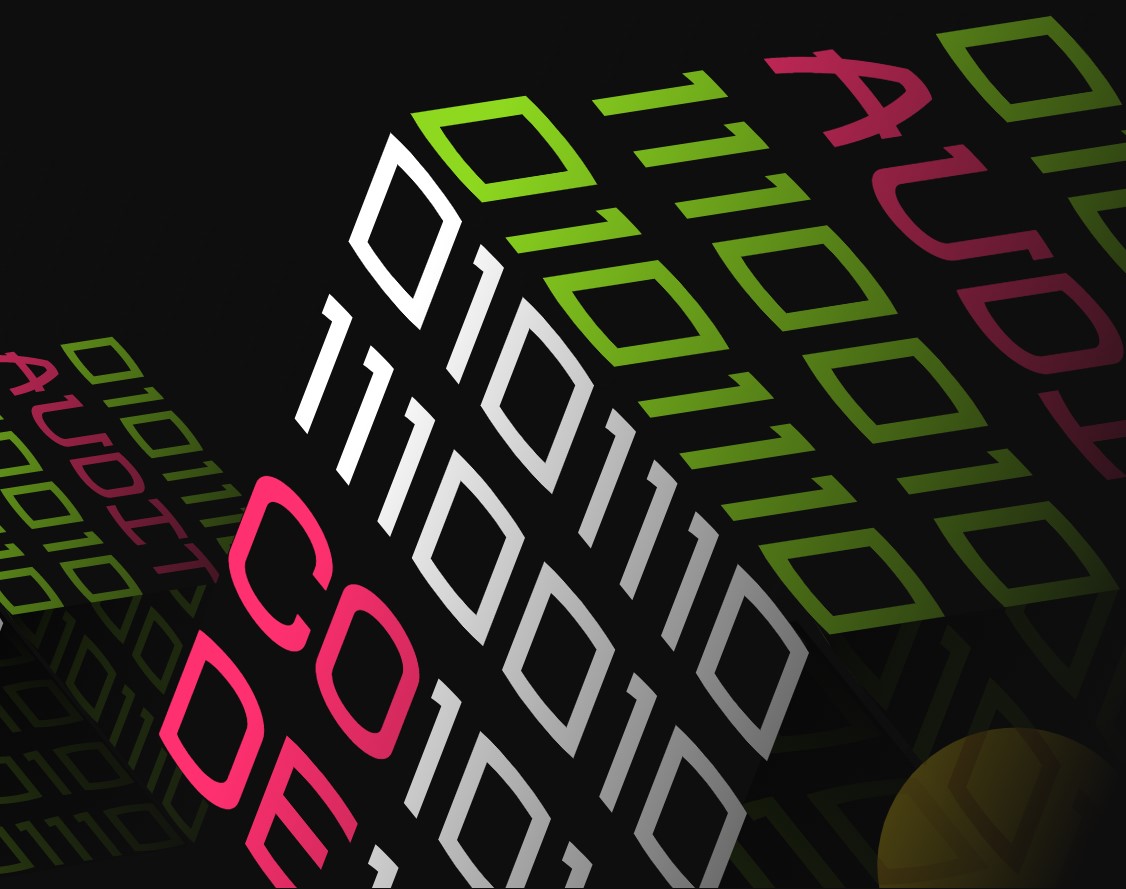 FAQ: Overwolf App Development
What is Overwolf?

Overwolf is a software platform that helps developers create a game app, which is then published on their Overwolf App Store.Overwolf app development was created in such a way that it was as simple and accessible as possible for any development. And so that gamers can enjoy the convenient functions of these applications and mods.Such extensions provide features such as twitch integration, online chats, reminders for certain in-game events, statistics, and more. All this is done to facilitate the gameplay of your favorite Overwolf games. The only caveat is the use of the platform, and its API is available only when the application is launched on the platform itself - separately from the Overwolf to use the API will not work.

Is Overwolf App Development safe?

There are no pitfalls at the moment. For gamers, Overwolf provides complete security. Each new application from the developers is carefully checked for performance, quality, and malware presence. Application developers must comply with the game developer's terms and conditions to keep gamers safe from bans.From the developers' side, there is only one drawback, access to the platform API is available only if the application is on their platform. API does not work on other resources. But this is quite fair because the idea itself of Overwolf app development aims to improve the services of its platform for gamers.

How to create an Overwolf app?

If you have any idea of any in-game app, just submit your proposal on the Overwolf platform. If Overwolf teams love it, you can start developing it using their sample app codes, UI sets, API, and other gamer's features.

Can you get banned for using Overwolf app development?

No, they will not ban. And if they ban, the gentlemen from Overwolf will come and help to settle everything :) At least we didn't hear about a ban on somebody yet. Why cannot ban? Although Overwolf allows you to create a game app that pulls some information from games and somehow can use it. One of the most important rules used by the Overwolf team when checking the application before launching it in their store is that your application may not give a player an unfair advantage over other players. Overwolf does not sew his trackers into games quietly. This is all agreed with the authors of the game.

If I create a game app with Overwolf, will it be my app, or can someone else copy it?

No. You shouldn't be afraid that your apps might get banned due to copyright claims. Overwolf assures that each developer has their personal IP on its platform. This gives them a guarantee that no one will have any pretensions about the products they develop.

Kateryna Khalimonchuk
Marketing Specialist at Fulcrum Rocks
Next Article