A well-feared and expected economic downturn is already on its way – with over 120,000 employees dismissed from tech giants like Meta, Amazon, Netflix, and Google, the layoffs keep going. Meanwhile, the 'transitory' inflation turns into a long-staying one bringing a 70% pullback in the valuation of public SaaS stocks.
All this forces top leaders to create plans to face the upcoming challenges and be recession-proof. McKinsey states that around 81% of CEOs already expect the recession and prepare businesses for it. So, we decided to go on the web and collect recession-proof advice shared by various opinion leaders – starting with YCombinator and Jeff Bezos and moving to reputable CEOs and venture capitalists. Here's the recap.
On cutting company's spendings
Playing wisely with expenditures' is what leaders put a big focus on currently. YCombinator's Dalton Caldwell & Michael Siebel along with Mike Volpi, a venture capitalist with over 70 companies acquired, all suggest that startups should primarily pay attention to the length of their runway & thus consider any unnecessary spendings. Meanwhile, CEO of Plaid, Zach Perret, warns founders to not overestimate their financial capacities even if things are good for now. Some of their tips are:
Plan for the worst and reduce spendings now in order to extend the runway within 30 days and get high enough revenue to become profitable before running out of money.
If the runway is two years or less, focus on managing expenses of acquiring and retaining users. For some startups, this can be quite cost-effective. For instance, if a product can be self-distributed, try making the process as fast and easy and the results will follow.
Be honest with yourself. Often, as they start earning, founders get hooked on money. This can lead startups to wrong estimations, overhiring, and the following layoffs.
Although сutting spendings to extend the runway is a commonly-accepted approach, it may slow the startup's dynamics. For example, if the startup's current strategy retains customers, raises capital, and has a 2+ years runway, it's best to stick to the existing profitable venues.
Some of the 'urgent' measures from Volpi to save a US startup in downturn are:
Moving a startup's center to nearby Texas or other states can be a game changer. California's and Silicon Valley's housing costs, tax rates, and severe regulations make it challenging to run business even for giants like Oracle and Hewlett Packard.
There's always the option to work remotely to save money. Considering that the US is one of the most expensive IT outsourcing destinations with an average offshore software development rate ranging from $70 to $150, startups can opt for an overseas team that will provide high quality services cheaper.
On going with layoffs
Avoid firing employees and cut spendings in other ways' – an advice from Stanford business Professor Jeffrey Pfeffer. He says that firings "are harmful to company well-being, the well-being of employees, and don't accomplish much". All American Entertainment CEO and founder Greg Friedlander agrees. Their main advice on dismissing staff is:
Don't rush layoffs. Instead, establish an environment that helps workers educate and grow professionally. A fully-staffed, experienced workforce is never a disadvantage.
Instead of laying off the workforce, consider taking a wage cut. A good example to check here would be the Lincoln Electric who implied base salaries cut to reduce annual expenditures by $20 million.
As competitors eliminate staff, use it as an opportunity to upgrade your workforce. Monitor job markets and track the best candidates to make them instant offers.
Collect feedback from employees and share the truth about the current state of business.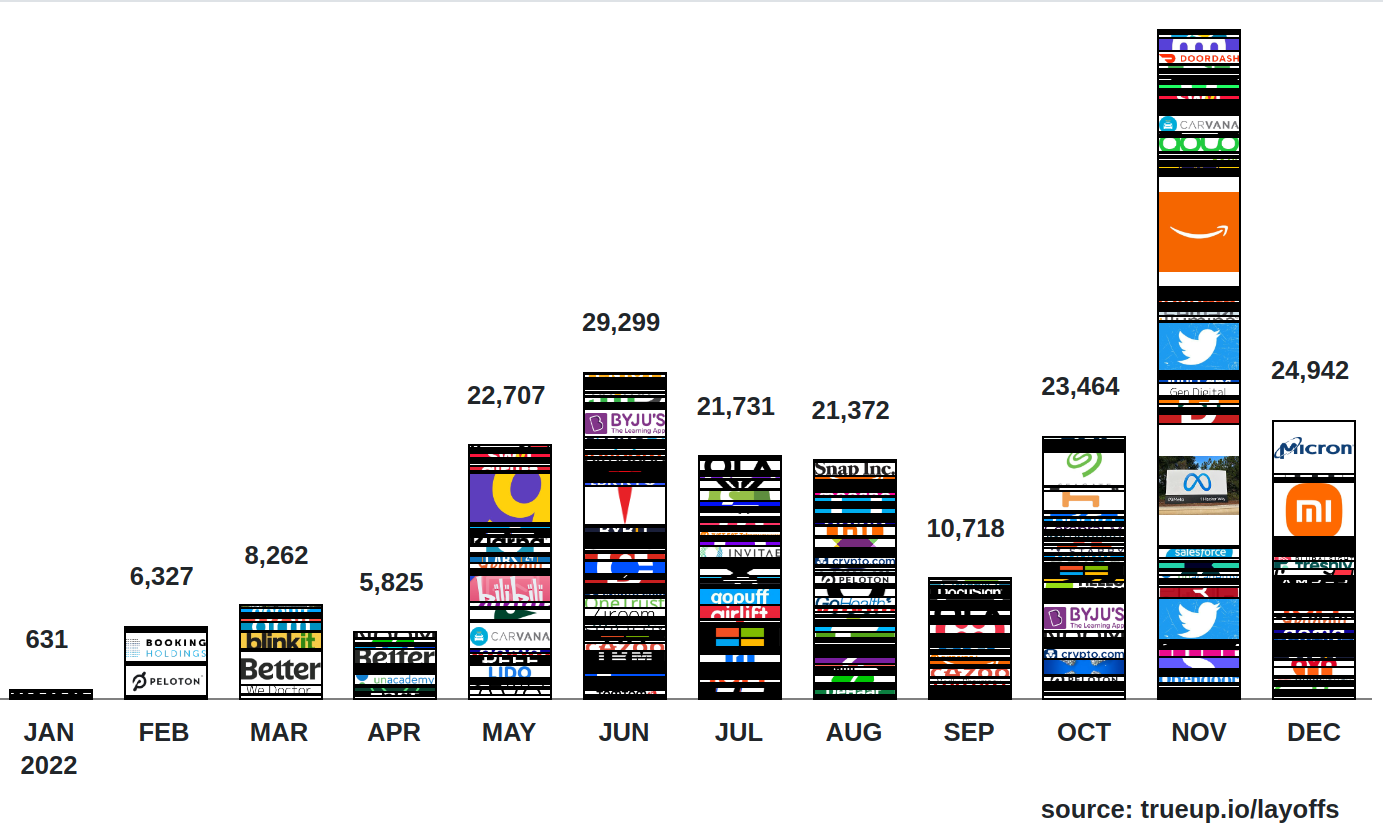 2022 tech layoffs
On managing processes
Startups should "play the probabilities" and demonstrate flexibility to stay alive. Although Jeff Bezos says about "taking some risks off the table" and slowing down, others view the downturn as a time for bold actions and refer to Amazon's early cases. Bezos, Volpi, and Vinicius Vacanti, the co-founder and CEO of YipitData, all talk about effective process management during the downturn:
Clearly distinguish core processes from the side ones to make a startup efficient from a product and engineering view. Further, focus on venues that provide short-term results. That way, the startup can stay afloat until the team reveals the payback cycle.
Focus on making your product stand out now. Customers are looking to cut spendings too, so startup founders should look for ways to make their product "special". Collecting feedback from users and teams, as well as analyzing competitors are the first steps here.
The downturn can be an opportunity for establishing new business lines. That way, startups can take market share and cover their offset losses in other areas – like Amazon did, raising capital aggressively and launching its marketplace in the early years.
On fundraising
In case startups don't have the runway to reach default alive, YC experts and YouTube CEO Susan Wojcicki warn founders to prepare for difficulties with fundraising and suggest either start looking for money ASAP or put it off for now.
Slow down and dig into details – downturn is a great chance to reconsider your sources of revenue and plan long-term instead.
Take money from the existing or new investors if possible. However, during a downturn, don't rely on VC investing too much, as the poor tech market performance considerably affects it, and "VCs have a much harder time raising money and their LPs expect more investment discipline."
Remember that facing a crisis, investors use their capital to backstop their best performing businesses, so the number of possible financings is significantly reduced. Thus, counting on it as a definitive solution should never be a main plan.
Raising money in the next 6-12 months also might not work out, as it can be a peak of the downturn.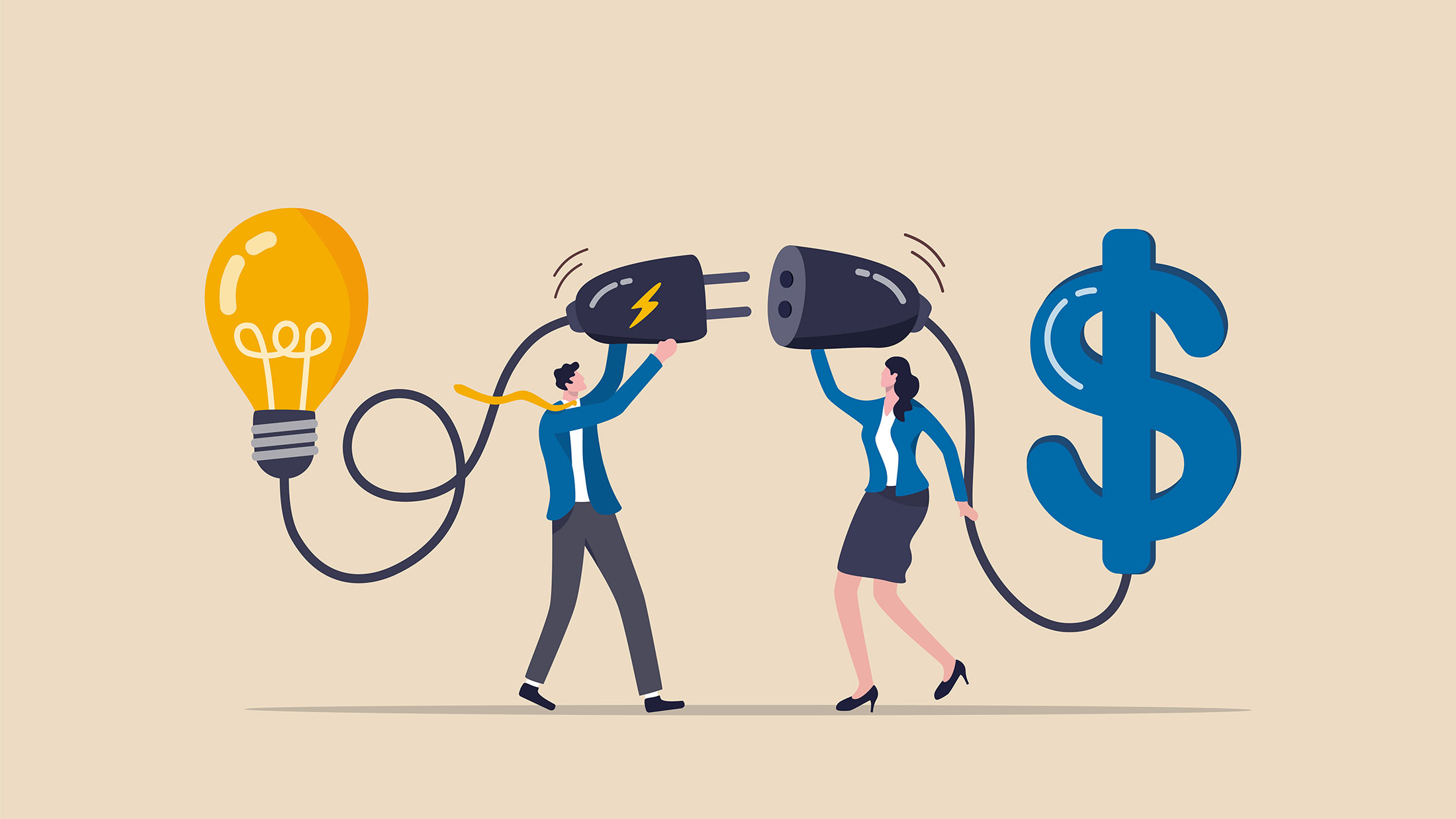 On preserving capital
YC and Andreessen Horowitz experts suggest that today, even startups with stable cash flows should refer to conservative finance management to keep up. Here are their practical tips:
Wrap up
Although the 2022 tech downturn is horrific, you can definitely feel the "calm down and look for opportunities" vibe, while analyzing insights from big tech figures like Bezos, Wojcicki, YC experts & others. They all suggest startups focusing more on extending their runway, being agile in processes and not hurrying with layoffs.

Danil Danilenko