The demand for qualified software developers and other IT specialists is growing faster than ever. The global pandemic played a big role in this — more and more businesses go online trying to survive the never-ending lockdowns. It's no wonder finding the experts with required skills, experience, and reasonable rates is getting harder and harder.
Here we'll talk about staff augmentation meaning, why it's a popular solution, its pros, cons, and pitfalls. You'll see what types of staff augmentation services there are, what businesses might benefit from it most, and how it differs from project outsourcing. You will also learn how Fulcrum can help you with your staff augmentation needs.
OUTSOURCE PRODUCT DEVELOPMENT WITH FULCRUM
We stay dedicated & laser-focused on your product no matter the distance
Get in touch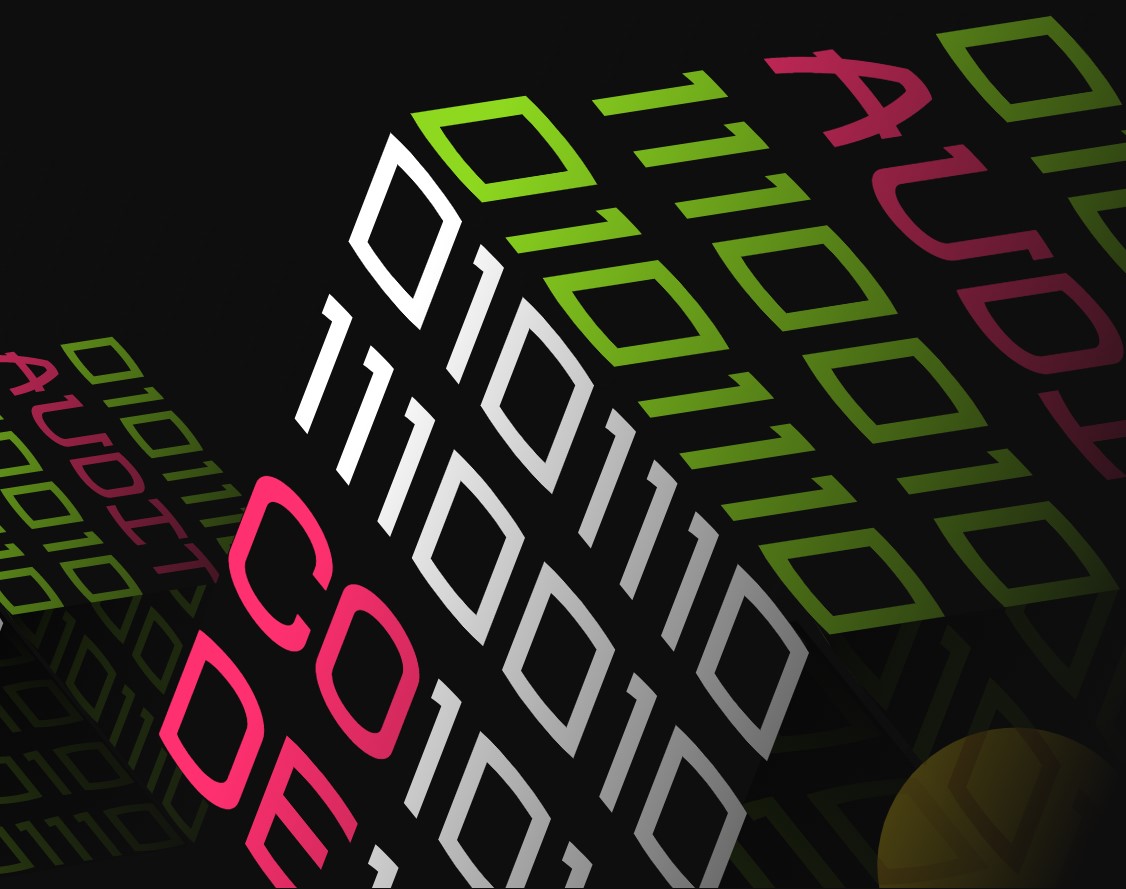 What is Staff Augmentation
So, let's start with answering the popular question – what does staff augmentation mean? Staff augmentation is a contractual outsourcing service meant to complement the existing in-house team with external expertise. The solution requires determining the capabilities of the existing staff and defining which skills are lacking. This organizational strategy allows you to hire the staff quickly for a short or long period of time and manage the teams directly.
Simply put, this method allows you to quickly recruit staff for a specific project when there is a staffing shortage. This way you expand your in-house team by hiring highly experienced specialists temporarily. The outstaffers become a part of your team and cooperate with your own team, usually for short periods of time. The model successfully combines the benefits of staff outsourcing and the convenience of in-house staffing.
The solution is great for reducing costs on recruitment, payroll, and project implementation. And it's more scalable than in-house hiring — it's a lot easier to end this type of partnership than terminate an in-house contract. So expanding or decreasing your team is a lot quicker.
Moreover, the complete shift of responsibility from your business to the outstaffing IT company allows for minimising formalities with HR and employment and allows you to focus more on the business.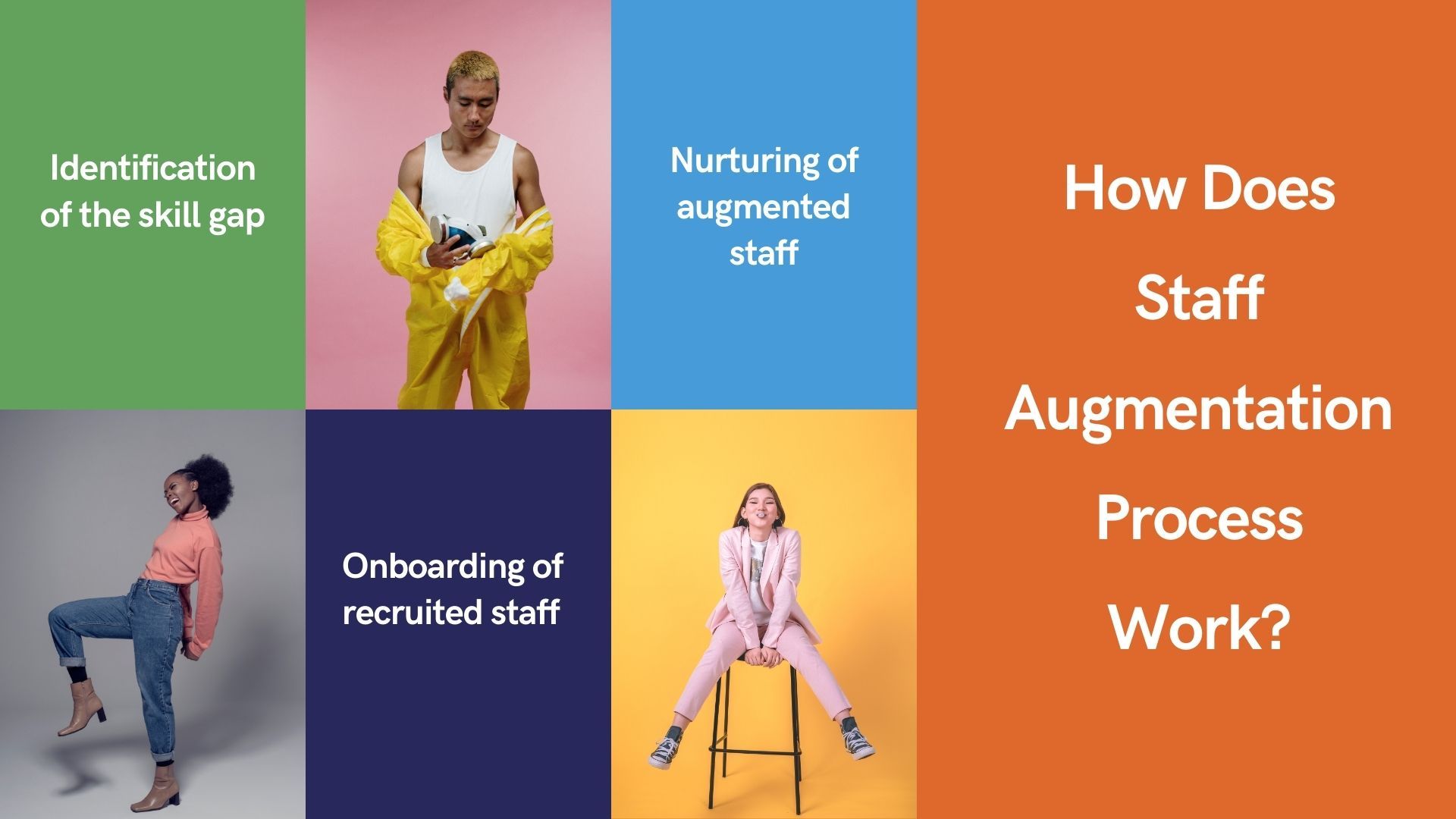 How does staff augmentation process work?
Why staff augmentation is so popular
Staff augmentation has a lot of benefits that made it quite popular among the business owners worldwide. Here are just a few of those reasons:
1.Staff augmentation allows you to fill certain skill gaps.
When a project needs middle or senior level specialists in certain technologies, especially the rare ones like Big Data engineers, staff augmentation is a great approach to hiring such a specialist quickly.
2. Outstaffing reduces the time spent on selecting employees.
Selection of employees is a lengthy and demanding process. A company that specializes in staff augmentation takes care of finding and hiring the talent so you don't have to spend your resources on recruitment.
3. Staff augmentation reduces recruitment costs.
When a specialized company takes care of recruitment, costs are significantly reduced.
4. Operating costs are reduced.
Permanent in-house employees are much more expensive than those who work on the per-project basis and remotely. In short, staff augmentation allows human resources to be used in the same way as in-house employees, but without the cost of maintaining them.
5. Staff augmentation makes the recruitment process more flexible.
You can quickly hire the right number of employees when you need them, without a lot of hassle. For example, it's convenient to run short-term promotions and advertising campaigns, complete urgent projects, or temporarily replace sick employees.
6. Staff augmentation allows you to think about the business and its development rather than the staffing routine.
The outsourcing company takes over the responsibility of maintaining the personnel. So, you don't have to worry about paying wages, paying insurance premiums, taxes, etc.
7. No geographical restrictions.
The location of your employees doesn't matter, and qualified professionals can be hired anywhere in the world. You prioritize experience over residence address.
Pros & Cons of Staff Augmentation [Table]
Like any other organizational strategy, staff augmentation has its advantages and disadvantages. Let's check them out.
| Pros | Cons |
| --- | --- |
| Skilled and competent augmented staff can quickly understand and add value to the project. | Some projects may require a high level of contextual, institutional knowledge. So staff augmentation translates to lengthy ramp-up times and wasted costs. |
| Companies can pull in specific skill sets on a per-project basis rather than hire new employees. | It is not a great solution for long-term projects or skills required on an ongoing basis. |
| Staff augmentation helps to month out peaks and valleys in an enterprise's journey. | There is an increased dependence on third-party organizations for talent, which may add some risk to sustainability plans. |
| You can increase/decrease workforce on-demand, much in the same way that retail stores contract seasonal employees. | Possible problems in communication between the company and the employee may occur. When all communication with an employee goes through an out-staffer, this can significantly slow down the speed of completing tasks. |
| Staff augmentation can be used as a 'trial run' for potential full-time employees. The staffing organization takes the hit in the case of the issue, rather than the organization. | Coordination can be somewhat chaotic if people are not instructed how to deal with each other. |
Types of Staff Augmentation Services
Numerous companies offer different staff augmentation services. Which one you choose largely depends on the specific needs of your business.
| | Description | Talent types | Best for | Strengths | Weaknesses |
| --- | --- | --- | --- | --- | --- |
| Traditional staff providers | Traditional providers of temporary labor | Skill-based commodity | All types of projects where a high level of skill is not required | Flexibility | Sometimes it is difficult to find a highly-skilled talent. |
| Master vendor staff provider | A single vendor runs staffing programs. | Commodity | Quick hiring need/bulk-hiring where low cost and scale are essential | Low cost Scale | Talent quality can be inconsistent. |
| Boutique agencies | Small companies that focus on specialized talent | Skill-based Highly-skilled | The cases when you need exclusive needs | Quality | High cost |
| Gig platforms | Online resources with access to independent specialists | Commodity Skill-based | Task-based needs for specific skill sets | Flexibility Quick hiring No recruitment hassle | Quite difficult to distinguish the candidates. The talents are geographically distributed. |
| On-demand talent platforms | Online platforms with access to highly-skilled specialists | Highly-skilled | High-skilled talent deployed quickly. | Flexibility Quick hiring No recruitment hassle | Talents are remote |
| Independent contractors | Independent contractors engaged directly by companies. | Skill-based Highly-skilled | Needs that should be filled by known specialists. | Quality | It is challenging to find a reliable talent and keep relationships. |
Staff augmentation services are rather diverse and context-dependent. Evaluate your needs, budget, and degree of control you are ready to give away before making a decision.
Staff Augmentation vs. Project Outsourcing
Both services seek to make more efficient use of resources, minimize staff costs, and optimize taxes. But if staff augmentation is the integration of outside specialists into your company, outsourcing is the transfer of certain functions and whole business processes to a subcontractor.
An example of IT staff augmentation:
For a major renovation of its website a company needs a very experienced UX designer. The specialist is not needed for the company's day to day operations though. The business hires an UX designer through an outstaffing agency. The designer helps renovate the website and leaves when the project is successfully finished.
An example of project outsourcing:
A large company (for example, a car manufacturer) does not have its own IT department for the development of multimedia software for its cars. They outsource this task to an IT company with expertise in this industry.
Both services imply the involvement of a contractor to solve specific business tasks. They help to optimize the company's turnover and costs, which increases the efficiency of the core business and accelerates its development.
Which of the two approaches you choose depends on your business and goals.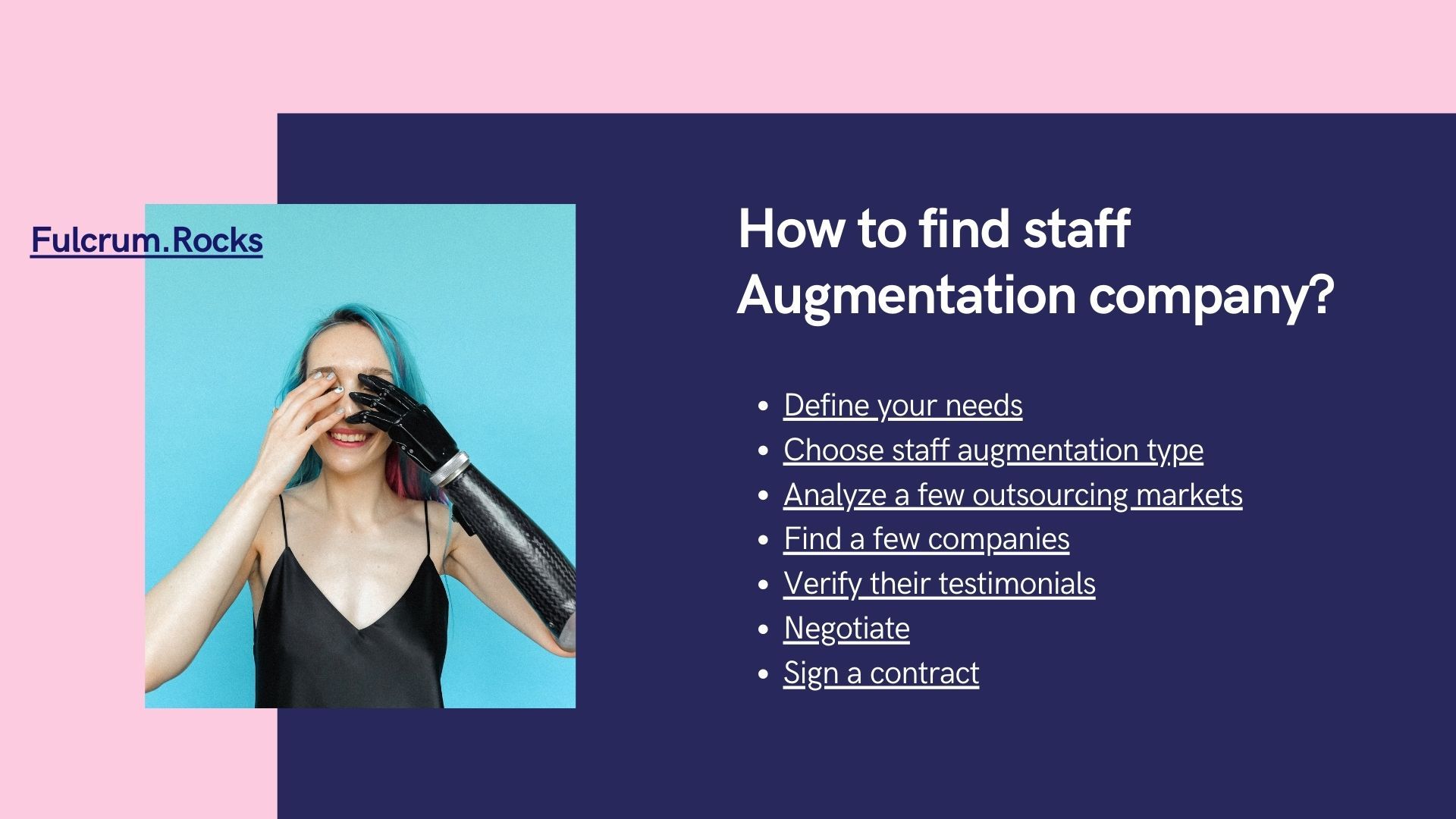 How to find staff augmentation company?
Fulcrum Staff Augmentation Services
One of the essential requirements for successful staff augmentation is choosing a reliable provider. We at Fulcrum are focused on our client's success. And we hire only the best specialists. Whether you need one Java developer or a whole team of developers, QA, and marketing specialists – we've got you.
Fulcrum guarantees that the specialists you choose for your project will work only on your product. No additional projects will be distracting your Fulcrum developer.
Our developers have good soft skills and will easily become a part of your team. And if there is an issue you can always ask your Client manager for help.
Here's how our staff augmentation process looks like:
As you can see it's very straightforward. You tell us your needs, requirements, and expectations. If there's no one in our team to fit the requirements we will find the most suitable candidates and interview them. You review the best candidates and pick the one you think will fit your team best. Then we provide your developer with a workstation. And take the full responsibility on onboarding and handling all the administrative stuff for you. A client manager is assigned to you, so you have someone to talk to if you have any questions or issues, and help you build a productive relationship with your augmented staff. We also guarantee your data safety.
Conclusion
Staff augmentation is an excellent solution to help your business optimize its processes, reduce tax and personnel costs, and solve the problem of attracting qualified specialists. It is especially relevant during a crisis when companies are forced to reduce staff to optimize costs.
LOOKING FOR TRUSTED DEVELOPERS?
Hire handpicked mobile developers right now!
Let's talk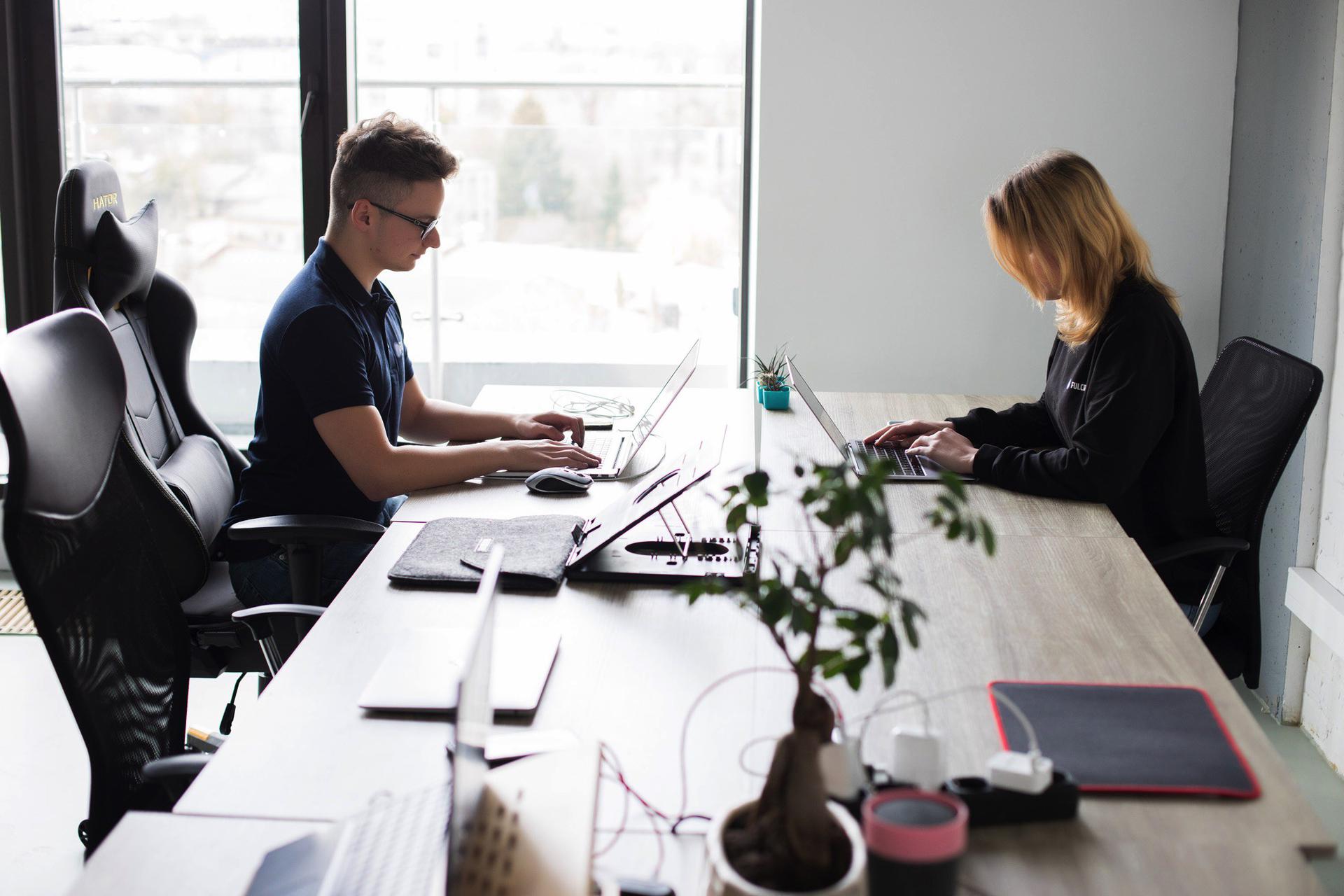 Kateryna Khalimonchuk
Marketing Specialist at Fulcrum Rocks
Next Article