If you ask Apple users why they stay loyal to the brand, most of them will say "Because my iPhone and MacBook are simple". It can be one of the reasons why Microsoft's Zune, although being rich in features, lost out to iPod back in 2006. Its tricky UI couldn't outsmart intuitive iPod's design.
The choice of simplicity and clarity was one of the reasons why Google beat out Yahoo.Inc and other competitors back in the 2000s. It prioritized the main user's goal – to search & to find.
We could come up with dozens of other cases that prove that UI design is part and parcel of digital products development. Investment in UI design can improve usability and user experience, and reduce development costs. To achieve that, you will need a skilled and proficient UI designer. How to find this outstanding guy? Keep on reading to find out!
What Things to Pay Attention to When You Will Hire UI Designers
The very first step to make when you hire a mobile UI designer is to analyze a project/product. What requirements should candidates meet to create a splendid product? What skills does the project require? This list is a sieve that will help you to filter out unqualified candidates. Looking for continued collaboration with diverse projects? Here is a set of must-have skills to check!
8 Must-have Hard Skills for UI Designers
Principles of usability and visual communication
A UI designer knows that one of the main questions to answer is "Is it easy to use an app?". A proficient UI designer knows what to do if the answer is "No". He is aware of the principles of learnability, operability, memorability, efficiency, robustness, attractiveness, etc.
Visual hierarchy
A competent UI designer understands how to organize information and show the importance of certain page elements. He deftly uses the principles of visual design. Color, size, contrast, alignment, repetition, proximity…  He is well versed in these terms.
Principles of responsive design
Responsive interface design is a new black. So, the option when a UI designer is not familiar with fluid grid systems, fluid images or media queries is impossible.
Layout design
A skillful UI designer should understand how to organize and position visual elements. Organized elements create balance and an appealing look. Structured information is way easier to perceive. Grids are nuts and bolts of layouts, presentations, and infographics. Thus, the candidate should be no slouch at working with them.
Typography
Typefaces and fonts play a big role in building brand recognition, holding attention, making content readable and appealing. The right typeface and font can even influence the person's decision. Hence, understanding the principles of typography is a must-have.
Animation
Well-thought-out animation makes a user interface more convenient and appealing. An experienced UI designer doesn't use it for the sake of entertainment. He understands its logical purpose. It prevents disorientation, reduces cognitive load, and designs feedback. Candidates should be versed in the principles of animation.
Testing
Building any digital product is about iterations, testing, and improvement. A qualified UI designer should understand how to test his efforts, work with feedback, and improve the product.
Tools & Workflow
Ask about the design tools a candidate uses for work. Let him describe how he organized his workflow in previous jobs. Does he use specific techniques or design process models like the Double Diamond or V-Model? It will help you to understand if he can become that missing piece of the puzzle.
Since there is an overlap between UI, UX, and interaction design, a UI designer should understand the key principles of all niches. He can be involved in different stages of development. Hence, knowing the principles of wireframing and prototyping, information architecture, and coding will give 10 points for Gryffindor!
Read more:
When you hire UI designer for app development, check out if he is familiar with design trends.
Portfolios speak way louder than CVs. They show the designer's range of capabilities. You will find out whether the candidate dealt with projects similar to yours. Check out his works on Behance or Dribbble, for example. At Fulcrum, we pay particular attention to the comprehensive presentation of our skill set. You can judge for yourself by our portfolios on Behance and Dribbble.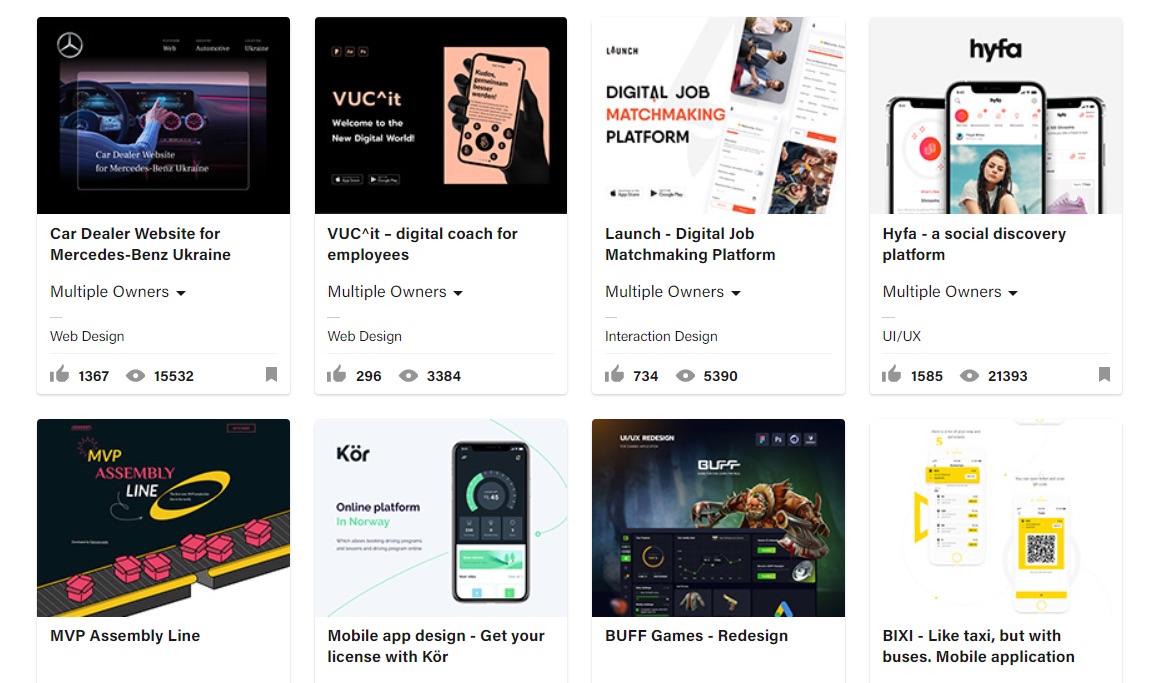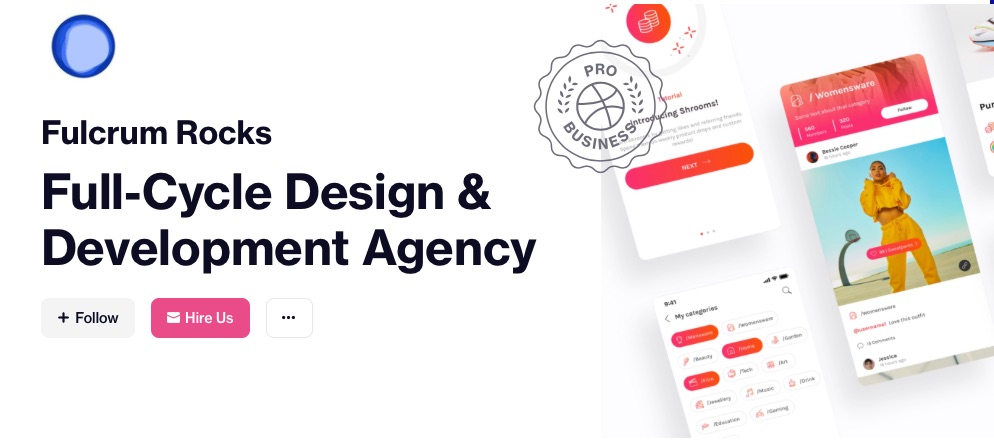 3 Vital Soft Skills for UI Designer
We are humans, after all. So, let's see what soft skills to look for when you hire UI designer.
Empathy to client's & user's needs
Empathy helps designers to understand the user's needs, hopes, fears, obstacles, and goals. Empathic designers dig deeper, where they can find solutions to the user's needs and improve their life. Understanding the client's needs and expectations is also vital. It indeed speeds up the process.
Curiosity
UI design is a constantly evolving field. Curiosity and interest in its changes help to empower competence. The ability to keep up with trends is super important. Besides, curiosity triggers insightful questions. Curiosity, active listening helps to go into the matter and understand the user's challenges and problems better.
Communication skills
Effective communication helps the designers to better engage with the team, convey their ideas and intentions, and get feedback. Working on a product is, actually, impossible without well-developed communication skills.
5 Sites to Find a UI Designer for Hire
Behance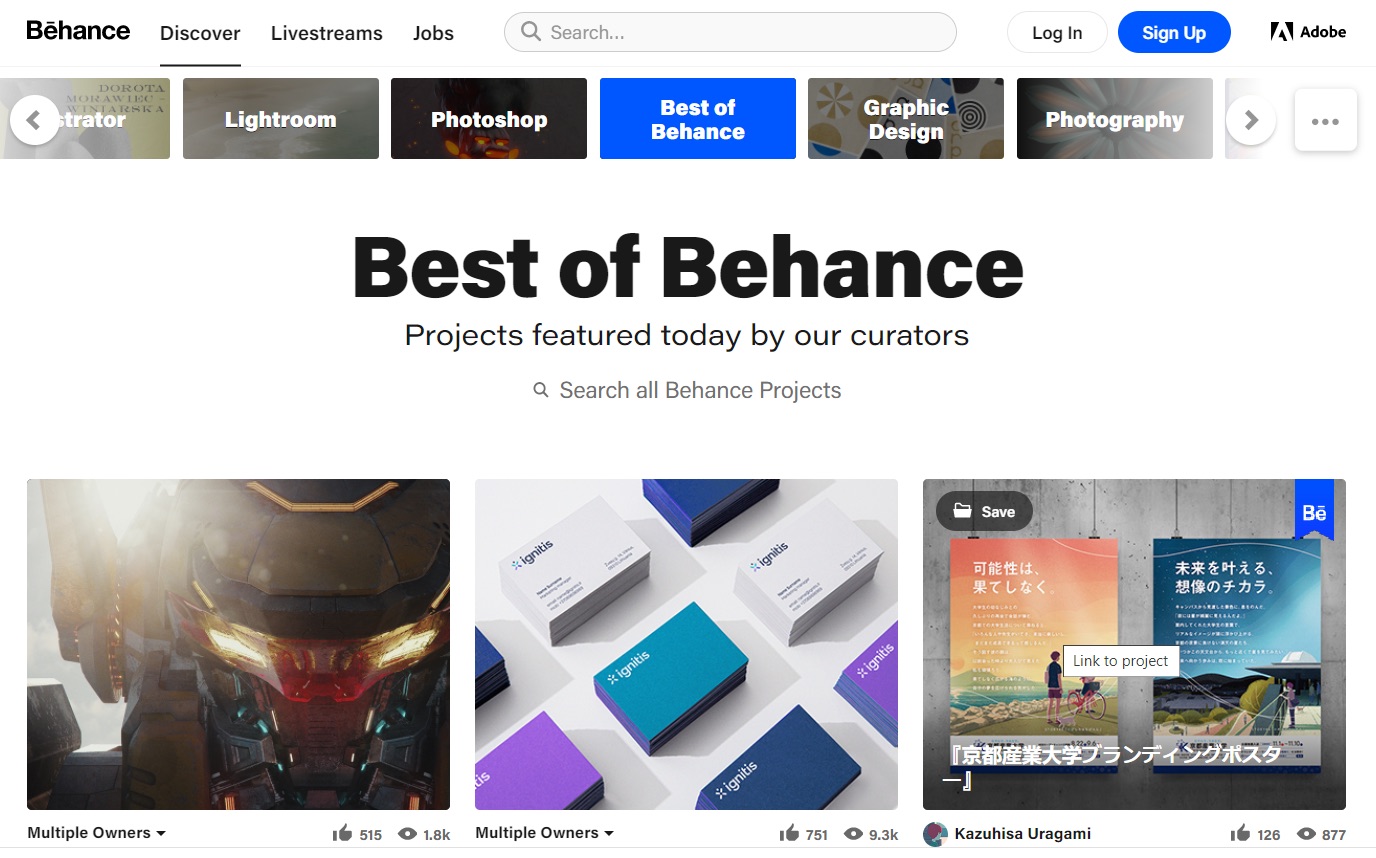 This social network attracts artists from different spheres – from illustration and graphic design to game design and photography. You can browse the portfolios and DM your favorites. Or you can post a job and choose from the candidates.
Pros:
The database of freelancers is huge. There are over 15 million users.
Extremely easy-to-use interface. Creating and managing job listings is a piece of cake.
An option to DM designers.
Cons:
The selection process might be time-consuming. Public job posts attract many applications (150, on average).
The designers can attach neither a resume nor a cover letter to the message. You can either rely on a designer's portfolio or finish the process out of Behance.
Prices for publishing job listings are one of the highest. You will pay $399/month for a single job listing & $1499/month for an unlimited number of job listings.
Dribbble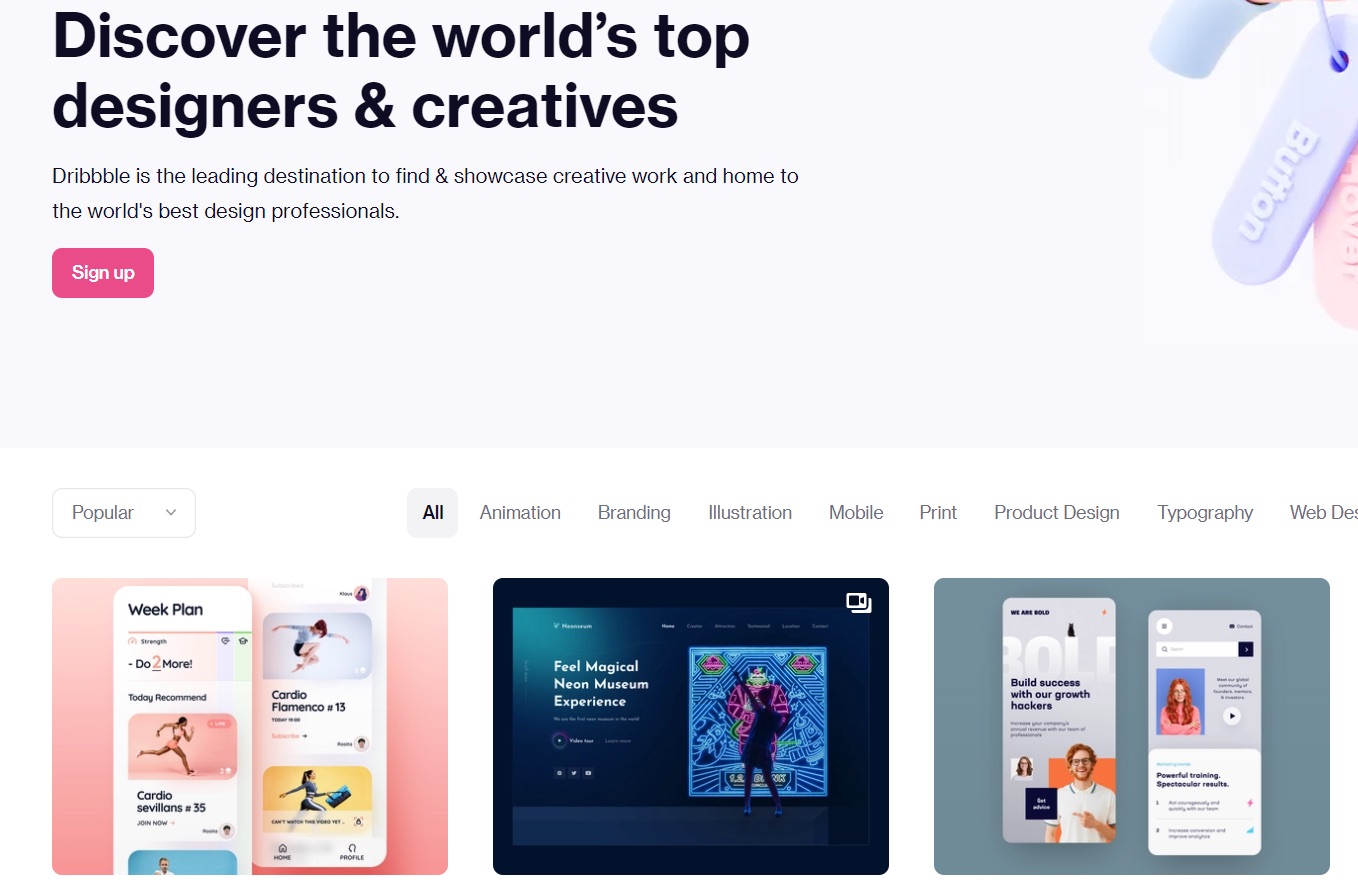 Dribbble is pretty similar to Behance. It's another social network with a stronger focus on graphic designers. They showcase their work and get inspired, while you can find a good match for your project.
Pros:
A large database of freelancers – in 2020, merge with Creative Market led to the 12 million users database.
Advanced search that allows searching by skills, work history, experience, location, and more.
An opportunity to entrust the headhunting to Dribbble's dedicated Talent Partners.
Cons:
A big number of applicants usually respond to the job post. Some listings gather up to 1K applications per month.
Upwork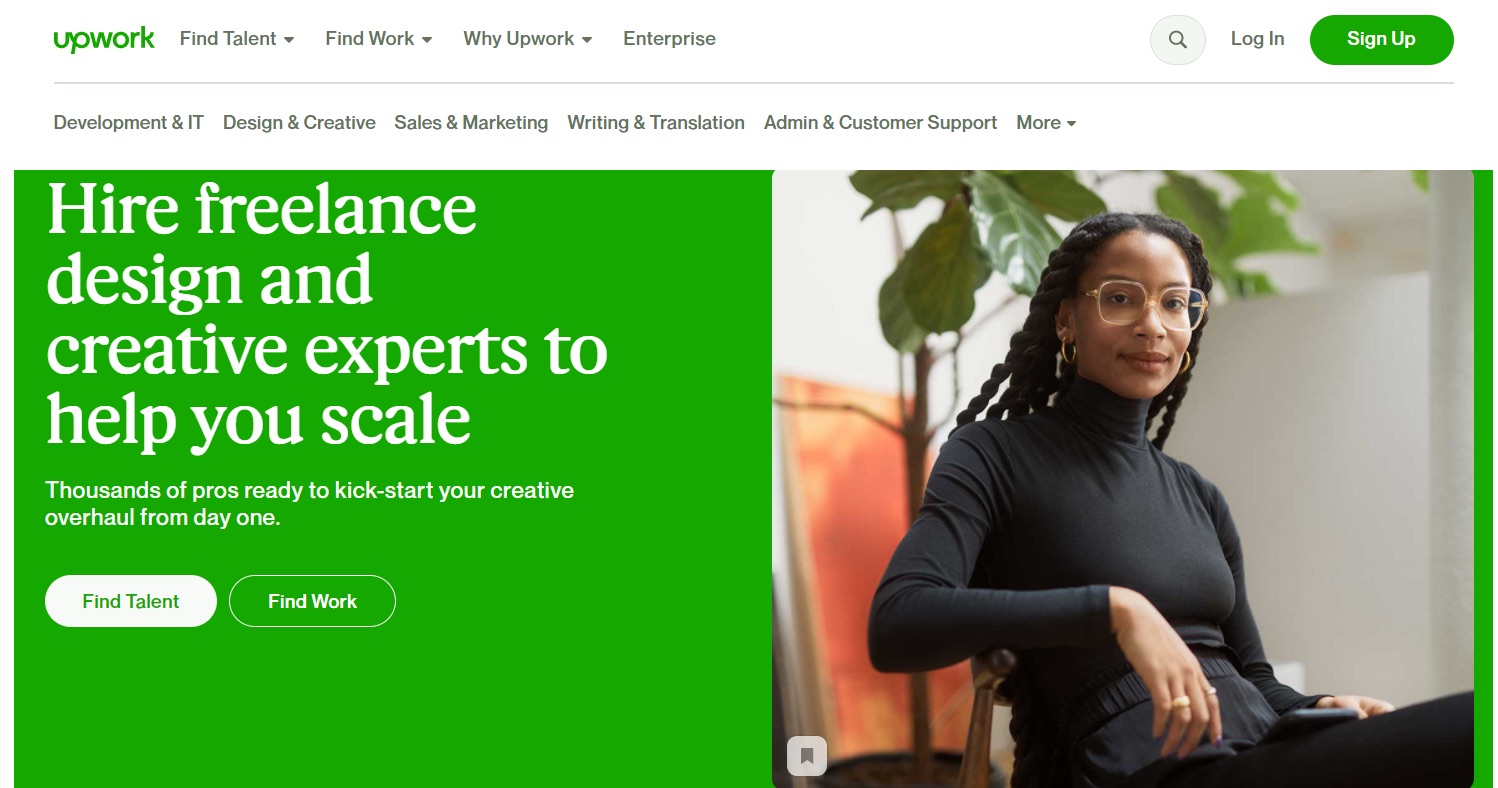 Upwork is, probably, one of the most well-known platforms for hiring freelancers of different kinds – from development & IT to writing & customer support. It organized a flexible infrastructure to work with freelancers. You can pay per hour or a fixed price. You can hire full-time or on a project basis. You can test Upwork Pro and Upwork Enterprise that offer a lot for convenient project management.
Pros:
There is an extensive range of designers – over 300,000 web & graphic designers.
A structured payment system. You can divide the project into milestones and fund a new milestone after successful completion of the previous.
Easy communication with candidates. You can check out a portfolio, a cover letter with attachments, schedule a meeting and discuss details of the project.
Cons:
Low entry barrier that provides room for services of a mediocre quality.
High fees for freelancers (20% from the first $500 from the client, 10% until he reaches the first $10K, 5% after) & payment processing fees for the client from every order (3%).
Fiverr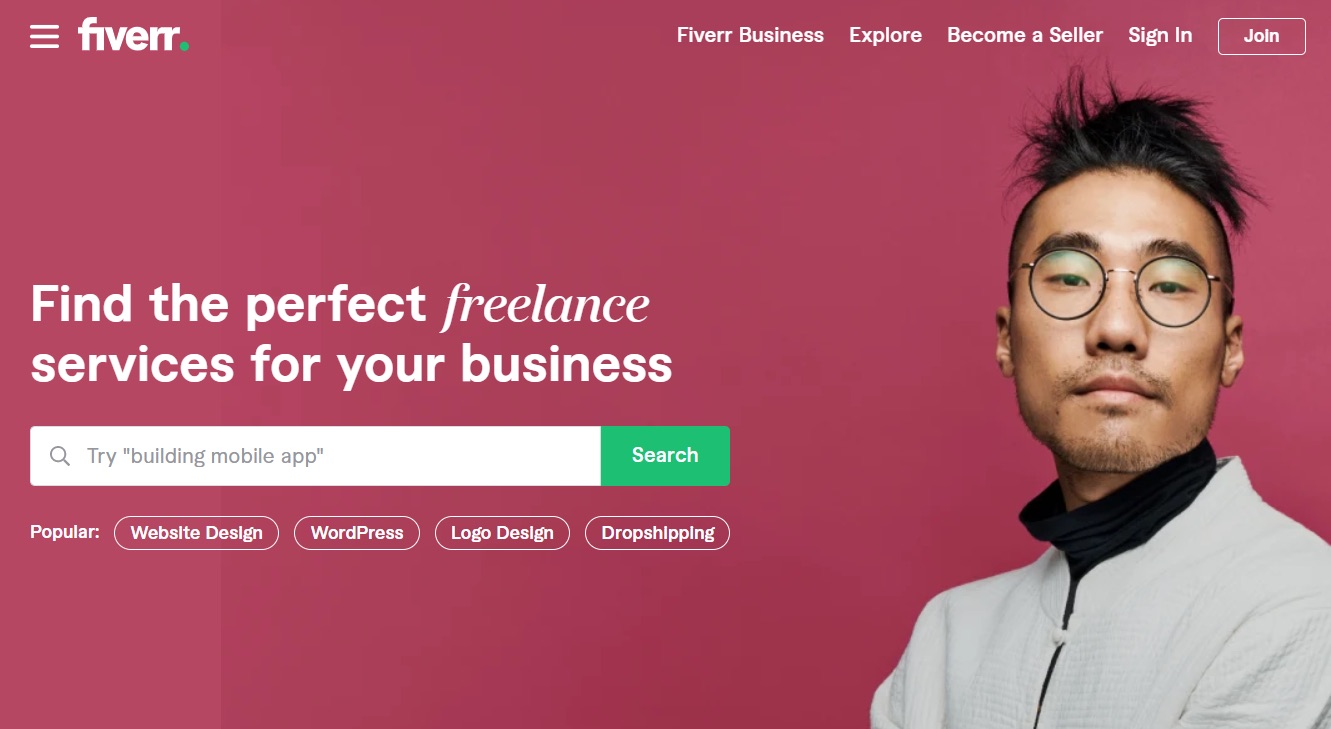 Pros:
Affordable prices for the clients. The price of the projects in all categories starts at $5.
A low entry barrier, which has two sides, of course. But the number of designers of different levels of competence is huge.
You can choose pre-created packages to hire UI designer.
Cons:
High fees for freelancers (20% from each order). High fees for the clients ($1 from the order up to $20, 5% from each order over $20).
Sometimes Fiverr deactivates accounts or increases fees without the client's approval.
99Designs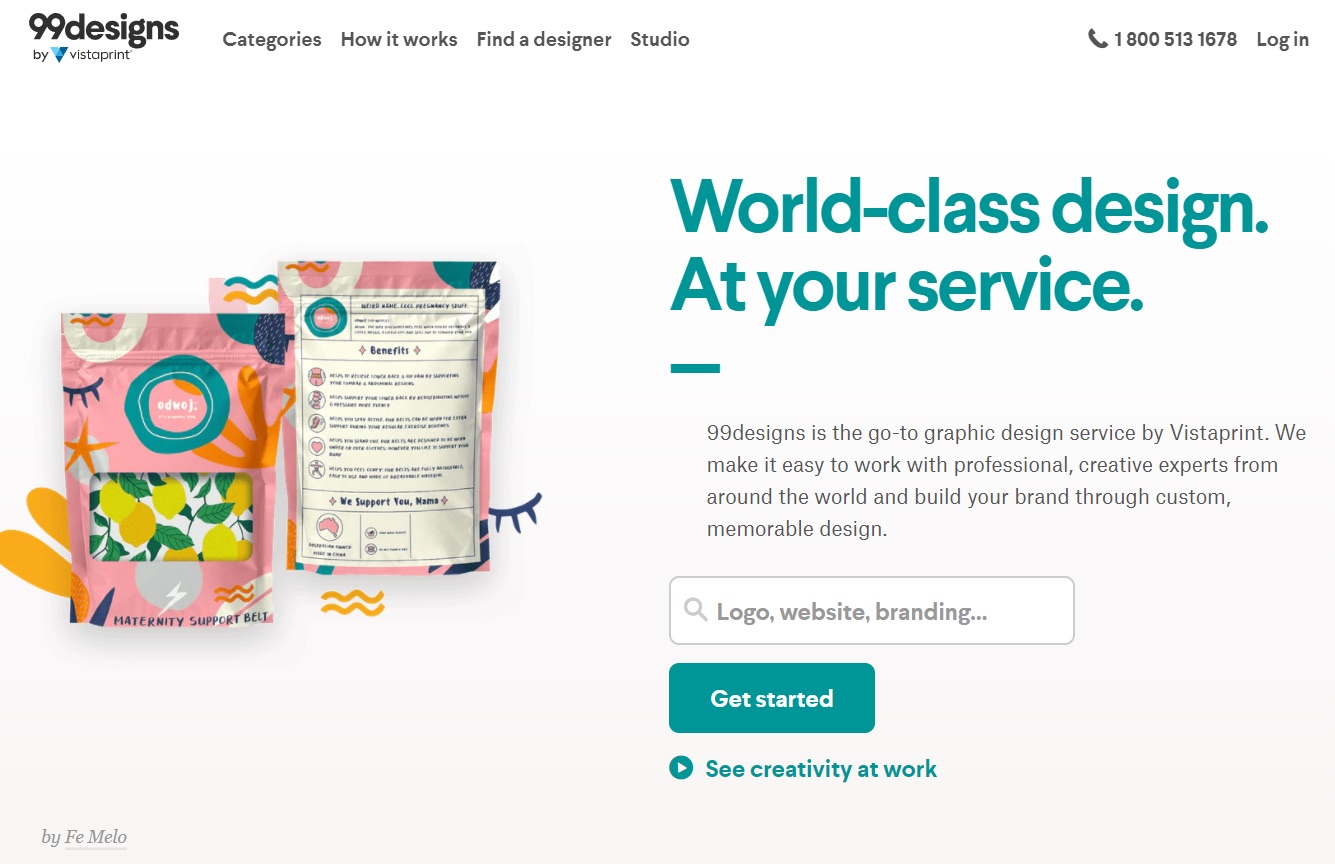 It's a freelance platform that connects graphic designers to clients. You can publish a brief and hire UI designers based on the ideas they offer. You can also check out the portfolios and reach out to your favorites.
Pros:
You get a huge number of pitches and can choose the vision that resonates with you.
Different pricing packages depending on your needs & budget.
Money-back guarantee in some cases.
Cons:
The service is paid and there is no free trial.
Skillful & experienced designers are available in Gold and Platinum packages (higher price).
There are more platforms to find a UI designer for hire. You can also check out DesignCrowd, CroudSpring, Designhill, and others. How to choose one? Weigh the pros and cons of each platform. Compare their fees and commissions. Delve into the working principles. Some platforms are trickier than others. Read reviews to find out about the general level of expertise of the designers on each platform. Finally, make a choice and test your favorite 🙂
How Much Will You Pay to Hire a UI Designer
The market of web and graphic design is littered with UI designers of different skill sets. Their salaries depend on their competence, experience, country, the platform they work at. We will give you an idea of the average salary of UI designers in different countries. We used data from the CareerFoundry blog post. These guys, in turn, used reports of Glassdoor, Indeed, and PayScale.
| Country | Average Salary per Year |
| --- | --- |
| Australia | $73,684 |
| Canada | $47,915 |
| Germany | $65,948 |
| India | $3,955 |
| UK | $74,710 |
| USA | $83,623 |
Outsourcing a UI designer: will that work for you?
At Fulcrum, we had a lot of clients, who were hesitant about outsourcing developers and designers. The pandemic changed the rules of the game. And the number of such doubters reduced markedly. The new reality proved that remote work and outsourcing can be even more efficient than hiring in-house workforces.
First and foremost, it can be more cost-effective. You don't spend on expanding your infrastructure for product development and design. Neither do you have hiring and training costs. You can check out offshore software development rates in our guide!
Outsourcing designers also saves time. You headhunt designers/reach out to the outsourcing company. Then, you discuss requirements, agree on quotes and workflow, and entrust the process to specialists. Meanwhile, you can focus on researching the market, setting new business goals, etc.
Of course, nothing is seamless. Outsourcing also has its pitfalls. Still, if you entrust development and design to experienced geeks with a good reputation, you will have a positive experience! At Fulcrum, for example, you won't face the situation when a UI designer withdraws from the project out of the blue. In case of force majeure, we swiftly come up with solutions. Moreover, if consultation of a business analyst, QA engineer, or a UX audit of the project is needed, we gladly assist!
A great thing about outsourcing designers is that they are more willing to share objective insights. They can have a different vision of the product. Moreover, they tend to be more concerned about the quality of the projects in their portfolios. It makes them give objective feedback even if it goes against the client's product vision.
Last but not least. Planning to hire an in-house UI designer? Make sure that you will provide him with a steady, ongoing workload. Doubts about it? Consider outsourcing a specialist then 🙂
Why is the Outsourcing of Ukrainian UI Designers a Good Idea
Outsourcing to Ukraine gained momentum over the last few years. Despite the challenges of 2020, exports of IT services in Ukraine exceeded $5 billion for the first time. It's a 20.44% increase compared to 2019. World-famous companies such as Elementum, CurrencyCloud, and Smartling headhunt our IT specialists actively. Google, Boeing, Samsung, and other biggies entrust research and development to our guys. Why considering outsourcing to Ukraine is a good idea?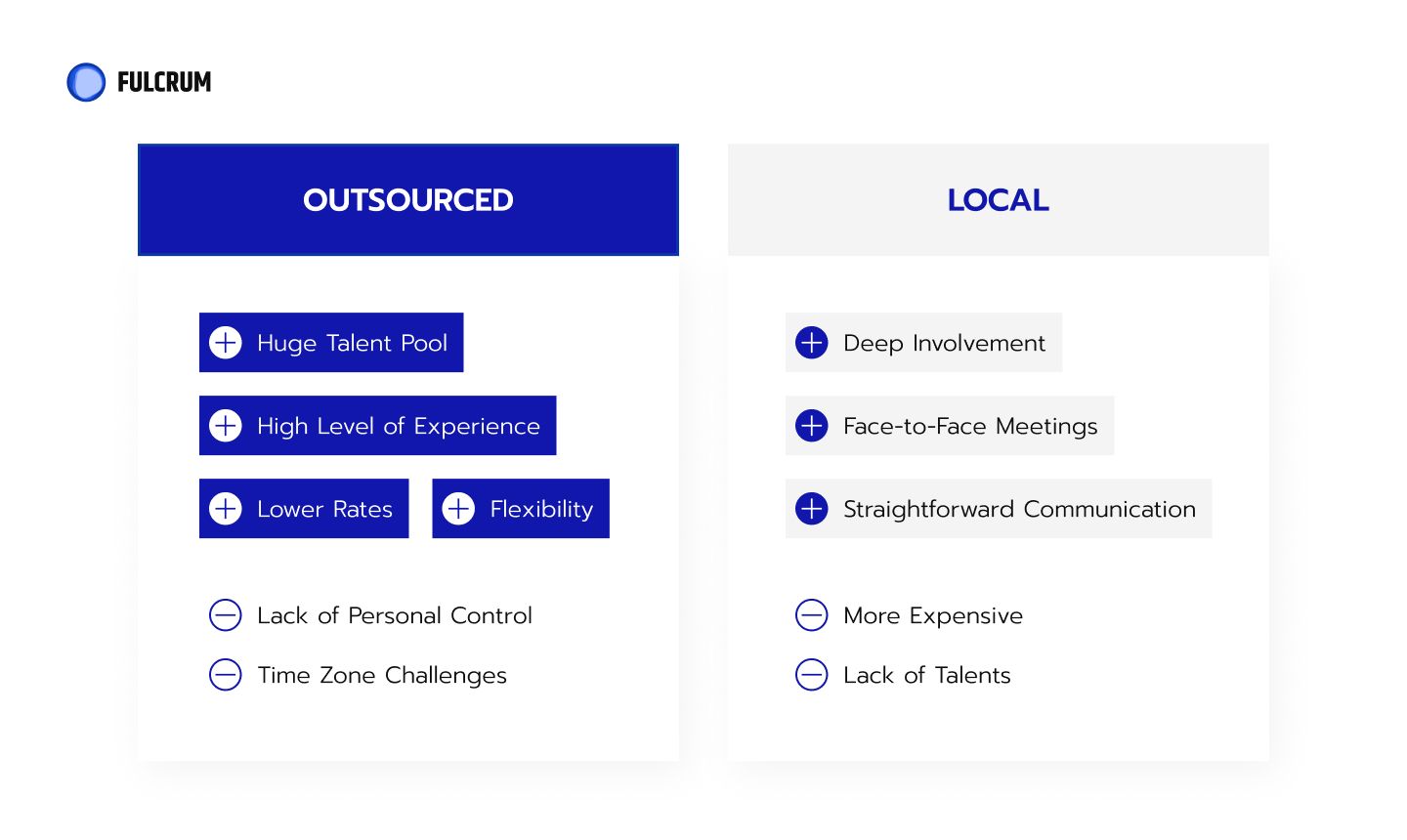 First and foremost our guys show a reasonable value proposition. According to Work.ua, UI designers in Ukraine earn $750/month, on average. For that price, they show serious tech proficiency. The level of English proficiency allows our guys to work with clients all over the world. Minimum 85% of them have at least an intermediate level of English.
Ukraine is 4th on the list of countries with the highest number of IT specialists. You will find that outstanding guy from this talent pool.
Our IT specialists participate in a global tech community with enthusiasm. Keeping up with trends is another trend among our guys 🙂
They got used to working with foreign companies, as well as working remotely. So, you get an army of skilled and experienced soldiers at a very reasonable price. Sounds like an awesome background for outsourcing your project to Ukraine, doesn't it?
Four Fulcrum Cases to Showcase the Benefits of UI Designers Outsourcing
Fulcrum's client base covers many countries from Israel to the UK, Norway, Switzerland, and many others. We adjusted to the conditions of the remote work and worked out approaches to efficient workflow. Still, our cases speak louder. Here is a small part of them. You can check out more here.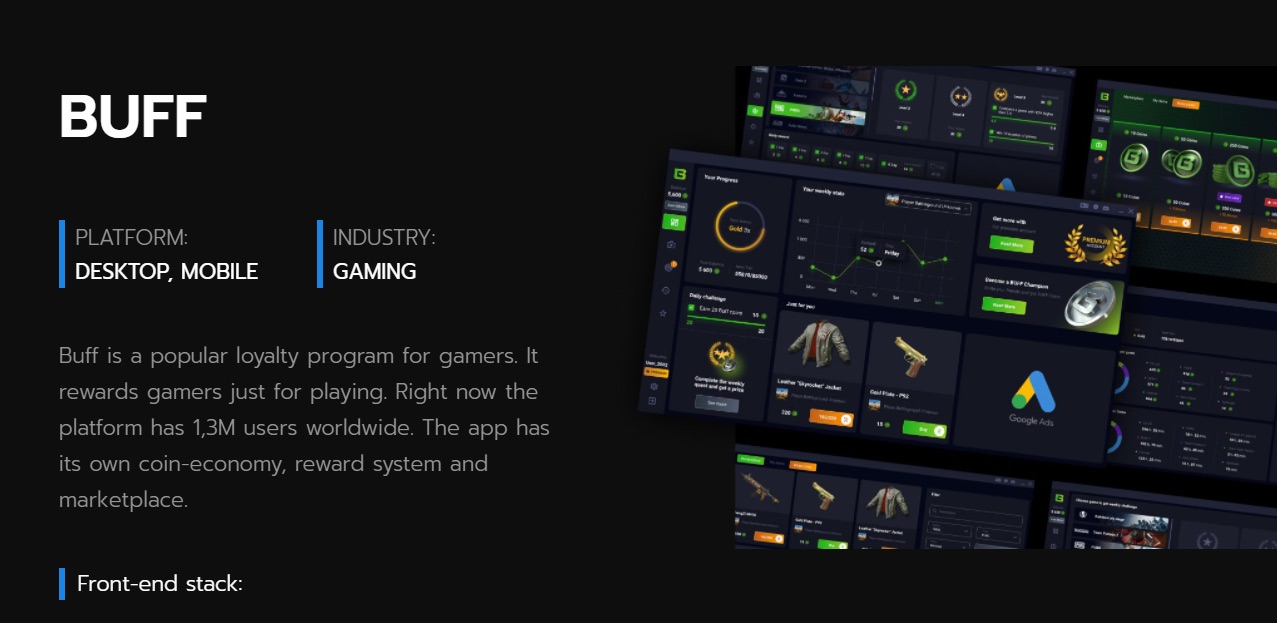 An app for a platform of the loyalty program for gamers. Buff has 1,3M users worldwide.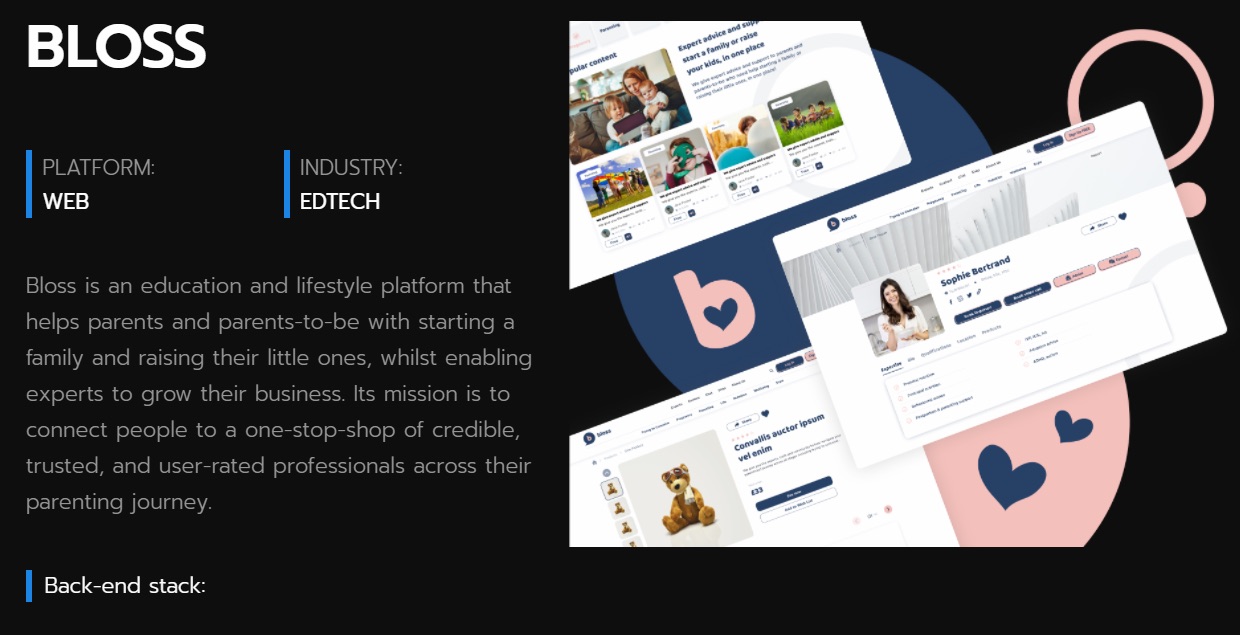 An app for an education and lifestyle platform that connects parents and parents-to-be to experts.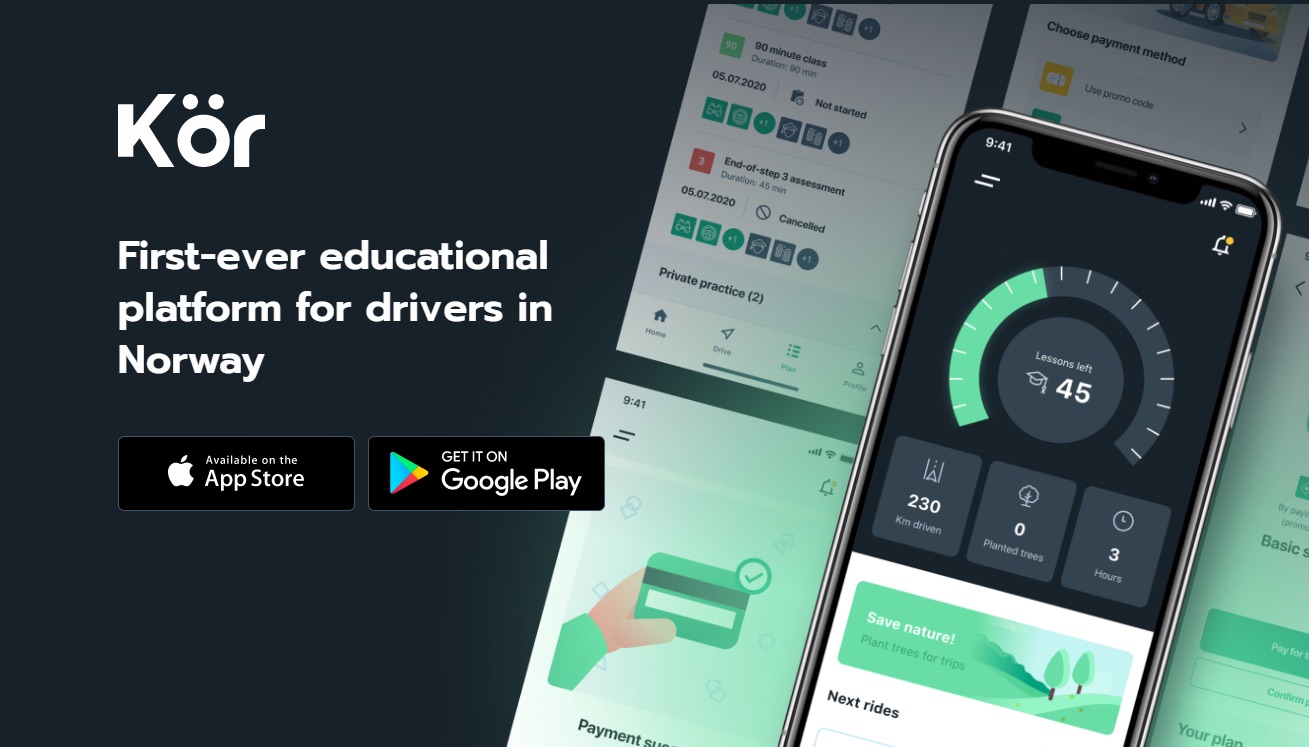 App for an educational platform for drivers.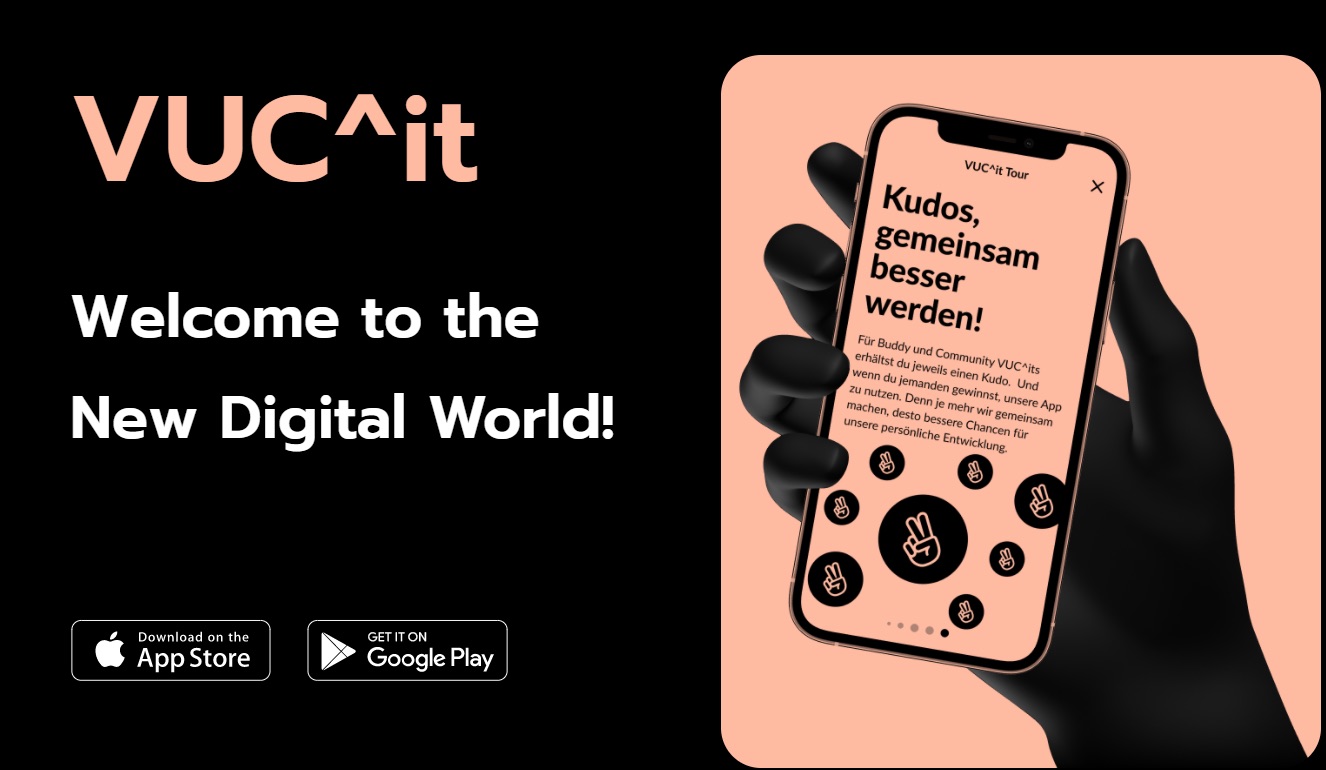 An app for a platform for career coaching in a digital work environment.
To sum up, everything is possible if you deal with professionals, not dabblers. We hope that we helped you to get your bearings on this path and you will find that outstanding guy! Otherwise, you know who to reach out 😉
THINK ABOUT OUTSOURCING FOR YOUR PROJECT
We stay laser-focused on development of your project no matter the distance
Let's talk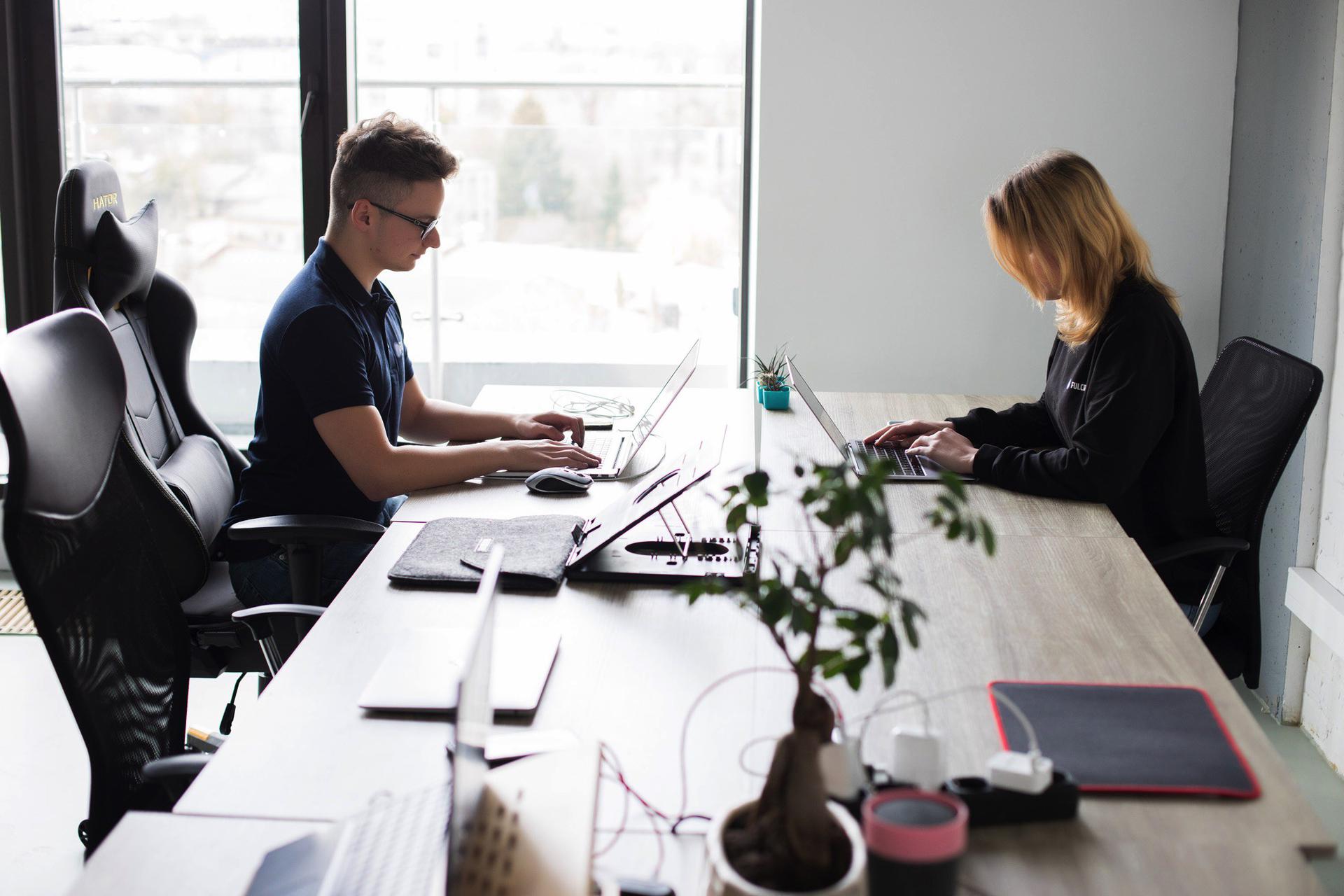 FAQ: UI Designer
Why hire a freelance UI designer?

Outsourcing a UI designer is often more cost-effective. You spend neither costs nor time on the onboarding of the new employees. You save on hiring and training costs and can use that time for other important tasks. Outsourcing companies often accept a big part of the responsibility for the outcome and force majeure. If dealing with professionals, experience from outsourcing will be positive.

How much is it to hire a UI designer?

It depends on the designer's skill set, country, the platform he works at. In Ukraine, the quotes are one of the most affordable. According to Ukraine's largest site for finding jobs and employees, the average salary of a UI designer is $750/month.

How to hire a UI designer?

There are a lot of freelance platforms with designers of all levels. Among them are Behance, Dribbble, Upwork, 99Designs, Fiverr, DesignCrowd, CroudSpring, Designhill, and others. You can browse the base of designers and their portfolios. Or you can make a job post with a brief and choose from the candidates.

Fedor Makatera
Design Lead at Fulcrum Rocks
Next Article